No matter where you work, there are inherent dangers. Whether you suffer a slip and fall accident in the office lobby, a car accident while driving a company vehicle, or a scaffolding incident at a construction site, you have the right to seek compensation if you are injured at work. Thousands of Californians are hospitalized because of workplace accidents every year.
Since 1987 we have been protecting injured workers' rights in and around Los Angeles. Under California workers' compensation laws, you have rights to medical care, temporary disability pay, and permanent disability pay even if the accident injury is your own fault. You may have other rights depending on the facts of your particular case. Under the law, employers are required to be insured for workplace accidents. These insurance companies are liable to workers that are injured during working hours. The Dominguez Firm has successfully resolved thousands of worker injury cases involving all sorts of injuries and accidents throughout Greater Los Angeles and Southern California. We have won over $1 Billion* for injured clients.
Workers' Compensation vs. Personal Injury
When you are injured during working hours, you have the right to seek compensation through a workers' compensation claim. With workers' compensation, you are required to report the injury to your employer. If you have not done so, our workers' compensation lawyers will do so for you. The company then has to pay for any medical treatment for injuries that occurred, your temporary and later calculated permanent disability, and potentially for other workers' compensation benefits.
On the other hand, some worker injury cases involve the fault or partial fault of a third party(ies) – a party other than your employer. You will want to talk with the award-winning workers' compensation lawyer at The Dominguez Firm to determine whether you should pursue either a workers' compensation case or a personal injury case or both.
Depending on the details surrounding your accident and injury, workers' compensation, personal injury or both may provide the best results overall. We can help you to pursue an avenue that will be most effective in your case. We are one of the few injury law firms around Los Angeles that handle both personal injury, and worker injury cases under the Workers' Compensation laws. Thus, if it is determined that pursuing both avenues of recovery is best in your case, you will benefit from a firm that works in tandem with lawyers working in both areas of law in the same firm regarding the same client, and same accident. This avoids conflicting practices from different law firms that may harm either or both sides of the case.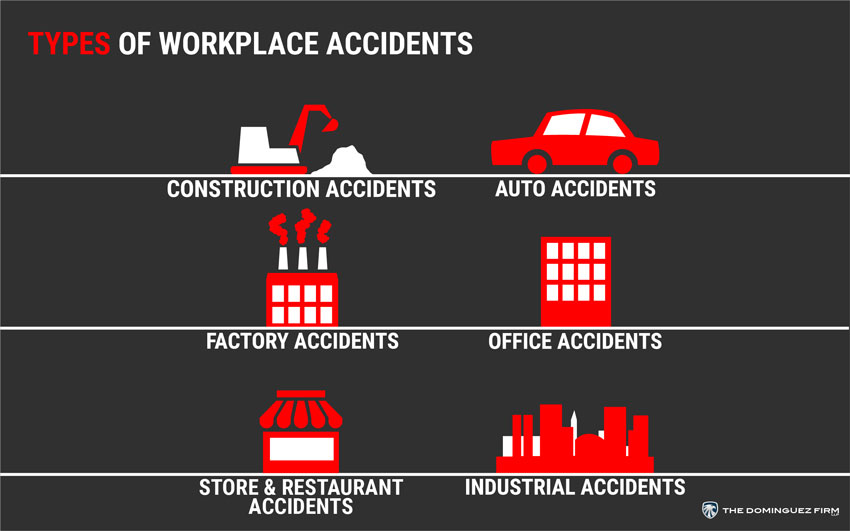 Causes of Workplace Accidents
Construction accidents – scaffolding falls, struck-by accidents, caught-in-between accidents, electricity accidents, power tool accidents, asbestos exposure
Factory accidents – repetitive motion injuries, heavy equipment injuries, conveyor belt accidents, slip and fall injuries
Industrial accidents – fires, explosions, toxic exposure, chemical burns
Auto accidents – collisions while driving a company vehicle, truck accidents
Office accidents – slip and fall accidents, carpal tunnel from typing, toxic exposure
What Are Your Rights If Injured On The Job
Every employer is mandated to carry valid workers' compensation insurance to cover you if you're injured on the job to pay for medical treatment and disability payments. In Los Angeles and all of California, Workers' compensation is a "no-fault" system, meaning that if you're on the clock and injured (with very few exceptions) then workers' compensation will apply to you.
If you've been injured while on the job in Los Angeles, the good news is you have many rights to help you get your health back and pay for lost income. The bad news, unfortunately, is that no one is going to hand you these rights and in most cases, you have to fight very hard to access them. That's where a workers' compensation lawyer can help you.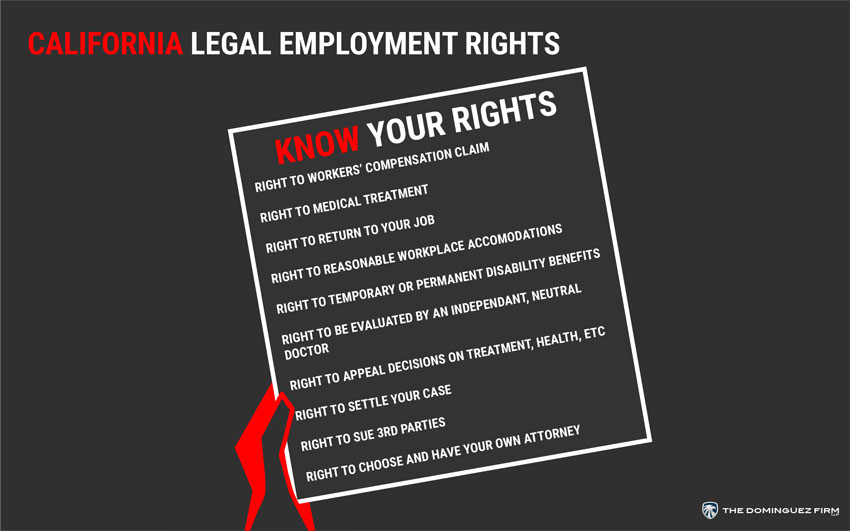 Know Your California Legal Employment Rights
Workers' compensation rights include:
The right to file a workers' compensation claim
The right to medical treatment
The right to return to your job
The right to reasonable workplace accommodations
The right to temporary or permanent disability benefits
The right to be evaluated by an independent, neutral doctor
The right to appeal decisions about your treatment, health, and/or workers' compensation benefits
The right to settle your case
The right to directly sue at-fault third parties in civil court
The right to choose and have your own workers' compensation attorney
How Does a Permanent Disability Rating Affect a Final Work Injury Settlement?
A finding of permanent disability can impact your workers' compensation settlement significantly. Learn how a Los Angeles workers' compensation lawyer can best maximize your benefits. Our jobs here in Greater Los Angeles let us provide for our families, pay for education, go see a ballgame at Dodger Stadium, or take in the latest Hollywood blockbuster. If you've been injured in a workplace accident, however, all of this can be at stake. Serious injuries necessitate serious finances to secure your medical treatment and to make up for your inability to work, pay your bills and engage in your daily activities. After your workplace injury has stabilized (known as "permanent and stationary"), it is vital to go through a process to determine your permanent disability rating from 0 to 100 percent. This rating determines the amount of your disability payments. It's something a greedy insurance company rather not do, which is why it's so important to have an aggressive Los Angeles workers' compensation lawyer that will fight for you.
Factors Affecting Your Permanent Disability Rating
Your age
The date of your injury (for example, if injured before January 1, 2013)
Your occupation and job duties
The type of injury to each specific body part
Your ability or inability to compete in a fair job market with your disability
What kind of work you can and cannot do with your disability
In 2012, Senate Bill 863 changed the way permanent disability was assessed and increased the maximum weekly and monthly payouts. In our 30+ years of fighting for the rights of injured workers, however, we find that your medical and financial benefits must be constantly battled for. No one is looking to hand you anything, even when you're entitled to it. Powerful insurance companies are more concerned about their own fiscal health and less about your personal health. Our Los Angeles workers' compensation lawyers are here to reclaim the rights and benefits you deserve.
When Should You Seek A Workers' Compensation Lawyer
When it comes to hitting a 100-mph fastball when the game is on the line, no one really thinks they'd do it better than Cody Bellinger of the Los Angeles Dodgers. Or when it comes to making the game-winning shot, no one really thinks they'd have a better success rate than Lebron James. Yet it seems many people think they can handle their own workers' compensation case in Los Angeles.
The truth is, many employers and their workers' compensation insurance carriers want you to handle your own workers' compensation claim. They want to take advantage of their position of power so they can convince you that you're not that injured, that you should return to work, and that you should not pursue the full extent of your entitled benefits.
When You Need an Workers' Compensation Attorney
To push back against the powerful insurance companies, you need an aggressive workers' compensation lawyer from the get-go. The expertise of a Los Angeles work injury lawyer is vital for all stages of your workers' compensation claim, including:
When you file your workers' compensation claim
If your claim is denied
If any of your benefits are denied or withheld
If the settlement offer doesn't cover all of your entitled wages or medical bills
If your medical condition prevents you from returning to work
If you receive or plan to apply for social security disability benefits
If your employer retaliates or discriminates against you
If a third party injured you and/or your employer engaged in serious misconduct so you can pursue a workplace injury claim and also a civil suit against a third party
If you want to challenge your final permanent and stationary report
If you want to maximize your benefits and compensation
As you can see, several complex stages, issues, and deadlines demand that you have a true professional in your corner to handle anything that comes your way.
WE CAN HELP
If you suffer a serious debilitating injury at work, you have too much at stake for you and your family's future well-being. Get a free consultation from our award-winning team. An experienced and compassionate workers' compensation lawyer at our Los Angeles law firm can help you determine your next move after a workplace accident. If your employer has provided medical care that is inadequate for your injuries, we may be able to change your doctor so that you get the medical care you need. If you have yet to file the required injury claim form with your employer, we will do so for you. We are here to help in all we can after your life is turned upside down from an expected serious injury accident at work.
We will fight to get you the maximum compensation and the workers' compensation benefits you deserve. If there is no recovery, there are no fees or costs! You have nothing to lose. We will come to your home or hospital anywhere in Greater Los Angeles. Call us 24/7 for a FREE CONSULTATION: 800-818-1818.
Work Injury Articles
Additional Resources
My experience was good. They made sure to kept me in the loop and made sure to let me know what was going on the whole time. My mom has used other attorneys and this experience was beyond better. I would definitely recommend them!
— Ashley Magana
The attorneys were always available and answered my questions. I would recommend them to anyone. Zoe is the best!
— Janet Salazar
My experience with The Dominguez Firm and the attorneys was really good. They were very informative and always returned my calls.
— Jocelyn Gonzalez