Walking around Greater Los Angeles and other congested areas of Southern California can be one of the most dangerous activities you take part in. Roadways are filled with cars, trucks, and buses and it seems like most drivers are too distracted by their phones, in a rush, or are too fatigued to be careful and avoid collisions with pedestrians. Our team of Los Angeles pedestrian accident lawyers has handled thousands of vehicle vs. pedestrian accidents over our 35+ year history. We have the knowledge, skill, and resources to go toe-to-toe with large insurance companies and defendants and hold them accountable for the devastation and injuries they cause.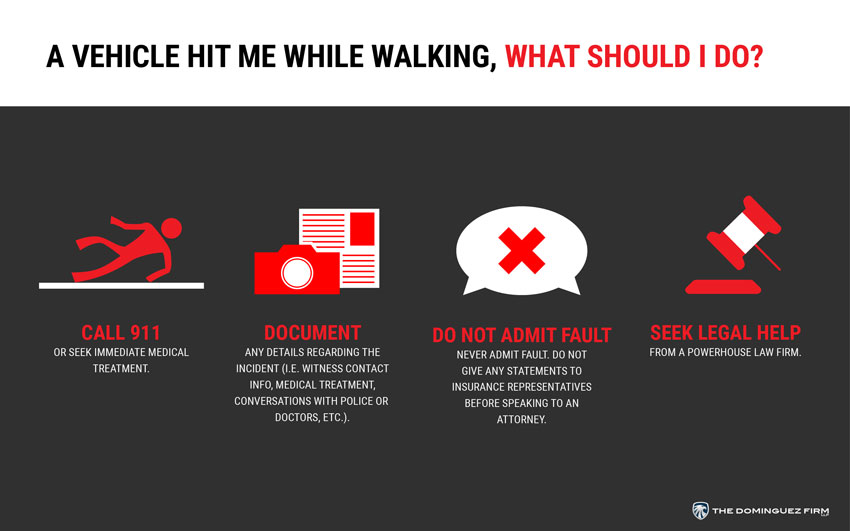 A vehicle hit me while I was walking, what should I do?
Unfortunately, vehicle versus pedestrian accidents usually results in severe injuries to the pedestrian accident victims, making the immediate aftermath of an injury accident frightening and overwhelming. Here are some tips to help you out if the unthinkable happens.
If you are able, call 911, or ask someone to do it for you
If it is safe to do so, try to stay as still as possible as movements can create additional injury, especially to your neck and back
Seek and demand immediate emergency medical care and transport to a hospital
If possible, gather witness contact information, including the name, license plate, and insurance information of the driver involved
If you can (or request someone do it for you), photograph the scene, the road, your injuries, and the offending vehicle
Do not admit fault
Do not guess at what happened if an officer asks you about your pedestrain accident (only tell them what you know for certain)
Do not give any statements to any insurance representatives
Enlist the expertise and help of an award-winning personal injury lawyer
If you have suffered serious injuries due to a pedestrian accident, it can be one of the most traumatizing events of your life. Using the above guidelines can help reduce fear and anxiety. The tips will also help if it's necessary to start a personal injury lawsuit to enforce your rights.
How do vehicle versus pedestrian accidents happen?
Some of the more common scenarios and causes of pedestrian accidents include:
Careless drivers that fail to properly observe the roadway for pedestrians
Distracted drivers, whether from texting, eating, or doing other non-driving activities
Drowsy or fatigued drivers, especially of buses and commercial trucks
Speeding drivers
Rolling through stop signs or red lights when making right turns
Trucks that cut off the corner when making a turn
Driving under the influence of alcohol or drugs
Defective roadway design, maintenance, or repair
Poor or inadequate lighting
Lack of proper signage
Hidden or obscured cross-walks
Pedestrian accident victims face all kinds of dangers, including negligent, distracted and aggressive drivers. As a pedestrian, one of the most important things you can do to stay safe is to look out for yourself and assume every driver is a potential offender.
What are some statistics about pedestrian accidents?
Pedestrian accidents are all too common and usually catastrophic. Even worse, pedestrian deaths have risen a distressing 77% between 2010 and 2021. Here are the statistics for 2020:
6,565 people were killed in traffic accidents nationwide.
2,616 people were injured or killed by drivers in Los Angeles.
4,661 pedestrians were injured or killed in traffic accidents in Los Angeles County.
979 pedestrians were injured or killed in traffic collisions in San Diego County.
591 pedestrians were injured or killed in traffic crashes in Orange County.
What serious injuries are the most common for a pedestrian involved in a traffic collision?
For obvious reasons, when vehicles hit a person, the defenseless person usually suffers severe, grave injuries. Some of the more common injuries include:
Traumatic brain injury (TBI)
Wrongful death
Nerve damage and injuries, including loss of feeling, numbness, and radiculopathy
Paralysis and spinal cord injuries (permanent, temporary, partial, or full)
Post-traumatic stress disorder (PTSD) and other mental health issues
Broken bones and fractured bones
Internal organ damage
Crush injuries
Tendon and ligament damage, tears, and sprains
Lacerations and abrasions
Muscle strains and sprains
What can I claim as part of my pedestrian injury claim?
In our civil legal system, you are entitled to monetary compensation for the past and future injuries and damages that you can prove resulted from the pedestrian accident. To prove many of these, it usually requires the need of doctors and experts that can testify on your behalf, which can often be quite costly. Items and categories of damages that you can make a claim for usually include:
Economic Damages:
Medical care and treatment costs
Lost earnings and lost earnings capacity
Wrongful death, loss of income and financial support
Property damage (such as laptops or other items you might have been carrying)
Out of pocket expenses, including medication, medical insurance co-pays, and others
Retraining or education so you can return to work if you have been disabled
Any other lost opportunities or expenses you suffered from the pedestrian accident
Non-economic Damages:
Pain and suffering
Emotional distress
Loss of enjoyment of life
Wrongful death (loss of support, loss of companionship, loss of love, and many others)
Loss of consortium (for the spouse of the injured or deceased victim)
Any other non-economic losses that you've suffered as a result of your injuries from the pedestrian accident
I do not have health insurance and cannot afford treatment, can you help?
Yes. As part of our number one goal, which is to get you back to health, we have developed connections and relationships with top-level doctors, providers, and medical facilities that will treat and care for you on a lien basis, which means you pay them back from the proceeds of your pedestrian accident case. Because your medical care is something that you can claim, it's really the at-fault party that is paying for this. Also, we have skilled staff who might be able to help you get free or low-cost coverage such as Medi-Cal, Medi-Care, and others.
Who are the possible at-fault parties that I can make a claim against?
If you or a loved one is hurt, injured, or killed in a pedestrian injury accident, it is vital to target all of the potential parties that could be responsible so you can maximize your recovery. After a pedestrian accident, you get one shot at getting the compensation and justice you deserve. Here is a list of potential at-fault parties:
The driver of the motor vehicle
The employer of the driver if the driver was working at the time of the pedestrian accident
Public entities if the driver and/or vehicle was owned and/or operated by it
Public entities for roadway design and defect issues, as well as maintenance and repair issues
Public entities if it is known the road or intersection is extremely dangerous and nothing has been done to make it safer
Third parties, such as construction companies, if their worksite puts pedestrians in danger
It takes detailed, extensive investigations to figure out all of the potential parties to target, which is something we pride ourselves on.
How do you prove at-fault parties were liable for the accident?
We have over 30 years of experience proving fault against negligent, reckless, and careless parties that cause vehicle vs. pedestrian accidents. To best serve you, we roll up our sleeves and hit the ground running once you engage us to work for you. This includes immediate investigations and fact-finding, including hunting down witnesses and video of the pedestrian accident. We also utilize research and database information to determine the patterns of pedestrian accidents at the location you were struck and injured. We use all of this information to put together a winning strategy that seeks every avenue of redress and compensation against all at-fault parties.
If a lawsuit is necessary to assert your rights, our aggressive litigation techniques and skills are second to none. We utilize discovery and deposition techniques to expose wrongdoing and to get to the heart of the truth. We also work hand in hand with you, to make sure all of your injuries are accounted for and treated, and all of your damages — from economic to non-economic — are tallied and proved up. If a trial becomes necessary, we have you covered as our heavy-hitting, highly regarded and successful trial team stands at the ready to take serious injury pedestrian accident cases to trial, before judge and jury.
Can I still make a claim if I am partially at fault for the pedestrian accident?
Yes. Here in California, we follow principles of comparative fault, which means that you can still recover even if you had up to 99 percent of fault in the accident. The way it works is that your total recovery will be reduced by the percent of the accident you caused.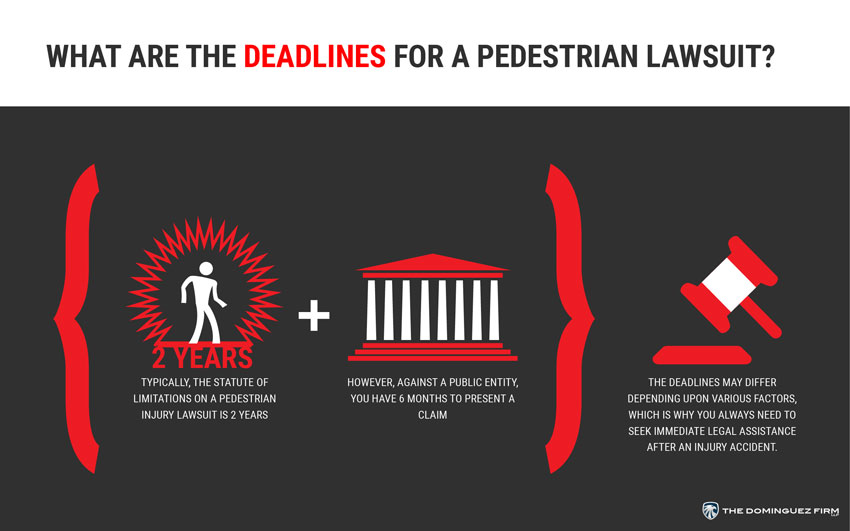 What are the deadlines for filing a lawsuit after my accident?
Typically, the statute of limitations on a pedestrian injury lawsuit is two years from the date of the pedestrian accident. If you are suing a public entity or employee, however, then you have to present a Government Claim Form within six (6) months of your accident and then follow very strict requirements and adhere to fast-approaching deadlines after that. The deadlines may differ depending upon various factors, which is why you always need to seek immediate legal assistance after an injury accident.
How long does a pedestrian accident injury lawsuit take?
After you file a lawsuit, the court will set your trial date about 12 to 18 months into the future in most California counties and jurisdictions. Your trial date will usually mark the total time frame of your case, although in some cases it becomes necessary to postpone the trial date, especially if you are still dealing with ongoing injuries. It is also very possible that your pedestrian accident case settles well before your trial date. Before your trial date, your personal injury lawsuit will go through several phases, including a written discovery phase, a deposition phase, an expert witness and analysis phase, settlement negotiations, and if necessary, trial preparation and trial itself.
If I'm unable to work, what do I do?
The inability to work is an unfortunate reality of suffering a pedestrian accident. Fortunately, we have built up relationships with lending companies that can help you out with a loan that is paid back and secured by your personal injury lawsuit. Like your medical bills, lost income is recoverable from the other side, so it is part of your pedestrian accident claim. Additionally, in some circumstances, we may be able to provide you with an advance on the anticipated proceeds of your pedestrian accident case to help you get by.
What if I don't speak English or am not comfortable using English in court?
Not a problem. If you do not speak English or are not proficient enough to be comfortable using it during a deposition or at trial, we have many licensed interpreters that can match your language and dialect.
If I am undocumented, can I still make a claim and file a lawsuit?
Yes. Here in California, the other side cannot use your immigration status against you in a civil lawsuit, like your pedestrian injury lawsuit. The courts and laws have proclaimed that your status is wholly irrelevant to your pedestrian accident. Sometimes, though, the other side will ignore the law and try to intimidate you, which can happen if you do not have your own attorney to fight back. When this happens, we forcefully issue privacy objections and if necessary, file motions, to stop any intimidation tactics.
There are lots of lawyers and law firms, why should I go with The Dominguez Firm?
Simply put, we put you, our client, first. We maintain three core ideals — the dignity of the individual, excellence, and service — that influence every single decision we make. We have award-winning personal injury attorneys that are assigned to your pedestrian accident case and that work within a larger team of lawyers and professional, detailed-oriented support staff. Over our 35 plus years of handling injury cases, we have amassed a 96%* success rate and over $1 Billion* recovered for our clients. Our year in and year out success is unparalleled and provides us with the necessary resources to take any size case and step into the ring against any size opponent with confidence and fortitude.
In addition to the above, our team of Los Angeles pedestrian accident lawyers and their vast experiences and skillsets cover every base and angle of your injury case. We pride ourselves in having one the of most formidable and successful trial lawyers and trial teams, which has to their credit a $29 million verdict and several settlements in excess of $10 million. We utilize team-work throughout our entire office on every pedestrian accident claim and that, of course, includes you. We keep you informed, answer all questions you might have, and consult with you on important case decisions. Our number one priority is to help you recover from your injury accident and we do that by holding all responsible parties accountable for the injuries and loss they inflict on you.
The Dominguez Firm has experienced pedestrian accident lawyers to assist you and to get you the compensation you deserve. Call us today 24/7 for a free consultation at 800-818-1818. There is no obligation. And if there is no recovery, there is no fee!
Related Articles
My experience was good. They made sure to kept me in the loop and made sure to let me know what was going on the whole time. My mom has used other attorneys and this experience was beyond better. I would definitely recommend them!
— Ashley Magana
The attorneys were always available and answered my questions. I would recommend them to anyone. Zoe is the best!
— Janet Salazar
My experience with The Dominguez Firm and the attorneys was really good. They were very informative and always returned my calls.
— Jocelyn Gonzalez