THE BROAD PROTECTIONS OF CALIFORNIA LAW — California law provides broad protection for employees who are treated unfairly in the workplace due to the following protected characteristics:
• Sex/Gender • Race • Gender Identity • National Origin   • Disability   • Sexual Orientation • Pregnancy • Age • Religion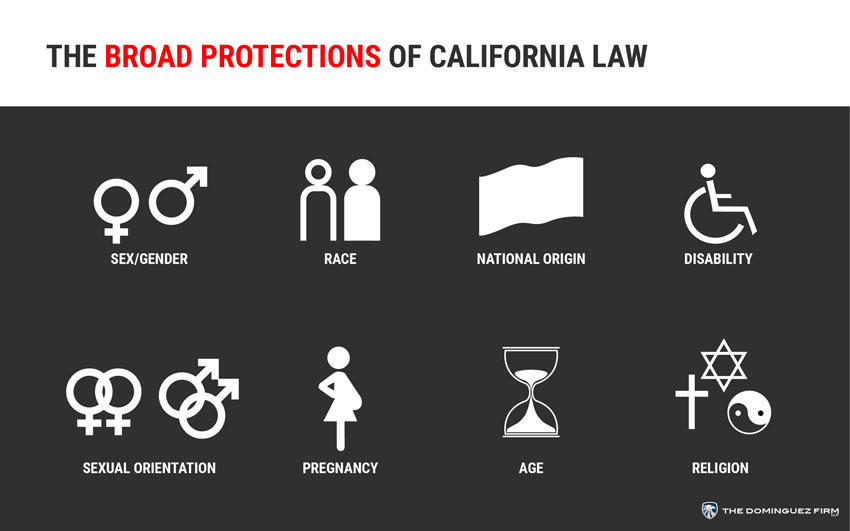 If you have been treated unfairly in the workplace for any of the above protected categories, California law provides protection for you. The Dominguez Firm's employment law attorneys are committed to fighting for your rights as an employee. Our attorneys are experts in wrongful termination, workplace discrimination, workplace harassment, wage and hour laws, and whistleblower protection. Call now to speak to one of our experienced Employment Law attorneys for a FREE CONSULTATION:  1-800-818-1818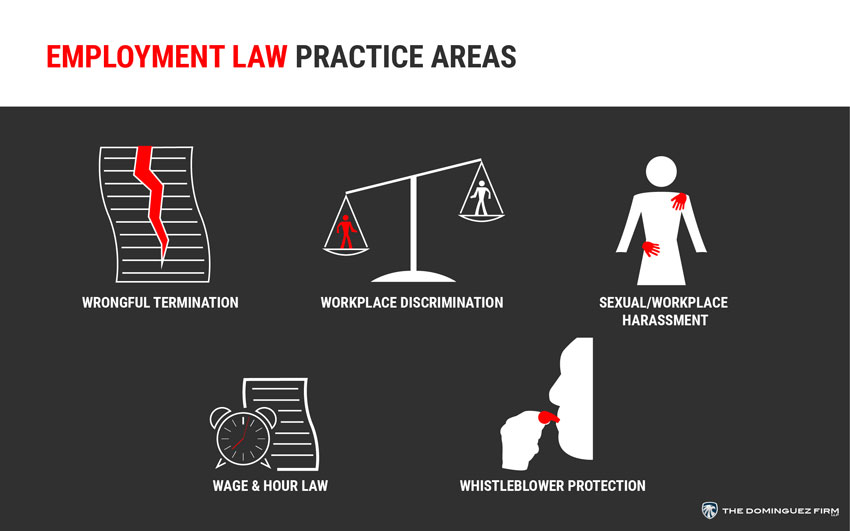 Employment Law Practice Areas
WRONGFUL TERMINATION
Losing your job is stressful under any circumstance. Having to deal with a wrongful termination is even more unbearable. Some companies fabricate the reasons for a termination in an effort to get rid of employees for unlawfully. For example, employees who become disabled after suffering a work injury are often terminated for "lack of work" or mysterious performance problems when they attempt to return to their jobs with restrictions. Let us protect your rights and help you fight back.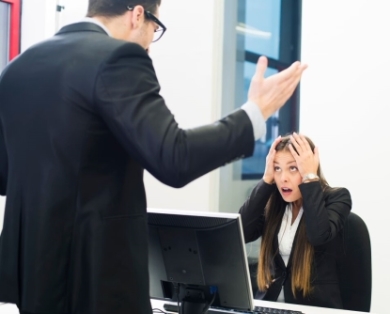 SEXUAL/WORKPLACE DISCRIMINATION
Unfortunately, it is common in some companies for employees to experience unlawful workplace discrimination in hiring, discipline, promotion, demotion and termination. These acts are often documented as "legitimate" actions by companies seeking to mask unlawful treatment.
WORKPLACE HARASSMENT
California law prohibits workplace harassment based on the above protected characteristics. Is your supervisor or coworker making inappropriate sexual or racial comments to you? Is your employer refusing to address the hostile work environment? If your answer is yes, you may be entitled to damages.
WAGE AND HOUR LAW
California wage and hour laws provide strict requirements regarding meal and rest periods, minimum wage, the payment of wages, overtime, and commissions. Unfortunately, wage and hour violations are common and can result from your employer's failure to understand the laws, or be a form of wage theft. Don't let your employer take advantage of you. Our attorneys are well-versed in wage and hour law and can help you understand your rights and get the compensation you deserve.
WHISTLEBLOWER PROTECTION
Have you risked your career to expose company corruption, unethical conduct, or the company's disregard for employee health and safety? Were you retaliated against for doing the right thing? If so, you should know that California's whistleblower laws seek to deter employers from retaliating against its employees who blow the whistle. You may be entitled to significant compensation
At The Dominguez Firm we fight to provide justice and vindicate employees' rights. Our firm has the resources to win against the biggest employers and insurance companies. All information is confidential and we will walk you through each step until your case is resolved.
When you become a client of The Dominguez Firm, you not only get a highly experienced employment attorney, but you get a whole team of highly experienced professionals that include legal assistants, investigators and supervising attorneys to ensure the best service and results possible. Get the strength of The Dominguez Firm on your side!
Read more about hiring a whistleblower later in Los Angeles
NO RECOVERY, NO FEE!
No one wants to take a risk when it comes to a lawsuit. At The Dominguez Firm, we understand your concern, so we operate on a contingency fee basis. Our contingency fee policy allows us to guarantee that our clients aren't putting their own finances at risk. In fact, with our contingency fee retainer, clients don't ever have to pay out of pocket. Call our award-winning firm for a FREE CONSULTATION: 1-800-818-1818
Additional Resources