THE BROAD PROTECTIONS OF CALIFORNIA LAW — California law provides broad protection for employees who are treated unfairly in the workplace due to the following protected characteristics: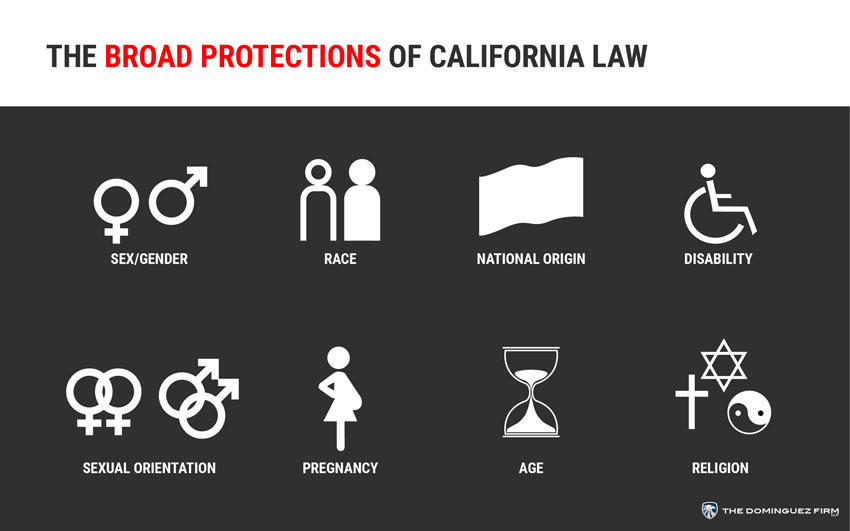 • Sex/Gender • Race • Gender Identity • National Origin • Disability • Sexual Orientation • Pregnancy • Age • Religion
Every employee has the right to a safe work environment free of discrimination and other employment law violations. Yet despite California having some of the most labor-friendly laws in the nation, sexual harassment, wage theft, and other negative actions by employers continue to happen.
If you're employer has acted illegally against you, call The Dominguez Firm at 800-818-1818 for a free and completely confidential consultation today. Our nationally-recognized employment lawyers have successfully helped clients with a variety of labor law cases including harassment, wage and hour violations, and wrongful terminations. Let us help you too.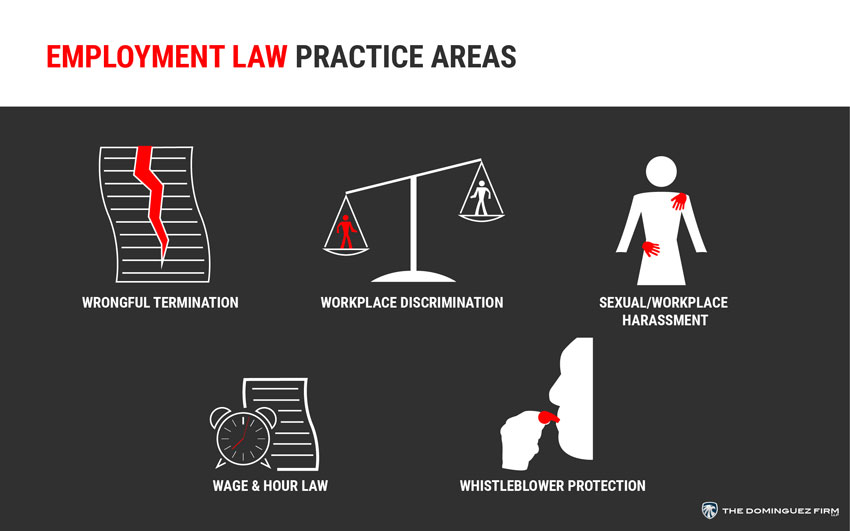 Below you'll find more information on California employment law and what to do if your rights are violated at work.
Employment Law Practice Areas
WRONGFUL TERMINATION
California is an at-will state. That means you can be fired or quit at any time without prior notice. An example would be your employer firing you even though you're doing a good job because they want to replace you with a family member. It can even be something as simple as your boss deciding they don't like you and don't want to work with you anymore. As unfair as these two situations may be, there's nothing illegal about either one in most cases.
However, if you were fired and belong to any of the following protected classes, you could have a wrongful termination claim:
Gender
Gender Identity
Race
National Origin
Disability
Sexual Orientation
Pregnancy
Age
Religion
Being a whistleblower
If you belong to any of these protected classes or were terminated for reporting unsafe or unlaw behavior at work, there's a possibility you could file a wrongful termination claim against your employer.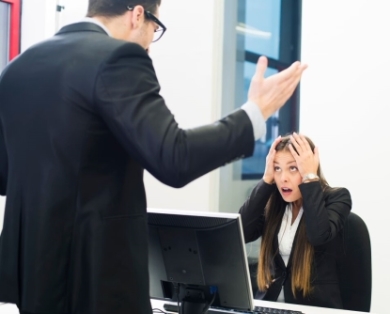 SEXUAL/WORKPLACE DISCRIMINATION
California law prohibits workplace harassment based on the protected characteristics listed under the section on wrongful termination above. For example, is your supervisor or coworker making inappropriate racial comments to you? Is someone at your job constantly making jokes about your disability and encouraging others to do the same? Have you reported this behavior to your employer with no action on their part to correct the behavior? If your answer to any of these questions is yes, you may have grounds for a workplace harassment lawsuit.
Being treated unfairly and/or harassed because of your gender is also illegal and is a form of workplace discrimination. Examples include repeatedly being passed over for promotions because you're transgender or having your hours cut because you informed your employer that you're pregnant.
Workplace harassment can be based on race, ethnicity or any of the other protected categories outlined above. Sexual harassment is arguably the most common type of workplace harassment. Anyone can experience sexual harassment at work regardless of their sexual orientation or gender. And you don't have to be a current employee to file a lawsuit for workplace or sexual harassment. If someone acted inappropriately during the interview process, you should consult with an employment law attorney to see if your rights were violated.
California labor law divides sexual harassment cases into two categories:
Quid Pro Quo Harassment
From the Latin for "this for that". It's when a supervisor or co-worker offers or threatens an employee for a specific job benefit or adverse action in return for sexual favors. The offending behavior can be open or subtle.
Hostile Work Environment
Workplace sexual harassment that is severe, widespread, and/or distracting is considered a hostile work environment. It can be committed by co-workers, supervisors, or even outsiders such as independent contractors.
California also leads the nation in its definition of what constitutes workplace sexual harassment. Among the most groundbreaking new laws in this regard is Senate Bill 1300. Enacted in response to the #metoo movement, SB 1300 was signed into law in 2018 by then-governor Jerry Brown. Among its most noteworthy features are that it:
States that just one incident may be used as evidence of a hostile work environment.
Forbids mandatory arbitration or employment agreements between employers and employees who report sexual harassment.
Requires employers to provide sexual harassment prevention training for employees.
If you have experienced sexual or other form of harassment at work, it's important you take action right away. Victims often feel ashamed and try to ignore what's happening. Not only is this bad for your mental and physical health, but it can also hurt your claim. First, report the offending behavior to your human resources department immediately. Then, call the employment law attorneys at The Dominguez Firm. We will inform you of your rights and what the next steps are given your particular situation. In short, you don't have to put up with any kind of harassment at work.
Wage and hour violations encompass a wide range of bad behavior by employers. While they primarily protect employees from non-payment of wages, they also protect them from employers who:
Don't provide lunch or rest breaks
Don't pay a minimum wage
Don't pay overtime wages correctly or at all
Misclassify employees as freelance or exempt to avoid paying workers' compensation benefits, overtime wages, or having to offer medical insurance
All of these practices are illegal. There are other ways employers try to shortchange their workers when it comes to unpaid wages, bonuses, and benefits. Just because you don't see your employer's wage and hour violation on this list doesn't mean you don't have a case. Employer wage and hour theft is widespread and comes in many different forms.
WHISTLEBLOWER PROTECTION
Have you risked your career to expose company corruption, unethical conduct, or your employer's disregard for employee health and safety? Were you retaliated against for doing the right thing? If so, know that under California's whistleblower laws retaliation against whistleblowers is illegal.
If you were fired after reporting misconduct by your employer, you may have two lawsuits, one for retaliation and another one for being wrongfully terminated. If you find yourself in this scenario, the first step you should take is to speak to an employment law attorney as quickly as possible.
Read more about hiring a whistleblower later in Los Angeles
What Compensation Could I be Entitled to for My Employment Law Claim?
No two employment law cases are alike. That's why no law firm or attorney can tell you exactly how much you're entitled to in damages, the legal term for compensation, for your employment law claim. However, we can look at similar cases we've handled in the past to get an estimate of how much it could be worth.
Several factors will come into play:
The strength of your evidence against your employer
The financial and emotional losses you endured due to their misconduct
Whether your employer has a history of workplace violations
These are just some of the elements that need to be considered when calculating damages in an employment law case. Another important factor is the strength of the employment law firm you hire to represent you. A small law firm or individual attorney may try and settle your case for less. Their issue is that they don't have the money to take your case to trial if needed.
The Dominguez Firm has the experience and resources to see your case through to the end. And if your employer won't make a fair and just offer for your claim, we're not afraid to go to trial. This gives you additional leverage those other firms and attorneys can't provide.
Call the Employment Law Attorneys at The Dominguez Firm Today
At The Dominguez Firm, we fight to provide justice and protect employees' rights. We've won notable settlements and verdicts against some of the biggest corporate employers. Employment law matters are highly complex. There are strict deadlines, procedures, and multiple forms to deal with, especially if you're a government employee. Don't try and take all of this on by yourself.
NO RECOVERY, NO FEE!
No one wants to take a risk when it comes to a lawsuit. At The Dominguez Firm, we understand your concern, so we operate on a contingency fee basis. Our contingency fee policy allows us to guarantee that our clients aren't putting their own finances at risk. In fact, with our contingency fee retainer, clients don't ever have to pay out of pocket. Call our award-winning firm for a FREE CONSULTATION: 1-800-818-1818
Additional Resources

My experience was good. They made sure to kept me in the loop and made sure to let me know what was going on the whole time. My mom has used other attorneys and this experience was beyond better. I would definitely recommend them!
— Ashley Magana
The attorneys were always available and answered my questions. I would recommend them to anyone. Zoe is the best!
— Janet Salazar
My experience with The Dominguez Firm and the attorneys was really good. They were very informative and always returned my calls.
— Jocelyn Gonzalez