No one wants to take a risk when it comes to a lawsuit. You don't want to pay an attorney out of pocket and lose your case because that would leave you in a worse state than you started in before the lawsuit. At The Dominguez Firm, we understand your concern, so we operate on a contingency fee basis for all our law practice areas, whether it be personal injury, workers compensation for work injuries or in employment law matters for employer civil wrongdoings.
Our contingency fee policy allows us to guarantee that our clients aren't putting their own finances at risk. In fact, with our contingency fee payments, clients don't ever have to pay out of pocket. Call today 24 hours for a FREE CONSULTATION: 800-818-1818.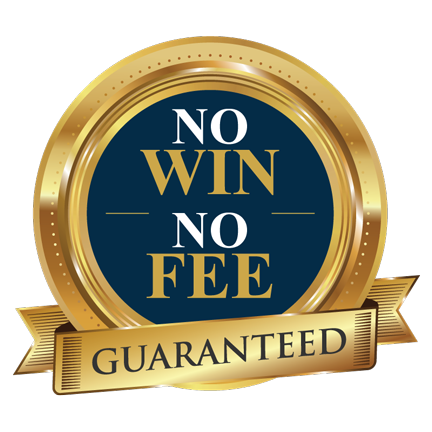 How Does A Contingency Fee Work?
With contingency fees, the law firm will set a percentage fee when it takes on your case. When the case concludes, the law firm will collect this set percentage from the settlement or verdict, leaving you to benefit from the rest of the funds. This means that if we are unable to gain a settlement or verdict in your case, you won't pay us a dime.
If you achieve a large settlement, our percentage will remain consistent with the retainer. You will only pay us out of your winnings. With this risk-free arrangement, you can have peace of mind.
Benefits of Contingency Fees
Your case will be risk free from attorney fees and case costs if you don't win
You won't have to pay costs up front
Attorneys are more motivated to win a high settlement for you
You share a best outcome interest with the law firm
You can rest assured that our advice and counsel in your case are in your best interests
No-Risk Representation from a Successful Team
The Dominguez Firm is committed to serving clients with care, focus, and attention. We always respect our clients' dignity. If you have suffered a tragic traumatic injury, you deserve compensation for your medical bills, injuries, and more.
We want to help you get back on your feet. Call our award-winning, highly successful firm to get a personal injury team of professionals on your side.
Contact our team for a free case evaluation at your home, the hospital where you are recovering, or our office. Call 24 Hours for a FREE CONSULTATION: 800-818-1818.
My experience was good. They made sure to kept me in the loop and made sure to let me know what was going on the whole time. My mom has used other attorneys and this experience was beyond better. I would definitely recommend them!
— Ashley Magana
The attorneys were always available and answered my questions. I would recommend them to anyone. Zoe is the best!
— Janet Salazar
My experience with The Dominguez Firm and the attorneys was really good. They were very informative and always returned my calls.
— Jocelyn Gonzalez