While car accidents in the Greater Los Angeles area may seem far too common, if you've been involved in a car accident and suffer personal injuries, please do not hesitate in seeking our services. Your injuries, your well-being, and your future are unique to you and deserve the full attention and service of an experienced car accident law firm. We understand the challenges and obstacles that occur on the road to recovery after being injured in a vehicle accident and have award-winning Los Angeles car accident lawyers, skilled investigators, detail-oriented staff, and financial resources to make it as smooth and efficient as possible every step of the way.
For over 30 years, The Dominguez Firm has successfully resolved thousands of car accident cases throughout Greater Los Angeles involving all types of vehicles and injuries.
Our number one goal is to maximize your recovery while holding at-fault parties and their insurance companies accountable for their actions. Hire a car accident attorney who has your best interests in mind. Hire the accident attorneys at The Dominguez Firm.
Call us now and discover how our powerhouse team of trial lawyers can help you and your family.
(800) 818-1818. We're here for you 24/7.
Do you need to hire a car accident lawyer?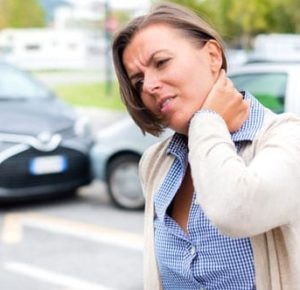 If you have been in a car accident, you may be asking yourself whether you need to hire an auto accident attorney. Many accidents are minor property damage only and can be resolved directly between those involved, or through the insurance companies. In very simple cases or those that involve no injuries, it may be faster and more straightforward to resolve the case without the help of personal injury accident attorneys. However, even accidents that may first appear to be minor can later prove to be complicated. For example, an accident in Los Angeles may introduce only some symptoms of your injuries. Those injuries may take time to appear, or issues regarding compensation may arise between you and the other party. In situations such as these, it is essential to have an attorney by your side.
Certain situations and serious accidents absolutely warrant hiring a car accident law firm. For example, if a Los Angeles car accident resulted in injuries that required medical intervention or hospitalization, or that were disabling and impacted your ability to work, you should immediately contact an attorney. Similarly, if there is a problem with either party's insurance, for example, one of you lacks insurance or is under-insured, you should consider consulting with a lawyer. If there are any disputes about liability for the accident between yourself and the other party or their insurance provider, or if the other party or their insurance carrier is refusing to pay for damages related to the accident, you should get a lawyer involved. Finally, if the other party to the accident is a government entity, they may potentially be protected from a lawsuit under 'sovereign immunity,' in which case you should seek legal consult.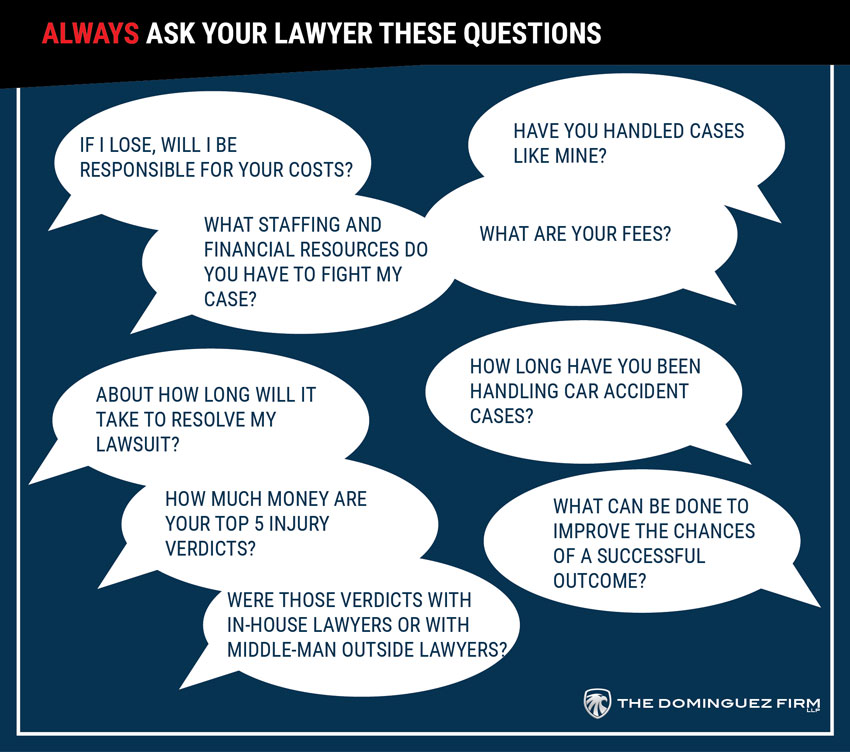 Questions you should ask a lawyer before hiring them:
Have you handled cases like mine? How many?
If I lose, will I be responsible for your firm's costs?
What are your fees?
What staffing and financial resources do you have to fight my case?
How long have you been handling car accident cases?
About how long will it take to resolve my lawsuit?
What can be done to improve the chances of a successful outcome?
How many cases has your firm won in a jury verdict?
How much money were your top 5 jury verdicts?
Were those with your in-house lawyers only, or did you need or use outside your firm middle-man lawyers?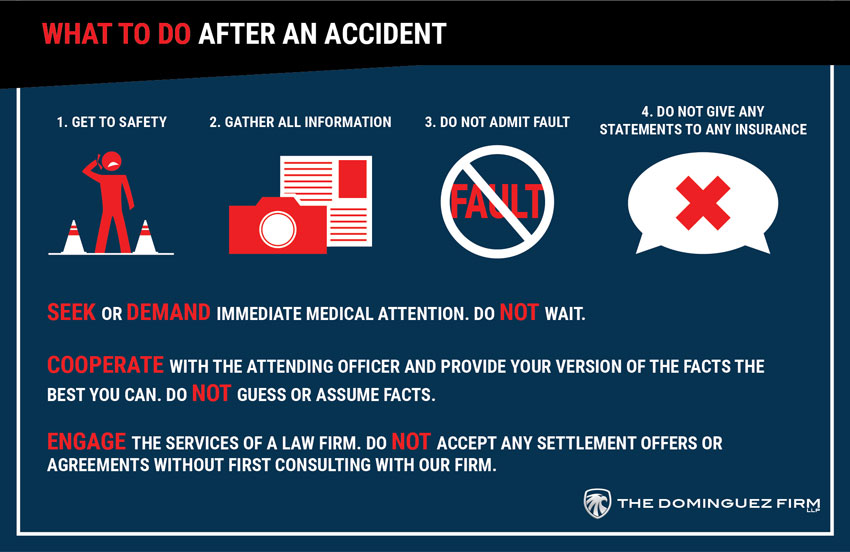 What to do after an accident
Get to an area of safety and call 911 to report the accident to the proper authorities.
Cooperate with the attending officer and provide your version of the facts as best you can.
Gather witness information and take pictures of the involved cars and scene if you are able to.
If needed, immediate medical attention for evaluation, diagnosis, and treatment.
Engage the services of a powerhouse law firm to handle all aspects of your auto accident case.
What should I not do?
Do not admit fault or any wrongdoing.
Do not guess or assume facts when providing information to an attending officer.
Do not wait to seek medical treatment.
Do not give any statements to ANY insurance representatives (including your own) until you have consulted with our firm.
Do not accept any settlement offers or settlement agreements without consulting with a lawyer.
What injuries can I suffer from due to a car accident?
While a lot of people in Los Angeles car accidents think the bigger the crash, and the more property damage to your car, the bigger the injury. The truth is that even small or seemingly minor accidents can result in catastrophic injuries. It doesn't take much force to hurt the vulnerable spine, delicate brain, joints, and bones alike.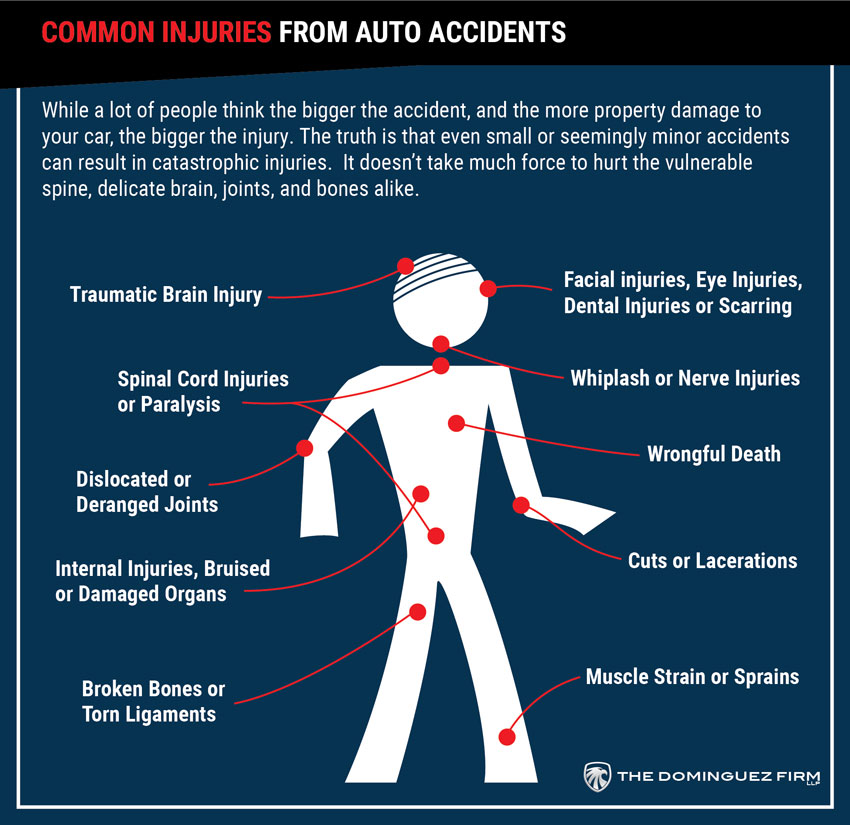 What are some of the most common injuries?
Traumatic brain injury (TBI)
Wrongful death
Spinal cord injuries, including partial or full paralysis, whether temporary or permanent
Whiplash and nerve injuries, including radiculopathy and others
Internal injuries, including bruised, damaged, and/or lacerated organs
Crush injuries
Facial injuries, eye injuries, dental injuries, and scarring
Broken bones
Torn ligaments
Dislocated joints and/or deranged joints
Cuts and lacerations
Muscle strain and/or sprain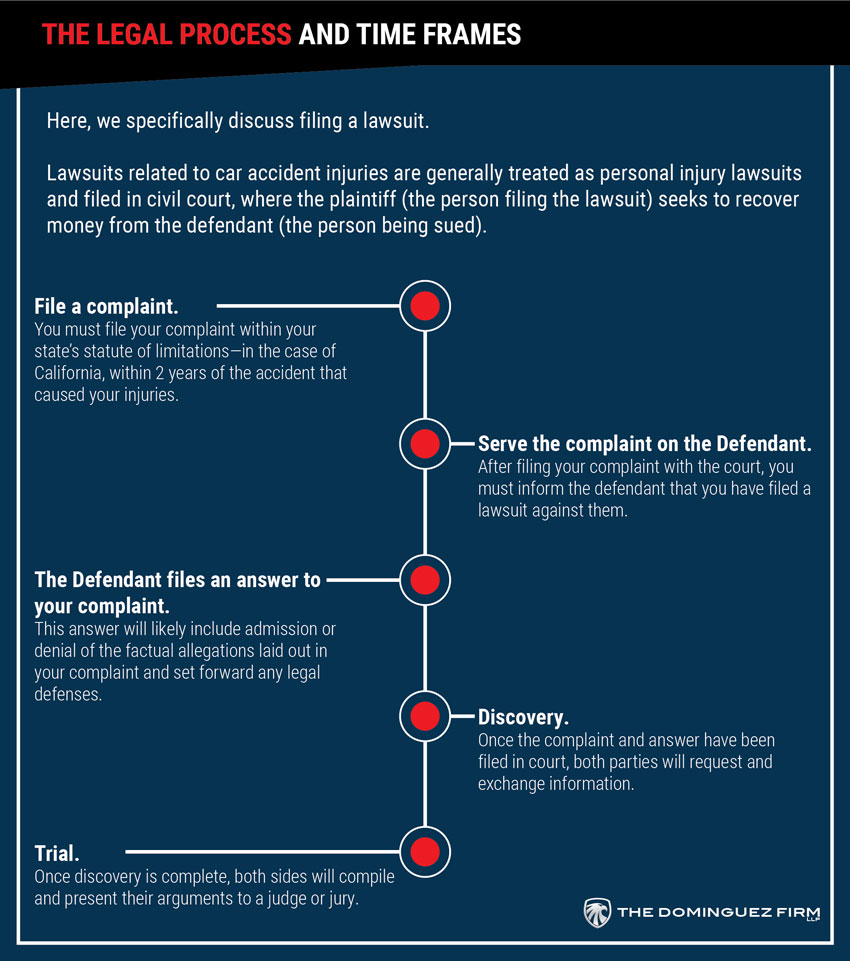 The legal process and time frames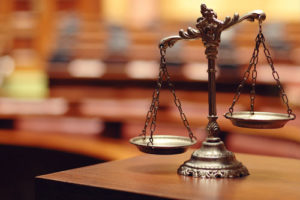 Confusion often arises regarding the difference between a car accident lawsuit and a car accident insurance claim. These are two separate claims processes, and confusion likely arises from the fact that both involve a 'settlement.' In this section, we will specifically discuss filing a lawsuit.
Lawsuits related to car accident injuries are generally treated as personal injury lawsuits and filed in civil court, where the plaintiff (the person filing the lawsuit) seeks to recover money from the defendant (the person being sued). This type of action occurs independently of the insurance claims process, although the plaintiff may choose to sue the insurance company if they are unsatisfied with the compensation offered.
File a complaint.
The first step in pursuing a car accident lawsuit in Los Angeles is to file a complaint (or petition) with the court. This document includes a standardized court form, as well as a detailed narrative laying out what happened, what damages the plaintiff is claiming, and the legal basis for bringing the lawsuit. You must file your complaint within your state's statute of limitations—in the case of California, within 2 years of the accident that caused your injuries.
Serve the complaint on the Defendant.
After filing your complaint with the court, you must inform the defendant that you have filed a lawsuit against them. This process is formally known as 'serving the complaint,' and you must follow strict guidelines in order for the court to consider the document properly served.
The Defendant files an answer to your complaint.
This answer will likely include admission or denial of the factual allegations laid out in your complaint and set forward any legal defenses.
Discovery.
Once the complaint and answer have been filed in court, both parties will request and exchange information. This process is known as discovery. During this phase, you may be asked to produce documents, answer to written questions, or undergo depositions related to the case. The defendant will also have the opportunity to do the same.
Trial.
Once discovery is complete, both sides will compile and present their arguments to a judge or jury. Both the Plaintiff and Defendant will be given the opportunity to present evidence, produce witnesses, cross-examine the witnesses of the opposing party, present experts, etc. Once the trial is closed, the judge or jury will deliberate and issue a verdict in favor of either the Plaintiff or Defendant based on a 'preponderance of evidence' supporting their claim, and a judgment will be entered, including an amount in compensation, if any.
Filing a personal injury lawsuit for your Los Angeles car accident claim may seem simple, but in fact, requires a significant amount of skill and experience. Do not expect that you will be able to file a successful lawsuit on your own. Consult with a qualified car accident law firm, who will guide you through the complex process.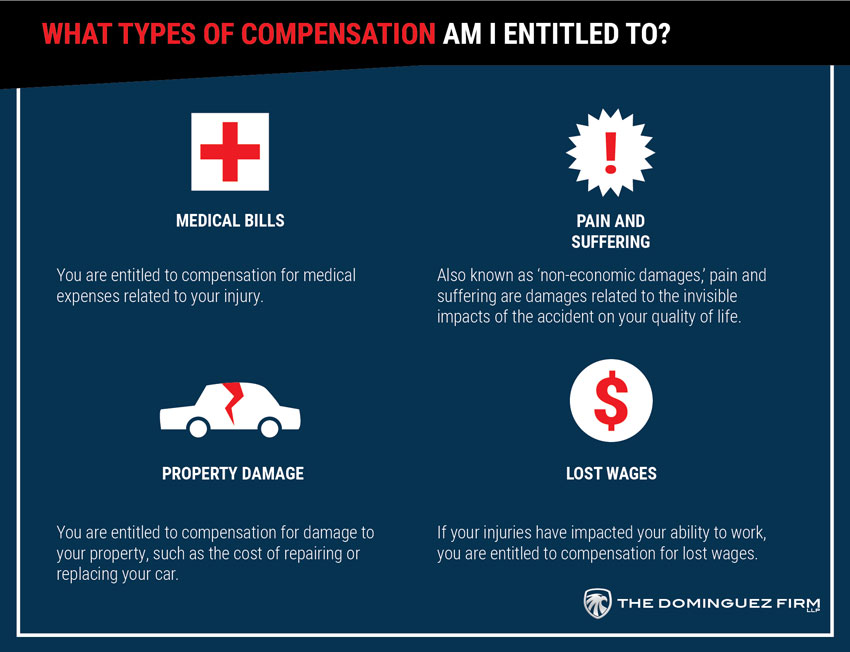 What types of compensation am I entitled to?
Medical expenses. You are entitled to compensation for medical bills related to your injury, either through your own insurance company or that of the other party(s) to the accident, depending on who is at fault. Medical bills can include, among others:

Hospital bills
Ambulance bills
Physical therapy
Consultations with specialists
In-home care services
Psychiatric counseling

Property damage. If the other party to the accident is at fault, you are entitled to compensation for damage to your property—in most cases, the cost of repairing or replacing your car.
Pain and suffering. Also known as 'non-economic damages,' pain and suffering are damages related to the invisible impacts of the accident on your quality of life. These damages are meant to compensate for physical and mental distress resulting from the accident, such as anxiety or PTSD. Under the guidance of an experienced car accident lawyer, these more difficult to quantify damages can account for a sizeable portion of accident compensation.
Lost wages. If your injuries have impacted your ability to work, you are entitled to compensation for lost wages. Your employer will need to provide a letter stating your salary and the hours you have missed.
Punitive damage. If the conduct of the defendant was a particularly malicious or willful disregard for the safety of others, then you may be entitled to punitive damages that may amount to more than all the other danger combined.
Other Important Questions To Consider:
What are the different types of car accidents, causes, and related statistics?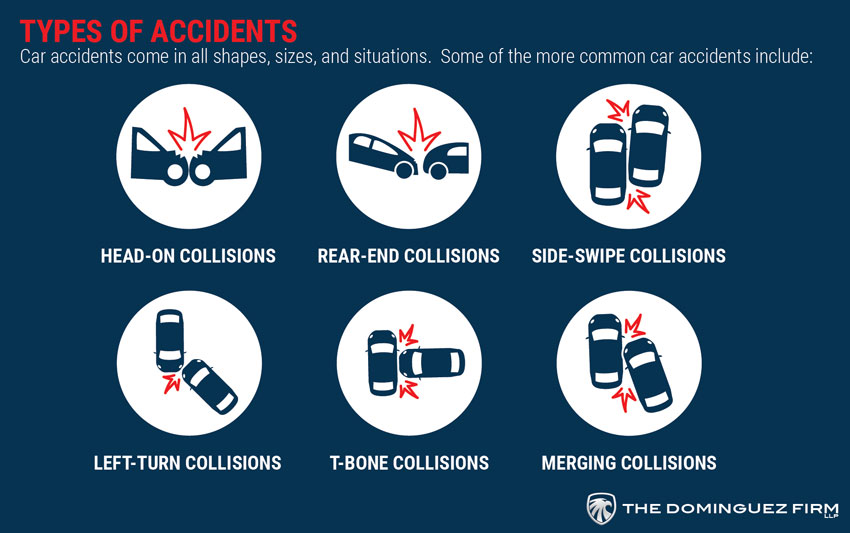 Car accidents come in all shapes, sizes, and situations. Some of the more common car accidents include:
Rear-end collisions
Head-on collisions
Left-turn collisions
Side-swipe collisions
T-bone collisions
Merging collisions
Failure to yield right of way collisions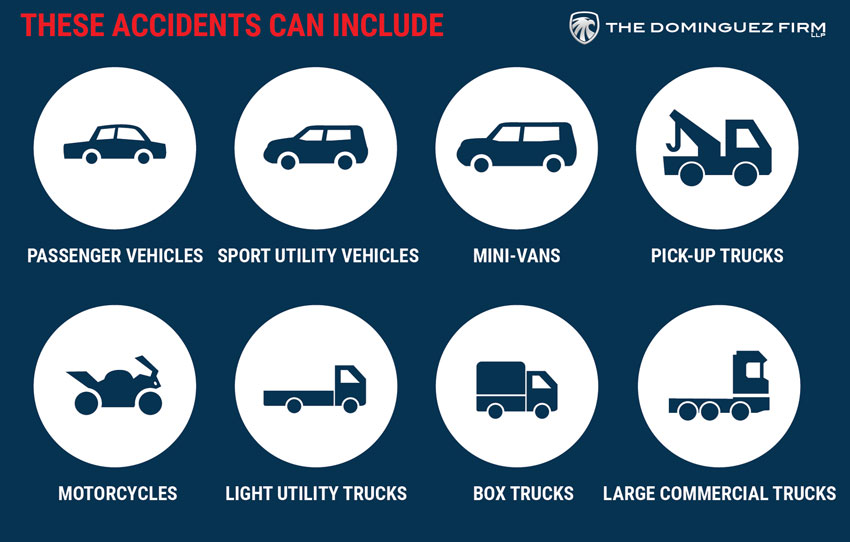 These accidents can include any of the following types of vehicles:
Passenger vehicles (4-door, 2-door, hatchback)
Mini-vans
Sport utility vehicles (SUVs)
Pick-up trucks
Motorcycles
Light utility trucks
Box trucks
Large commercial trucks (aka as big rigs, 18-wheelers, or tractor-trailers)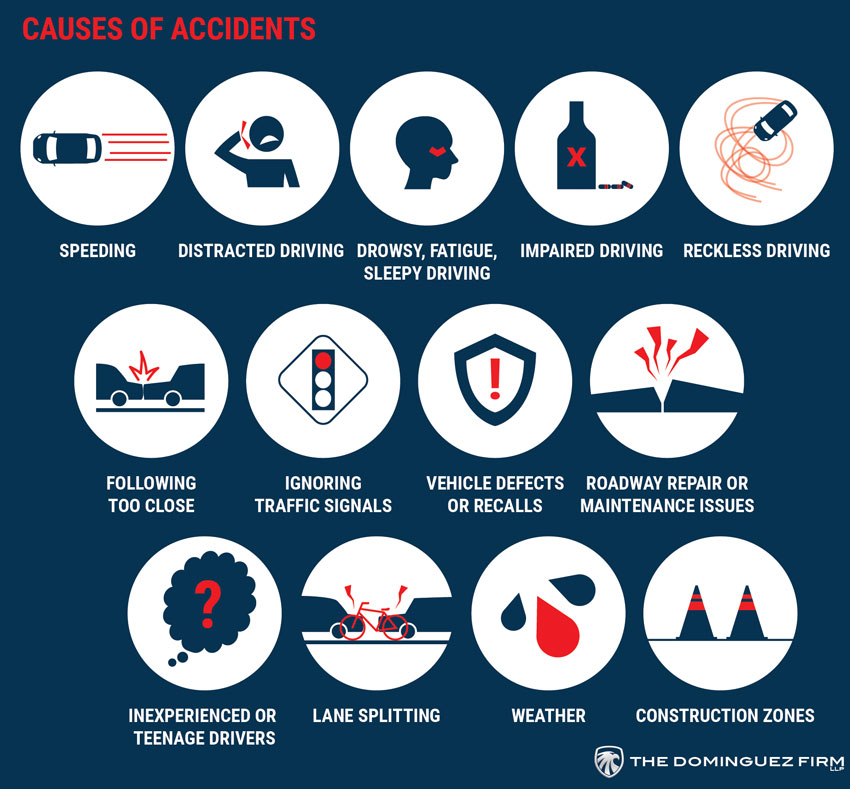 Causes of car accidents include:
Speeding
Distracted driving (texting, eating, talking on phone, and other dangerous distractions)
Drowsy, fatigued, or sleepy driving
Impaired driving (driving under the influence of drugs or alcohol)
Reckless driving
Following too close
Ignoring traffic signals, road signage, and stop signs
Vehicle defects or vehicle recalls
Roadway design, repair, or maintenance issues
Teenage or inexperienced drivers
Lane splitting (for motorcyclists)
Weather
Construction zones
According to the most recent data compiled by the California Office of Traffic Safety, fatality statistics related to car accidents include: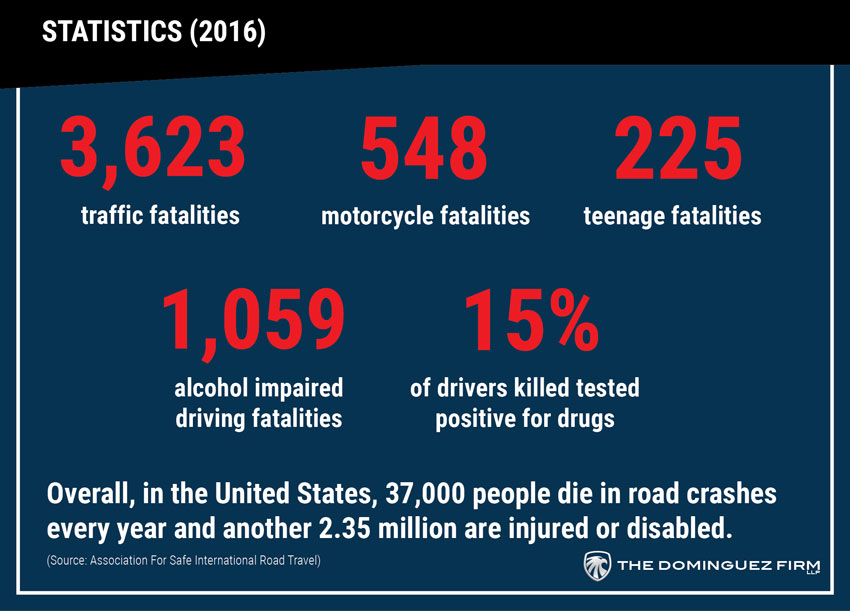 3,623 traffic fatalities in 2016
1,059 alcohol impaired driving fatalities in 2016
15 percent of all drivers killed in motor vehicle accidents that tested positive for drugs
548 motorcycle fatalities in 2016
225 teenage driving fatalities in 2016
Overall, in the United States, per the Road Safety Facts by the ASIRT, 37,000 people die in road crashes every year and another 2.35 million are injured or disabled.
I'm undocumented, can you still take my case?
Yes and yes. In California, it is against the rules in any civil case, including a car accident lawsuit, to use someone's immigration status against them. In other words, when someone is negligent and causes you injury, it is irrelevant what, how, or why you are here. To this end and to be on the safe side, we always issue privacy objections to stop any line of questioning meant to elicit this type of information.
While English is the language spoken in the courtroom, it is common for non-English speakers to utilize licensed interpreters. Our attorneys work with some of the best interpreters in Los Angeles that can help be your voice, often matching your dialect, tone, and intonations, to ensure the translation and interpretation is spot on and conveys your story and emotions.
Can I recover for an accident if I am partly to blame or contributed to the accident?
Yes. California is a "comparative fault" state, which means your total recovery will be reduced by the percentage you are deemed to have contributed to the accident occurring. For example, if you're total recovery is $1,000,000 and your actions were deemed to have contributed 25 percent to the accident, then your recovery is $750,000. You can recover even if you are deemed 99 percent at-fault. When speaking to a personal injury attorney, the percentage of the fault should be a topic that is discussed.
What if I was working or I was on-the-clock at the time of my accident?
Depending on the specific facts of your case, you may be able to make a workers' compensation claim and file a lawsuit in civil court against at-fault third parties (non-employer). Fortunately, we have you covered as we not only have award-winning auto accident lawyers on staff, we also have a workers' compensation department with extensive experience and success handling all types of workers' comp cases.
How our award-winning auto accident attorneys can help you
In addition to everything discussed above, our core values focus on compassion, service, and results. Our personal injury lawyers take a client-first approach and aim to give you the best, most personable service possible. We keep you informed, answer your questions, and never make any important decisions without first informing and consulting with you.
Results also matter and with over $500,000,000 recovered for our injured clients, we are an industry-leader and champion of rights. Our team of award-winning accident lawyers, including a specialized trial team, has won several multi-million-dollar jury verdicts and settlements including a $29 million auto accident verdict and a $13 million verdict in a Los Angeles car accident claim. We hold accountable the parties responsible and make them pay for the losses and injuries they caused. Period.
When you want the most beneficial result possible and to maximize your recovery, having powerhouse personal injury accident attorneys available to you, with a dedicated staff, and resources in your corner is your greatest asset to go toe-to-toe against the largest insurance companies or corporations.
Headquartered in Los Angeles, we handle cases throughout California. Our powerhouse team has an experienced car accident attorney that can help you or your loved one get the maximum compensation for your motor vehicle accident case.
Call us today for a free consultation about your case at 800-818-1818, and as always, if you don't win you pay no costs and no fees. There is no obligation and our friendly staff and attorneys stand at the ready to champion your case.
Helpful Articles From Our Auto Accident Lawyers
More Resources
My experience was good. They made sure to kept me in the loop and made sure to let me know what was going on the whole time. My mom has used other attorneys and this experience was beyond better. I would definitely recommend them!
— Ashley Magana
The attorneys were always available and answered my questions. I would recommend them to anyone. Zoe is the best!
— Janet Salazar
My experience with The Dominguez Firm and the attorneys was really good. They were very informative and always returned my calls.
— Jocelyn Gonzalez