Some drivers and passengers find seat belts to be an inconvenience. They chafe in strange places, they always seem to stick when you least want them to, and in California getting caught driving without one can net you a minimum $162 fine.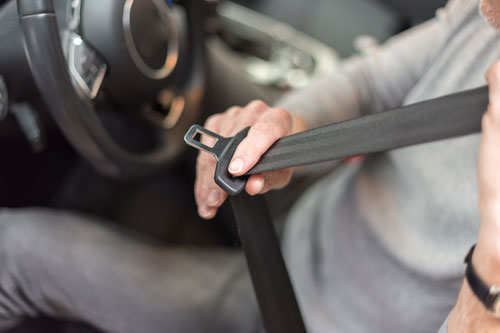 However, there is good reason for these fines—seat belts are estimated to have saved nearly 63,000 lives between 2008 and 2012. The fines are one way the state has tried to encourage citizens to make a habit of seat belt-wearing for their own safety and for the safety of their passengers.
But what happens if you are seriously injured in a vehicle accident and you or your passenger was not wearing a seat belt at the time? Here's what you need to know.
California Seat Belt Law
California seat belt law is covered under California Vehicle Code section 27315 (otherwise known as the Motor Vehicle Safety Act) which states: "A person shall not operate a motor vehicle on a highway unless that person and all passengers 16 years of age or over are properly restrained by a safety belt." Crucially, a 'highway' under California Vehicle Code section 360 is " a way or place of whatever nature, publicly maintained and open to the use of the public for purposes of vehicular travel"—in other words, unlike the common usage of the word 'highway' which usually indicates a larger roadway with higher speed limits, the legal term encompasses all public streets, and all drivers and passengers on any public street are legally required to wear a seat belt when the vehicle is in operation.
Can I File a Lawsuit if I Wasn't Wearing a Seat Belt?
Luckily, California still allows you to file a lawsuit even if you were not wearing your seat belt and operating your vehicle at the time of the accident. Your failure to observe the law in this case does not necessarily negate your right to compensation.
However, this information will be relevant if the case is taken to trial. The defendant to your lawsuit may deploy what is known as the 'seat belt defense,' in an attempt to decrease the amount of damages they will have to pay.
If the defendant is successful in their defense, the jury will be instructed to take this information into consideration when calculating the damages you might be awarded. This is because California is what is known as a 'comparative fault jurisdiction'. In other words, the amount of damages a plaintiff can be awarded can be reduced based on the degree to which the plaintiff's own negligence contributed to cause their own injury.
In determining whether and to what degree the plaintiff was negligent in causing their own injury, a jury will be instructed to determine:
Whether a working seat belt was available
That a reasonably careful person in the plaintiff's situation would have used the seat belt
That the plaintiff failed to wear a seat belt
That the plaintiff's injuries would be less severe had they worn a seat belt
An experienced serious accident injury attorney can advise you of your best legal defense based on the facts of your individual case. Sometimes this will involve conscripting relevant medical and vehicular experts to issue formal statements or testify on your behalf.
Can Passengers Not Wearing Seat Belts Sue?
As is the case with drivers in personal injury lawsuits, a passenger who is injured in an accident and who was not wearing their seat belt at the time may still file a lawsuit. The same standards hold in the case of passengers, with one exception: you may be able to make the legal argument that the driver of the vehicle in which you were a passenger is partially liable for your injury, since it is illegal in California for a driver to operate a motor vehicle unless all passengers are wearing their seat belts. Again, a qualified car accident lawyer is best equipped to advise of your strongest legal claim.
Contact a Serious Injury Accident Attorney
If you or a loved one has been seriously injured in a car accident, you may be entitled to legal compensation, even if you were not wearing your seat belt at the time. Call The Dominguez Firm today for a free consultation about your case at 800-818-1818, and let us help you along the road to recovery.
Related Articles:
My experience was good. They made sure to kept me in the loop and made sure to let me know what was going on the whole time. My mom has used other attorneys and this experience was beyond better. I would definitely recommend them!
— Ashley Magana
The attorneys were always available and answered my questions. I would recommend them to anyone. Zoe is the best!
— Janet Salazar
My experience with The Dominguez Firm and the attorneys was really good. They were very informative and always returned my calls.
— Jocelyn Gonzalez