Any traffic accident can cause injuries, but a motorcycle crash causes serious injuries and even death for the motorcycle rider. Compared to other vehicles, motorcycles offer much less overall protection. They are also less visible, making riders especially vulnerable out on the road. All it takes is one distracted or reckless driver to cause serious injuries to a motorcycle rider.
The experienced motorcycle accident attorneys at The Dominguez Firm have over 35 years of experience handling a vast array of motorcycle accidents throughout Los Angeles and Southern California. If you've been injured in a motorcycle accident, our attorneys will fight to get you the maximum compensation you're entitled to. Compensation to help you with your medical care, lost income, rehabilitation, mental health counseling and in more serious cases, long-term care.
If you or a loved one were injured or killed in a motorcycle accident, please keep reading to find out more about what your rights and options are. And of course, call The Dominguez Firm at 800-818-1818 for a free consultation. We're available to take your call 24/7. We are here to help.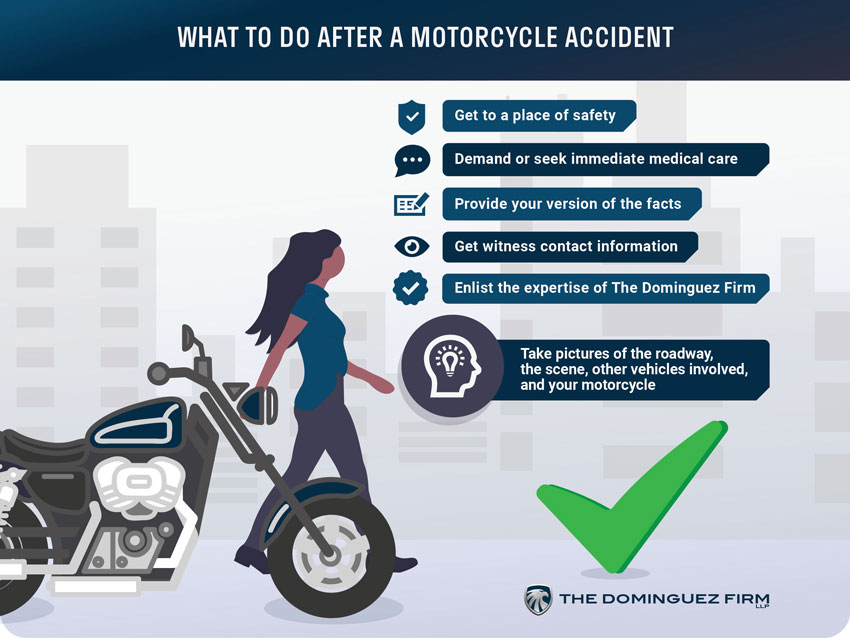 What Should I Do After a Motorcycle Accident?
If you are a motorcycle accident victim, here's a list of what to do while still at the accident scene. One important note: your safety should be your top priority so only follow these suggestions if it does not put you or anyone else in harm's way.
Try to move away from the road, especially if the accident happened on a freeway, but only if it is safe to do so.
Call 911 to report the motorcycle accident immediately.
Check yourself for any injuries and seek immediate medical attention, even if you think you suffered minor or no injuries.
Exchange insurance and contact information with everyone involved.
Provide your version of events to the officer on the scene.
If possible, take photos of the accident scene, any street signs and the damage to your motorcycle and the other vehicles involved. If there were witnesses, ask for their contact information as well.
Call a motorcycle accident attorney at The Dominguez Firm right away.
Do not admit any fault or apologize to anyone. Apologizing could be seen as an admission of guilt. Besides, you are still too shaken up from your accident to determine who was at fault or not. Also, know that the insurance company adjuster is not your friend. They are only interested in saving their employer money. Any apology or admission of guilt will be used to make you a lowball offer or deny your claim outright. Instead, you should contact a Los Angeles motorcycle accident lawyer at The Dominguez Firm and let them handle things for you. We will get to work on your case while you concentrate on your recovery.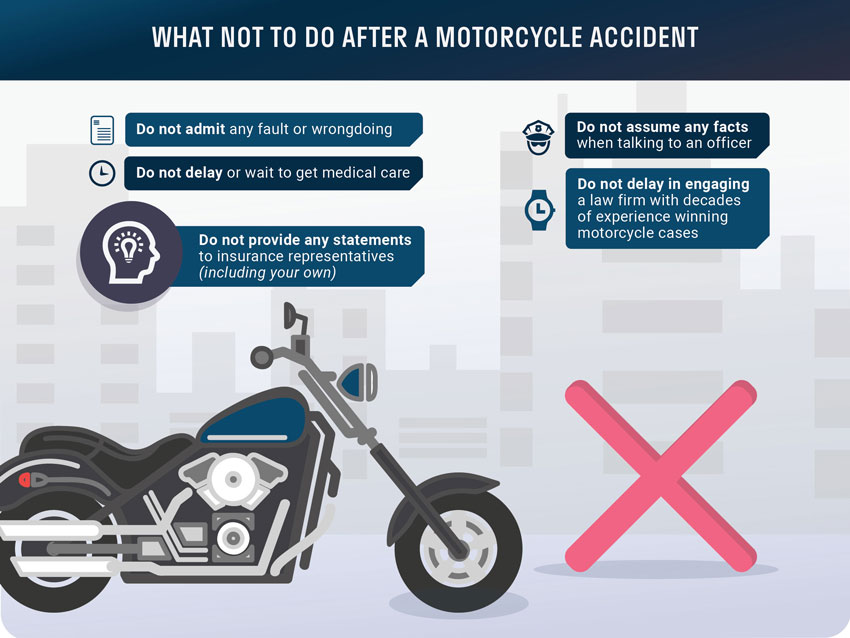 Just as importantly, do not turn down medical assistance. Right after your motorcycle accident, you may not feel any pain or other symptoms because of the adrenaline pumping through your body. There's also the possibility that you may have serious internal injuries and not even know it. Make sure you are seen by a doctor right away, not just for the sake of your claim, but more importantly, for your health.
What Are the Leading Causes of Motorcycle Accidents?
Many motorcycle accidents are caused by negligent drivers, but sometimes, riders themselves engage in reckless and dangerous behavior. Below is a partial list of some of the leading causes of a motorcycle crash. Riders can avoid becoming a statistic by avoiding the first two causes on this list:
Driving under the influence of drugs or alcohol
Speeding
Impaired visibility
Unsafe road conditions
Distracted or aggressive drivers
As of 2020, California was the only state to allow lane splitting. Just like it sounds, lane splitting allows California riders to legally ride between cars, making for a faster, but more dangerous trip. Legally, motorists are required to share the road, but that doesn't stop unsafe lane changes and just plain distracted drivers from hitting and seriously injuring or even killing riders.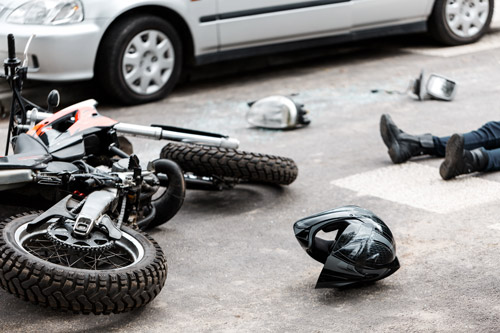 In recent years, the age of the average motorcycle riders has gone up substantially. Older riders are three times more likely to suffer a serious injury in an accident compared to their younger counterparts. Part of this has been attributed to their slower reaction times and declining vision. Another factor for the higher than normal accident rate for older riders is their preference for heavier motorcycles which are more likely to roll over if the rider loses their balance.
On the flip side, a growing number of men under the age of 30 are riding high performance or supersport motorcycles. These smaller motorcycles are lighter and faster than standard motorcycles, making them more difficult to control. This is especially true in bad weather or dangerous road conditions. The overall death rate for supersport motorcycle riders is four times higher than for the riders of standard motorcycles. Speeding is the leading cause of supersport motorcycle accidents.
What Are the Most Common Los Angeles Motorcycle Accident Injuries?
As already noted, riders are more likely to be seriously injured or die in an accident. A rider can effectively reduce that risk by wearing a helmet. Studies show wearing a helmet lowers a rider's risk of dying in a crash by 37%. Sadly, even a helmet can't always protect riders from suffering serious and even catastrophic injuries. Among the most common types of Los Angeles motorcycle accident injuries are:
Amputations
Broken bones
Burns, including road rash
Paralysis
Spinal cord injuries
Traumatic brain injuries (TBIs)
Whiplash
For 2018, there were 4,985 motorcycle fatalities. Even though that represents a 5% drop from 2017, motorcycle riders are still overrepresented on the list of traffic fatalities per type of vehicle. Naturally, any downward trend in fatalities is welcome news and hopefully, that trend will continue.
I Don't Have Health Insurance. Can You Still Help Me Get Medical Care?
Yes. If you do not have health insurance, we can still help you receive top-notch medical treatment. At the end of your case, we will deduct the cost of your medical care from your settlement or verdict. The most important thing is for you to get the treatment you need without delay. Moreover, our firm may be able to help you access low-cost coverage, such as Medi-Care or Medi-Cal.
I'm Undocumented. Can I File a Motorcycle Accident Claim?
Yes. If you were injured in a motorcycle accident here in California, your immigration status can't be used against you. If a defense attorney attempts to bring this information up, our award-winning personal injury lawyers will quickly object and shut this line of questioning down.
I Was Injured While Riding as a Passenger, Can I File a Claim?
Absolutely. Motorcycle accident passengers have the same rights as car accident passengers. They too can file a claim against those responsible for their injuries. And since they were not driving, there are no questions as to who was at fault for the accident.
I May Have Been Partially to Blame for My Accident, Can I Still File a Lawsuit?
Yes, because California is a comparative negligence state. Even if you were partially to blame for your accident, you may still be eligible for compensation. The court will determine your percentage of fault and deduct it from your final settlement or verdict.
I Wasn't Wearing a Helmet. Can I File a Claim?
You can. Keep in mind, your failure to wear a helmet means you'll share some responsibility for your injuries. Helmets are the law in California. If you weren't wearing one when your motorcycle accident occurred, the defense attorney will use it to try and minimize your claim.
However, if a reckless or negligent driver caused your injuries, you should speak to an experienced Los Angeles motorcycle accident lawyer at The Dominguez Firm right away for a free consultation. Helmet or not, you still have the right to file a claim if someone else caused your accident and injuries.
How Do You Prove Blame for a Motorcycle Accident?
Our motorcycle accident attorneys combine aggressive investigations and fact-finding with extensive knowledge of the law to put together a winning formula that starts the moment you retain us for your case. We have a team of in-house investigators ready to go over every detail of your accident. They will target all at-fault parties. That includes other drivers, employers, public entities, and any other sources of your injury to ensure your one shot at recovery is fully maximized. We also work with some of the best Los Angeles motorcycle accident experts. They will analyze your accident, and form opinions about the cause of it and the injuries you have suffered.
Our attorneys know that motorcycle injury accidents are unique for two reasons. First, there is a built-in bias in our society that riders are risk-takers and dangerous. Second, because the injuries involved in a motorcycle accident can often be catastrophic, most injury collision reports are based on the driver's version of the accident. We are well aware of this and have honed specific techniques to counter unfavorable police reports while building your case with empathy and compassion. That way, others will understand what happened and what you have been through.
Our aggressive personal injury lawyers have secured a 96 percent success rate and are adept at handling any and all challenges to get you the justice you deserve.
What Compensation Could I Be Entitled to?
The compensation you are entitled to for your losses will depend on the particulars of your accident. The legal term for this compensation is called "damages". Your damages will be broken up into two categories, economic and non-economic.
To prove damages, your motorcycle accident lawyer at The Dominguez Firm will show that each specific item below was caused by your accident. They will also clearly show what your future costs will be.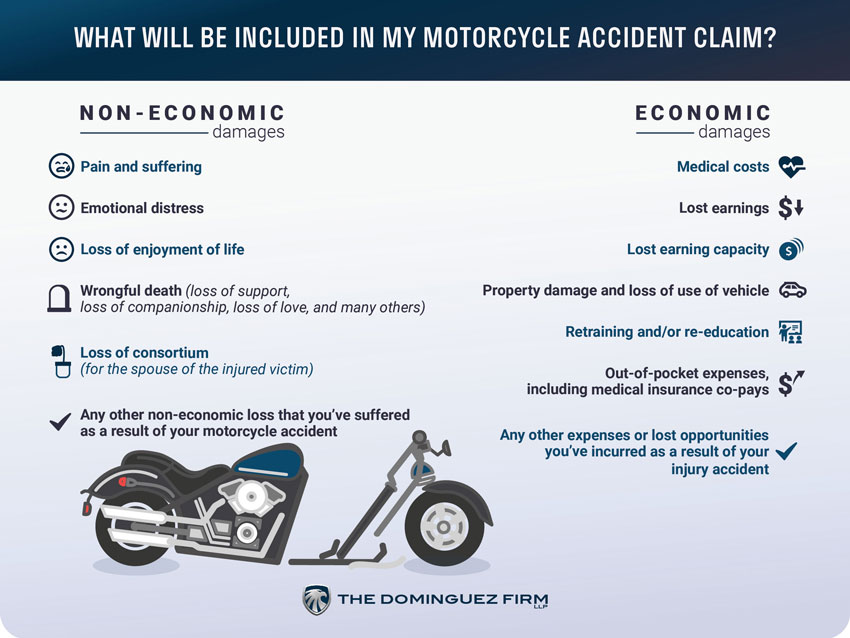 Economic Damages (past and future):
Medical bills
Lost wages
Lost earning capacity
Property damage and loss of use of the vehicle
Out of pocket expenses, including medical insurance co-pays
Retraining and/or re-education
In more serious accidents, the cost of long-term care and/or in-home modifications
Any other expenses or lost opportunities you've incurred as a result of your injury accident
Non-economic Damages (past and future):
Pain and suffering
Emotional distress
Loss of enjoyment of life
Wrongful death (loss of support, loss of companionship, loss of love, and many others)
Loss of consortium (for the spouse of the injured victim)
Any other non-economic loss that you've suffered as a result of your motorcycle accident
I Lost a Loved One in a Motorcycle Accident; Can I File a Claim?
If you are the next of kin of the person who died in a motorcycle accident, yes you can. You can file a wrongful death claim against those responsible for the death of your loved one. While we understand that no amount of money can make up for your loss, holding those who caused a family member to become a motorcycle accident victim accountable can help not only emotionally, but economically as well. This is especially true if the person who passed away was the main provider for their family.
Why You Should Choose the Motorcycle Accident Lawyers at The Dominguez Firm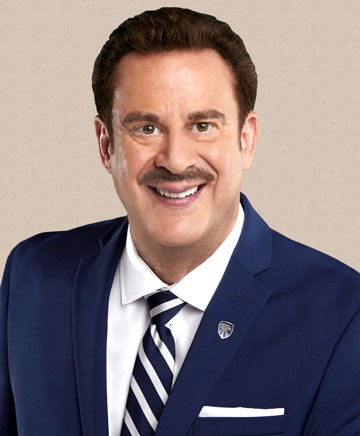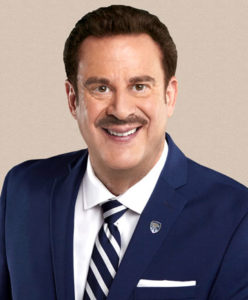 The motorcycle accident lawyers at The Dominguez Firm have been successfully helping clients in Los Angeles and all of Southern California for over 35 years. During that time, we have recovered over $1 billion* for our clients. We also have the resources, experience and winning track record to go toe-to-toe with large insurance companies and their defense attorneys. Not every personal injury law firm or lawyer can say the same.
Our lawyers and legal staff of over 130 professionals also hold true to our motto of compassion, service and results. We put you, our client, first. And if you're concerned about the cost of hiring a motorcycle accident attorney at The Dominguez Firm, you shouldn't be. That's because we work on a contingency basis. That means you don't have any upfront fees or hidden costs to deal with. We receive a percentage of your final settlement or verdict. The amount will be clearly stated in the client representation agreement you sign with us. And we promise, if there is no recovery, there is no fee! Call now for a free consultation at 800-818-1818. Let us help you!
Helpful Articles About Motorcycle Accidents:
My experience was good. They made sure to kept me in the loop and made sure to let me know what was going on the whole time. My mom has used other attorneys and this experience was beyond better. I would definitely recommend them!
— Ashley Magana
The attorneys were always available and answered my questions. I would recommend them to anyone. Zoe is the best!
— Janet Salazar
My experience with The Dominguez Firm and the attorneys was really good. They were very informative and always returned my calls.
— Jocelyn Gonzalez