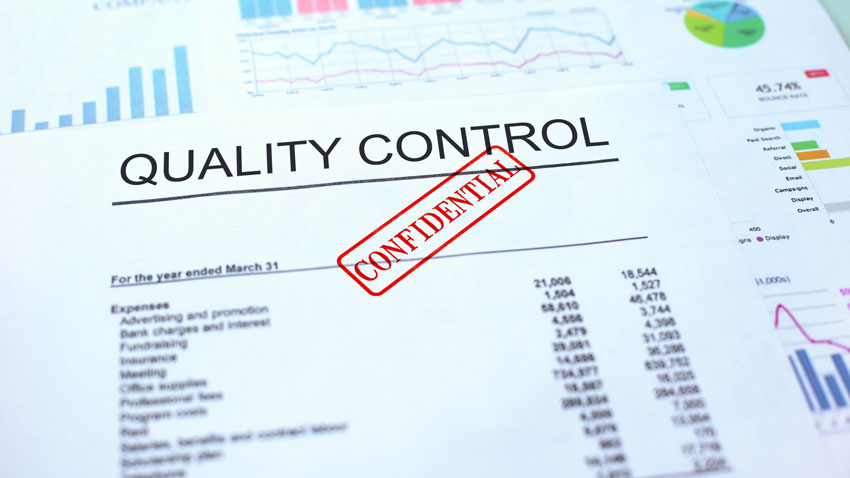 The product liability attorneys at The Dominguez Firm know that defective products can seriously injure consumers. That's because we've been handling product liability cases in the greater Los Angeles area for over 35 years.
As a consumer, you purchase an item with the assumption that it will be safe to use. When that doesn't happen, serious injuries and even death can occur. We at The Dominguez Firm hope this never happens to you. But know that if it does, we're here to fight for your rights and the compensation that you're entitled to.
Product liability is an area of law that holds the parties involved in the manufacturing and/or selling of a defective product responsible for any injuries resulting from its use. Examples of responsible parties include:
Manufacturers
Retailers
Distributors
Wholesalers
What follows are some of the most common answers to questions The Dominguez Firm receives regarding product liability cases.
What is a Product Liability Attorney?
Product liability attorneys represent consumers who've been injured by a defective product. They help their clients collect damages (in legal terms: monetary compensation) for their injuries and property loss resulting from the defective product.
The product liability attorneys at The Dominguez Firm work on a contingency fee basis, meaning that we only charge a fee if we collect damages. As a client, that means you incur no out of pocket expenses from us if we represent you.
Why Do I Need a Product Liability Attorney?
If you've suffered an injury because of a defective product, that product probably came from a major manufacturer, retailer and/or distributor. You can be sure they have deep pockets and access to the best defense attorneys possible. Taking them on by yourself is overwhelming and usually fruitless.
Also, proving a company was negligent or reckless when it sold you a defective product may not be as easy as you think. Presenting a strong case typically requires access to investigators and a wide range of experts.
The personal injury attorneys at The Dominguez Firm have the resources to take on large corporations successfully. And the money we obtain from a settlement or verdict gives product liability victims economic peace of mind. This allows them to concentrate on their recovery, not mounting bills.
What Does a Product Liability Lawyer Do?
A product liability attorney helps you get back to living your life after you've been injured by a defective product. One of the most important things a products liability lawyer does is ask for damages from the defendant. When determining a fair compensation amount for damages, your product liability attorney will factor in:
Medical bills
Lost income
Long-term care
Rehabilitation
Counseling
For clients who have suffered permanent injuries: home modifications
Product liability lawyers will also ask for pain and suffering due to the emotional distress you've endured stemming from your injuries.
If the defective product resulted in the death of a loved one, a good product liability attorney will make sure all guilty parties are held accountable and that justice is served in the name of the deceased. While no amount of money can make up for such a traumatic loss, obtaining justice can help a family during the grieving process. If the case results in improvements to consumer safety, it can also serve as a lasting legacy to the deceased.
What is the Connection Between Product Liability and Warranties?
When a consumer purchases a product, it comes with a warranty. This is a guarantee from the seller and/or manufacturer as to the safety and quality of their product. It is also an agreement that the seller will repair or replace any defective product sold to the buyer.
There are two types of warranties:
Express – This is a stated warranty. It can be written on the packaging of a product or be given verbally. Generally, express warranties come from the manufacturer. One of the most well-known examples of an express warranty is the warranty that comes with a new car. It's in writing and specifies length of coverage, what's covered and exclusions.
Implied –  There are two types of implied warranties:
Implied warranty of merchantability – This is an assurance to the consumer that a product will have at least a reasonable standard of quality and will work as expected. An example would be a piece of fruit purchased from a grocery store. A consumer may buy it because it looks fine on the outside and expects it to be edible. But if they find it's rotten when they slice it open, the implied warranty has been broken.
Implied warranty for a particular purpose – When a seller knows a buyer will be using a product for a particular purpose, it's implied that the item will be suitable for that purpose. An example of this type of warranty being broken would be a waterproof watch that malfunctions the first time a person goes swimming.
If a product is defective but doesn't injure a consumer, there is no basis for a product liability claim. However, it can be returned, since the seller was in breach of the warranty, implied or express.
Can You Sue a Company for a Defective Product?
If you were injured by a defective product, then yes, you can sue the responsible parties here in California. It doesn't matter whether you were the buyer of the product or not.
You can even sue if you were not the person using the product. For example, if you're injured by a drone being flown by someone in a park, you can sue the designer and/or manufacturer if it's established that the drone hit and injured you due to a defect or design flaw.
If the product that injured you was from a foreign manufacturer or retailer, you can still sue for your injuries since they are subject to the laws of California, the state where they do business.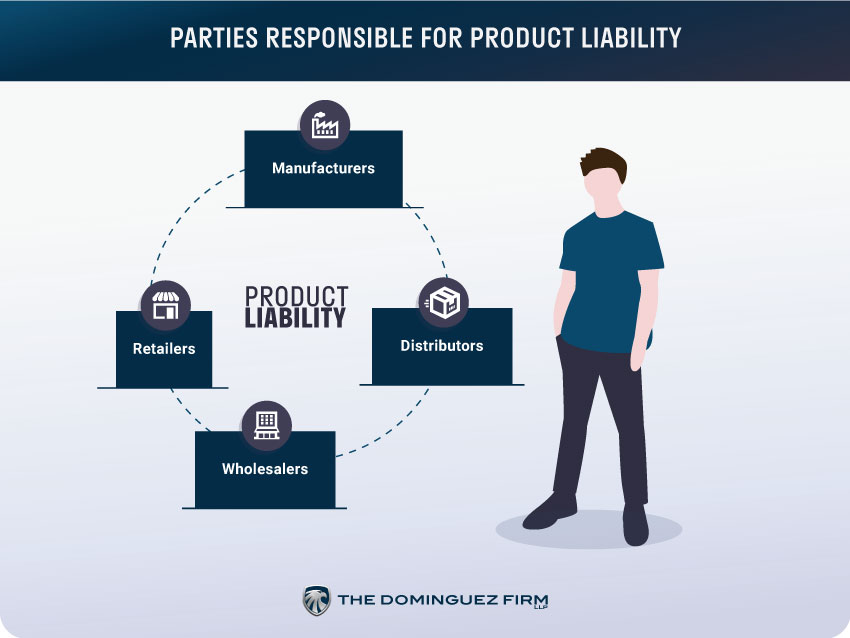 Who is Held Liable in a Defective Product Case?
When a product is made and sold, it goes through a chain of distribution. That would be:
The designer and manufacturer of the product – Sometimes these are two different parties.
The manufacturer of any components – This is a separate manufacturer. An example would be a tire manufacturer that produces tires used by a car manufacturer.
Wholesaler – Any middleman might also be included in a product liability claim. They are often found in a product's chain of distribution. This could mean a wholesaler, supplier or distributor.
Retailer – The seller of the defective product.
Any or all parties in this chain can be liable for a product's defect. Your products liability lawyer may need to sue more than one party, depending on where in the chain of distribution the defect appears to have occurred.
Also, you do not have to be the buyer of the product to sue the retailer. As an example, if you borrow a blender from a friend and it explodes while you were using it, you can probably sue the retailer your friend purchased that blender from.
Do note, products purchased "as is" or at a garage sale are not covered by warranties. That means they aren't protected by product liability laws. Even if they do turn out to be defective and cause injuries, the consumer most likely has no recourse.
Can You Sue the Manufacturer or Distributor?
Yes, as previously noted, product liability laws don't force you to choose just one defendant. Depending on the circumstances of your case, your product liability attorney may need to sue several defendants, not just the manufacturer and/or the retailer.
What is the Law on Faulty Products?
At the national level, Congress enacted the Consumer Product Safety Act in 1972 to help define basic standards of safety for products and protect consumers. Since its passing, improvements to this law have also been enacted. In 2008, the Consumer Product Safety improvement Act took effect. This was largely in response to concerns about the safety of numerous products for children, such as evidence of lead in toys.
California has some of the strongest consumer protection laws in the country. If you've been injured by a defective product here in the Golden State, know that our laws are firmly on the side of you, the consumer.
What Are My Rights if I Buy a Faulty Product?
If you were injured by a product you purchased, you have the right to sue for your injuries, as well as any property damage and pain and suffering under California's products liability laws.
If someone is killed due to a faulty product, the next of kin (the closest living blood relative) can sue for their unexpected loss. This would be filed as a wrongful death lawsuit against the responsible parties.
What Do I Need to Prove in a Product Liability Claim?
To successfully sue for a defective product, you need to prove that:
The defendant designed, manufactured, distributed or sold a defective product to the consumer.
The consumer used reasonable care when using the product.
The consumer was injured due to the defect in the product.
If you can say "yes" to all three of these points, you likely have a strong case against the company (or companies) responsible for your injuries.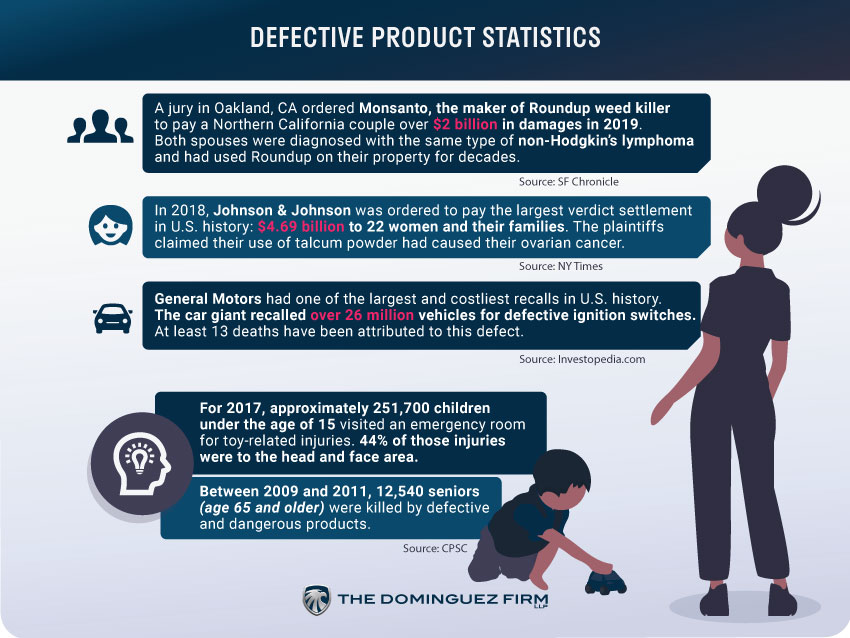 Defective Product Statistics
Here are some recent statistics regarding injuries and deaths from defective and dangerous products:
What's the Average Jury Award for a Product Liability Claim?
According to the Insurance Information Institute, the total amount awarded by juries for product liability claims in 2020 was over $7 million. This is by far the highest amount of any of the liability case categories, including medical malpractice. Of course, the range of jury award amounts can vary widely with a few multi-million dollar verdicts accounting for this $7 million-plus amount.
Each case is different. So, to more accurately answer this question, we have to look at three key questions:
What's the extent of the victim's damages (losses in legal terms)? Damages would include medical bills, lost income, and pain and suffering. Permanent injuries that render the victim unable to work or in need of long-term care would most likely result in higher damages.
What sort of assets does the defendant have? No matter how serious the injuries from a defective product, if the defendant can't pay the settlement amount or jury verdict, then there isn't much of a chance of recovering anything, unfortunately. On the flip side, if the defendant has high limits on their insurance policy, there's a much better possibility of receiving the compensation they need to recover.
How strong is the case against the defendant? – The stronger the case, the higher the possibility that the plaintiff will be awarded a substantial jury award. In addition, in cases where the defendant acted in a particularly reckless or negligent manner, the court may award the plaintiff punitive damages as well. This is done to make an example of the defendant and discourage similar behavior in the future.
An experienced products liability attorney can give an estimate as to the value of a product liability case based on these three questions and similar cases they've handled.
Types of Dangerous Products
There are three types of defective products. They are:
Design Defect – A flaw in the design of a product that will render it unsafe to use once it is produced. If this is the case, the entire product line will be considered dangerous.
Manufacturing Defect – Most defective product injuries and deaths are caused by manufacturing defects. In turn, this means most product liability claims are due to manufacturing defects. The original design may have conformed to safety standards, but something went wrong during the manufacturing process, resulting in a dangerous product.
Warning and Labeling Defects – Products that aren't obviously dangerous to a consumer or require special handling instructions can fall into this category. An example would be any medication that doesn't give sufficient warnings about side effects, especially if taken with other drugs.
Consumer Protection Agencies
Here are the consumer agencies for California by city, county and region:
https://www.usa.gov/state-consumer/california
The Federal Trade Commission (FTC) Bureau of Consumer Protection thwarts deceptive business practices and is the federal government watchdog for the pubic regarding consumer goods.
https://www.ftc.gov/about-ftc/bureaus-offices/bureau-consumer-protection
If the product is in violation of FTC regulations, the manufacturer can be liable. The FTC also deals with warranties.
Choose a Product Liability Lawyer That's Right for You
When we as consumers purchase a product, we expect it to function as expected. We also put our trust in everyone involved in the product's chain of distribution to protect us from any harm. Sadly, mistakes happen, and serious injuries and even death can result.
At The Dominguez Firm, we want you to know that California has some of the strongest consumer protection laws in the U.S. If you were injured due to a defective product, we're here to help. For over 30 years we've been successfully taking on powerful corporations and holding them accountable for consumer safety.
Call the experienced product liability lawyers at The Dominguez Firm today for a free and confidential case consultation at 800-818-1818. And we stand by our promise: we win, or you don't pay, so call us today!
Resources
My experience was good. They made sure to kept me in the loop and made sure to let me know what was going on the whole time. My mom has used other attorneys and this experience was beyond better. I would definitely recommend them!
— Ashley Magana
The attorneys were always available and answered my questions. I would recommend them to anyone. Zoe is the best!
— Janet Salazar
My experience with The Dominguez Firm and the attorneys was really good. They were very informative and always returned my calls.
— Jocelyn Gonzalez