Catastrophic injuries affect hundreds of thousands of Americans each year and can arise in many different forms. When defining catastrophic injuries, you must take into consideration the physical, mental and emotional costs of the injury or injuries. In addition, the consequences of these permanent injuries with performing daily activities and gainful work.
It's important to retain a personal injury lawyer with an established history of fighting for victims to get the compensation you deserve, especially in serious catastrophic injuries that can be financially devastating. When calculating damages for a catastrophic injury, judges and juries will need to consider not only the loss of wages that you may incur as a result of medical care related to your injury in the present, but also your potential loss of earnings over the course of your lifetime.  In other words, if your injury results in a permanent disability that prevents you from working ever again or in a similar capacity to your pre-accident life, you may be entitled to damages for that loss of earning potential.  For example, if your career requires physical labor and you suffer a spinal cord injury that renders you quadriplegic (unable to move your body below the neck), you have permanently lost the ability to perform your job and should be compensated accordingly.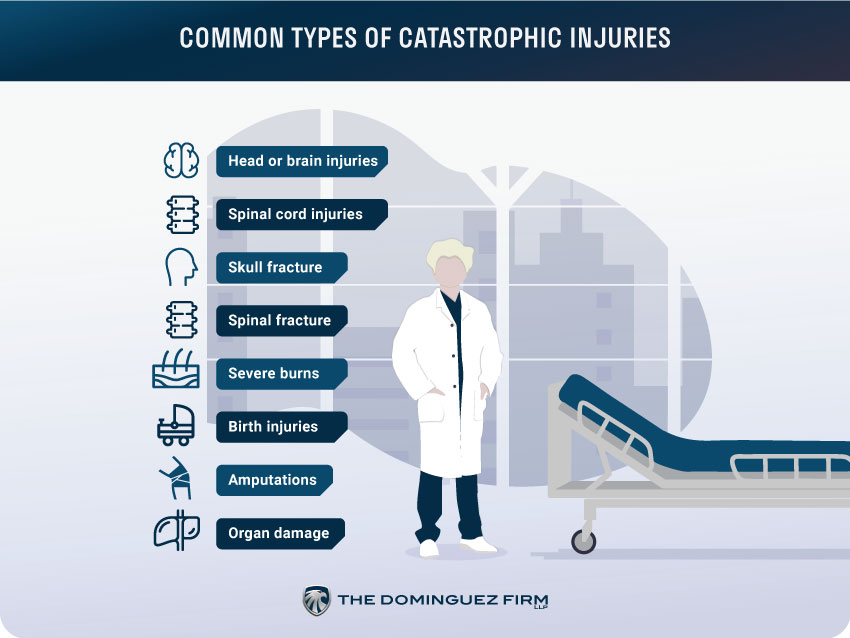 Common Types of Catastrophic Injury
Some common types of catastrophic injury include:
Head or brain injuries
Spinal cord injuries
Skull fracture
Spinal fracture
Severe burns
Birth injuries
Amputations
Organ damage
Causes of Catastrophic Injury
Some common causes of catastrophic injury include:
Motor vehicle and traffic accidents
Construction site accidents
Sports accidents
Falls
Fires or explosions
Medical malpractice
Pharmacy errors
Defective consumer products
Violent crime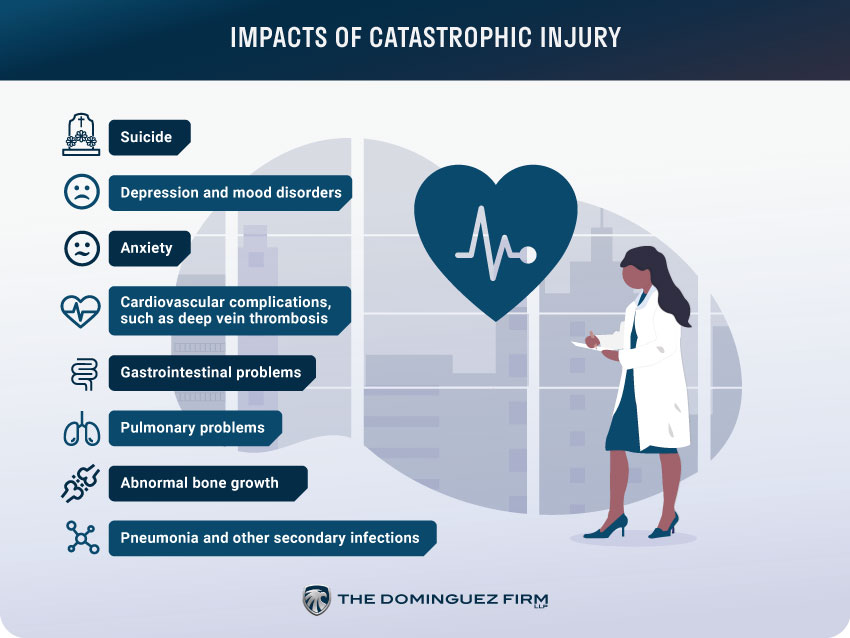 Impacts of Catastrophic Injury
In addition to the bodily trauma of a catastrophic injury, these injuries can have massive detrimental impacts on a victim's health, welfare, and quality of life.  Secondary impacts of the most common catastrophic injuries include:
Cardiovascular complications, such as deep vein thrombosis
Gastrointestinal problems
Pulmonary problems
Heterotopic ossification
Pneumonia and other secondary infections
Anxiety
Depression and mood disorders
Suicide
Additionally, the stress of caring for victims can have serious impacts on a victim's family.  In addition to whatever medical interventions are recommended, victims and their families should seek out therapeutic or mental health support as needed.
How Much does a Catastrophic Injury Cost?
The cost of a catastrophic injury is extremely difficult to estimate, since these injuries vary substantially in severity, required medical intervention and rehabilitation, and effects on quality of life.
One type of common catastrophic injury, the spinal cord injury High Tetraplegia, is estimated to cost patients an average of $1,102,403 in medical fees alone in their first year after the injury.  The cost increases to nearly $5 million over the course of the victim's lifetime if the injury occurs at an early age.  These estimates do not include amounts for lost wages and lost productivity.
Catastrophic injury victims are more likely to file for bankruptcy within the five years after their accident.
How to Recover from a Catastrophic Injury
The best way to recover from a catastrophic injury is to put together a Life Care Plan to address the patient's needs.  This plan is catered to the specific needs of the injured patient, and describe services, support, equipment, and other requirements to reflect the changes in the patient's condition.  This plan should include budget, timeline, and deadlines in order to facilitate the timely address of the patient's needs.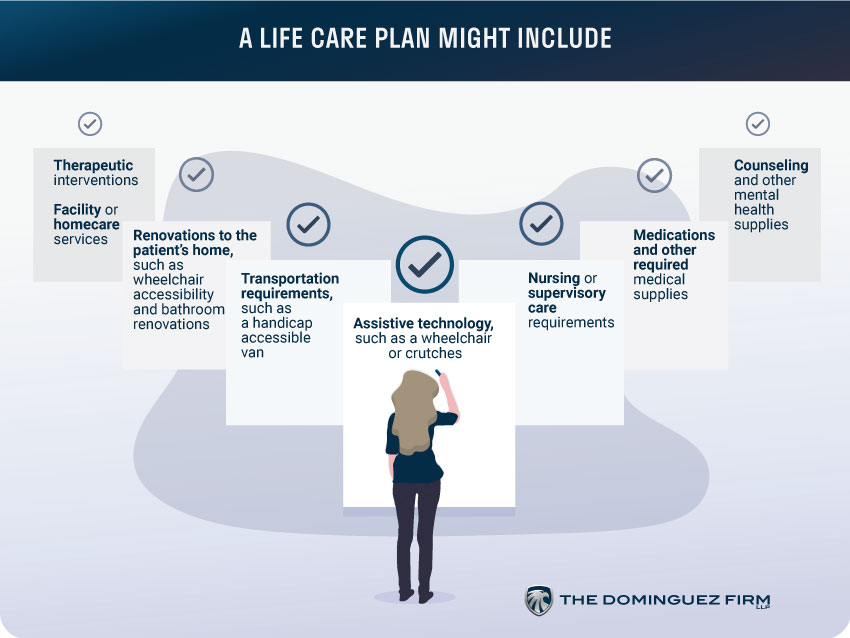 A Life Care Plan may include:
Renovations to the patient's home, such as wheelchair accessibility and bathroom renovations
Transportation requirements, such as handicap-accessible van
Assistive technology, such as a wheelchair or crutches
Nursing or supervisory care requirements
Medications and other required medical supplies
Facility or home care services
Therapeutic interventions
Counseling and other mental health requirements
While most victims will never fully recover from a catastrophic injury, with planning, time, patience, rehabilitation, and care, many are able to rebuild a quality of life for themselves and their families.
Contact a Catastrophic Injury Lawyer Los Angeles
If you or someone you love has been the victim of a catastrophic injury that prevents you from working, you may be entitled to compensation under California law.  At The Dominguez Firm, an award-winning personal injury law firm, we have helped thousands of catastrophically injured patients in Southern California to win substantial settlements and verdicts in the millions of dollars.
Our promise is NO RECOVERY, NO FEE, NO COST. Our commitment is to our clients, and in order to earn your trust we waive any upfront fees—our contingency fee policy means that you don't pay a dime until we win you compensation.  We know the financial and emotional difficulties facing catastrophic injury victims and their families, and we strive to do all that we can to alleviate those difficulties so that our clients can focus on recovery and rehabilitation.
Our firm has a 96%* success record in personal injury cases, and our attorneys have assisted thousands of clients since 1987 to recover over $1 billion* in injury compensation.
The Dominguez Firm is a full-service personal injury law firm in Los Angeles.  We employ an in-house team of investigators and maintain a strong network of the most highly regarded medical experts in the area, ensuring that your case will be substantiated by ironclad facts and evidence.  We prioritize teamwork, and consider the client as our team's MVP—you will be consulted every step of the way.
We provide impeccable legal representation with personal and client-oriented service.  Our stellar success record and consistent highly rated client satisfaction attests to our status as a premier Southern California personal injury law firm.  Our attorneys have been recognized by local and national professional organizations for these successes.
Recovering from a devastating injury is incredibly hard on victims and their families.  Let us bring our wealth of experience, compassionate, and commitment to your catastrophic injury case.  Call our offices today to find out how we can help you at 800-818-1818.
My experience was good. They made sure to kept me in the loop and made sure to let me know what was going on the whole time. My mom has used other attorneys and this experience was beyond better. I would definitely recommend them!
— Ashley Magana
The attorneys were always available and answered my questions. I would recommend them to anyone. Zoe is the best!
— Janet Salazar
My experience with The Dominguez Firm and the attorneys was really good. They were very informative and always returned my calls.
— Jocelyn Gonzalez