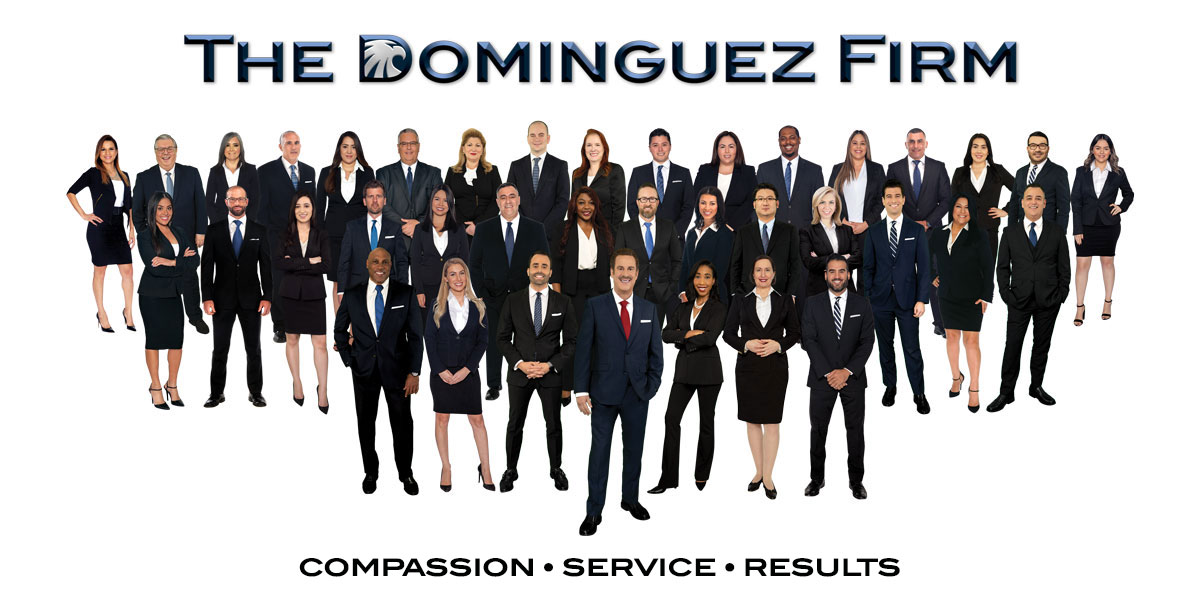 BILLION DOLLARS
recovered for deserving clients.

TOTAL LEGAL STAFF
providing unrivaled service and results.

THOUSAND CLIENTS
serviced by the firm.

WE COME TO YOU
on new injury cases.

YEARS SERVING
Southern California and beyond.

SUCCESS RATE
on litigated cases.

ATTORNEY AWARDS
and recognitions from professional organizations.

FIRM OFFICES
throughout California.

CHARITIES
we support domestically and abroad.

LANGUAGES
English, Spanish, Korean, Japanese, German, Italian, Catalan, Portuguese, Farsi, Arabic, Armenian and Mandarin.
The Dominguez Firm, LLP stands for excellence in legal services. We value the dignity of the individual. We uphold the firm's legacy of compassion, service, and results.
The Dominguez Firm, LLP is one of the most successful and recognized personal injury law firms in Greater Los Angeles and beyond. We have a 96% success rate* on litigated injury cases. Since 1987, we have helped thousands of people throughout California get back on their feet after being injured in all types of accidents, including auto accidents, falls, on the job accidents, and many others. The firm also helps victims of sexual harassment, wrongful termination, unpaid wages, and employer wrongdoing. The Dominguez Firm is proud to have won over $1 billion* in settlements and verdicts for deserving clients.
When you become a client of The Dominguez Firm, you not only get a distinguished attorney handling your case, you get a whole team of highly experienced professionals, including attentive and courteous legal assistants, dedicated investigators, and supervising attorneys to ensure the best service and results possible. We treat our clients like family!"
The Dominguez Firm is staffed with stellar trial lawyers and excels in serious injury and wrongful death cases. We have a hard-fought and well-earned success record of over 100 injury cases with a million or multi-million-dollar result.
With vast resources and a substantial war chest, we routinely spend, and can risk, hundreds of thousands of dollars in serious injury trial costs. Little wonder why other personal injury law firms seek out The Dominguez Firm to handle their serious injury cases. And, unlike other injury firms that tout results on their websites and in their lawyer advertising for merely associating-in a real trial law firm, we are a powerhouse injury law firm staffed with real trial lawyers with record-breaking eight-figure jury verdicts. We know how to win!
The Dominguez Firm regularly works with leading medical specialists to ensure you get the best medical evaluation and care necessary for your injuries. And, on qualifying cases, we can assist you with a monetary loan secured solely from the proceeds of your case, to help make ends meet while you are recovering and unable to work because of your injury.
With a legal staff of over 120 dedicated and highly skilled individuals, and law office locations in Los Angeles, Beverly Hills, Long Beach, Orange, Riverside, San Bernardino, Oxnard, San Diego, Bakersfield, San Jose, and Sacramento, The Dominguez Firm can deploy its resources after an accident at a moment's notice 24/7 on a NO WIN, NO FEE basis! Call 24 Hours for a Free Consultation: 800-818-1818.