Here in Greater Los Angeles, buses are everywhere. They offer a great, affordable way to get around town or to travel to other cities, but when bus accidents occur, they are often catastrophic and deadly. With their excessive weight, slow breaking times, difficulty in maneuvering, lack of seat belts, and blind spots, it comes as no surprise that buses are involved in so many serious accidents.
If you or a loved one has been involved in a bus injury accident, whether as a passenger on the bus, the driver or passenger of another vehicle, a pedestrian, or a bicyclist, you must take immediate action to secure evidence, get medical treatment, and prove at-fault parties responsible for the harm and devastation they caused. Our bus accident lawyers, investigators, and professional staff have handled thousands of bus accident cases over our 30 plus years of service and have the skills and experience to deliver the results you deserve.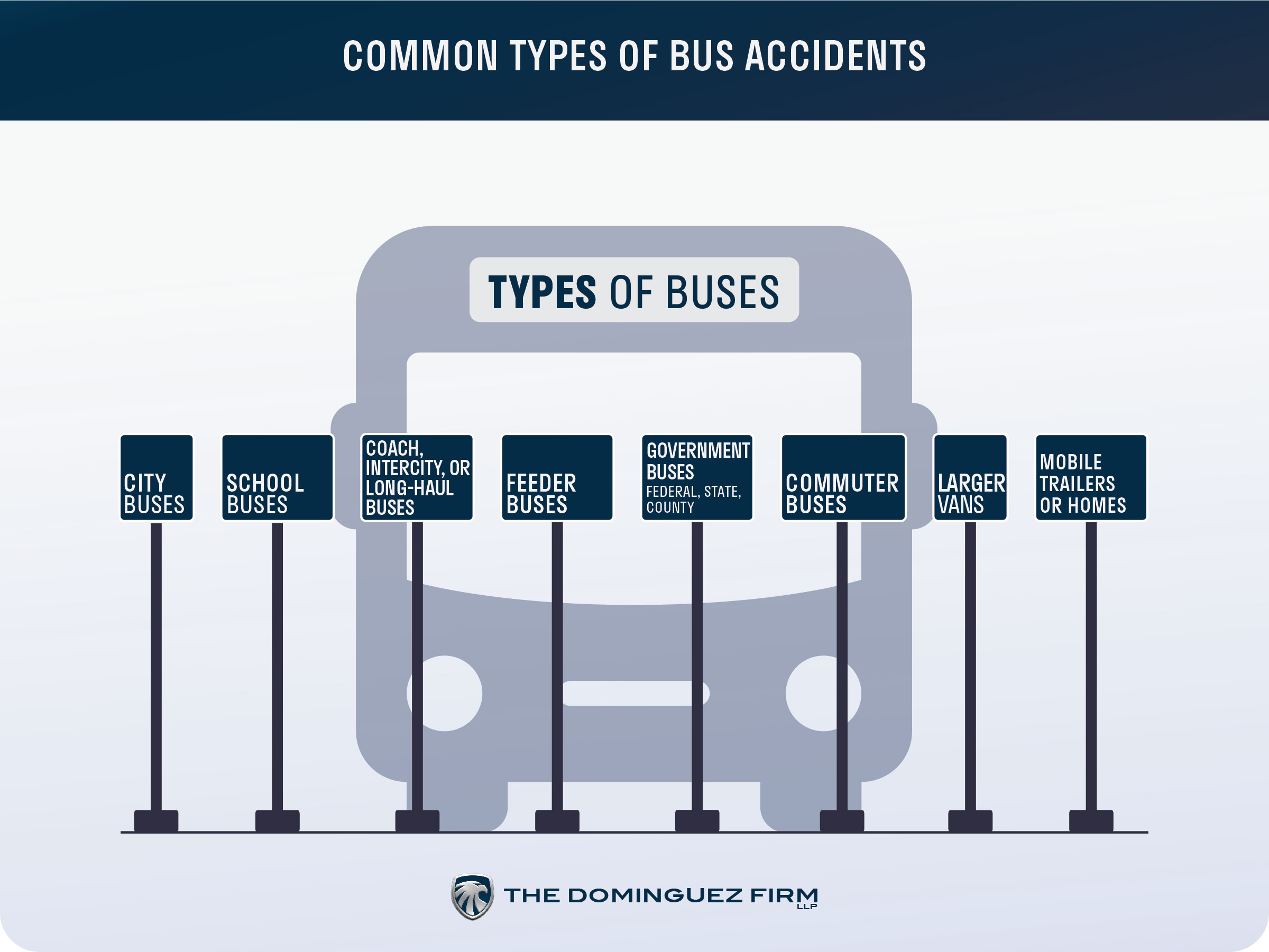 What types of vehicles are considered a bus?
Buses are considered "common carriers" in the eyes of the law and held to a higher standard of care than an average passenger vehicle. Types of buses include:
City buses
School buses
Coach, intercity, or long-haul buses (such as Greyhound)
Feeder buses
Government buses (Federal, State, County)
Commuter buses
Larger vans
Mobile trailers or homes
Common causes of bus accidents:
Driver error
Lack of proper training
Distracted driving
Drowsy driving
Speeding
Failure to anticipate traffic, changing road conditions, and weather
Mechanical and maintenance issues
Taking turns or corners too fast
Blind spots and visibility issues that obscure other vehicles, pedestrians, and cyclists
Sudden braking or sudden swerving causing injury to passengers
Lack of seat belts
Statistics show that bus accidents are far too common and highly dangerous:
264 total fatalities, nationwide, as a result of bus crashes in 2016
40 occupant fatalities, nationwide, as a result of bus crashes in 2016
35,000 people injured, nationwide, as a result of bus crashes in 2016
(Source: https://www.fmcsa.dot.gov/safety/data-and-statistics/large-truck-and-bus-crash-facts-2016.)
What should I do if I'm the victim of a bus accident?
If you are a passenger on a bus, here are some important tips to follow:
Report the accident by calling 911
Seek or demand medical treatment, even if your injuries seem minor at the time
Collect witness information, any information about the driver (and/or badge number) and operating entity
Document and photograph the scene, the bus, other vehicles, and the roadway
Make sure you are formally documented as a passenger on the bus
Do not give any statements to any bus or insurance representatives
Enlist the help of a skilled team of bus accident lawyers immediately
If your child is injured on a school bus
Entrusting your child to someone else is a big leap of faith. While you hope that the person driving your child's school bus will treat your child like their own and exhibit safe practices, that is not always the case.
The fact is, negligent and reckless school bus drivers exist and even good drivers often can't avoid other careless drivers that are all over our Greater Los Angeles roadways.
If the unthinkable happens and your child is involved in a school bus accident, you need to be prepared and follow these steps if at all possible:
Obtain any necessary medical attention for your child as soon as possible
Remain calm, seek out family or friends for immediate support
If at all possible, go to the site of the accident to be with your child
Insist on your child getting medical treatment or evaluation for any perceived injury
Be cautious about who you talk to and what you tell them
Avoid giving recorded statements or signing any forms
Engage an experienced, aggressive bus accident lawyer
Bus accidents can be very complex as several entities may be at fault, including the school, the school district, the bus company, the bus driver, the bus driver's company, and others. Also, there are often several layers of contracts and insurance policies to analyze. Moreover, because a school bus accident lawsuit typically includes naming a public entity, you must adhere to the California Tort Claims Act and its tricky deadlines and requirements.

Steps you should take after a bus accident to preserve your rights:
Report the accident by calling 911
Seek or demand medical treatment
Collect witness information, including the name of the driver (and/or badge number) and operating entity
Document the scene, the bus, other vehicles, the roadway, and your vehicle's damage
Make sure the bus stops and information is obtained (in some cases, especially as it relates to pedestrians and bicyclists, the bus might not know it hit you)
Seek immediate medical treatment
What are common bus accident injuries?
Bus accident injuries can range from minor to catastrophic or worse. Injuries can include:
Traumatic brain injury (TBI)
Wrongful death
Spinal cord injuries, including paralysis (partial, full, temporary, and/or permanent)
Broken bones or fractured bones
Whiplash and neck injuries
Spine strain and sprain
Nerve damage, numbness, and radiculopathy
Cuts and lacerations
Crush injuries
Burns and scarring
Post traumatic stress disorder (PTSD) and other mental health issues
How do I pay for medical treatment, especially if I don't have insurance?
After an accident, the most important thing for you to do is get immediate medical treatment and have access to doctors, therapists, and other healthcare professionals. In most cases, if you do not have health insurance, we can connect you with highly regarded doctors in the community who can treat you. Your medical bills will then factor into what we demand from the at-fault parties and ultimately be paid back from the proceeds of your case. Also, in some cases, if you qualify, our resourceful Los Angeles bus accident lawyers can help you ascertain free or low cost coverage through programs such as Medi-Cal, Medi-Care, and others.
If I'm unable to work, how do I pay for my life expenses?
When you suffer serious injuries, it is often impossible to carry on with your normal life activities, including work. While the other side is on the hook for lost income, a settlement or trial verdict can take some time. Fortunately, to get you through, we work with companies that can provide you a loan secured and paid back by the proceeds of your case. Additionally, in some circumstances, we can advance you money on the anticipated proceeds of your case.

Who are the most common defendants in a bus injury lawsuit?
The prime targets of a bus injury lawsuit can include the following:
The driver of the bus
The public entity that owns and/or operates the bus
A private business, corporation, or non-profit that owns and/or operates the bus
Maintenance companies that service buses if a mechanical issue caused the accident
The designer and/or manufacturer of the bus
A company that operates the bus, even if the bus is owned by another company
The driver and/or entity that owns another vehicle (that caused or contributed to the bus accident)
A public entity for roadway design or maintenance issues
What are the statute of limitations on bus injury cases and how long do cases usually last?
If you are only suing a private company or individual, then you have two years to bring a bus injury lawsuit from the time of the accident. If you are suing a public entity or an individual employed by a public entity, then you must adhere to the stringent California Tort Claims Act, which shrinks the time to make a claim down to six (6) months. The Tort Claims Act also has other highly technical requirements and deadlines. Because of the difficulties navigating this area of law, it is essential that you contact a Los Angeles bus accident lawyer to assist you with your personal injury case after an accident.
How does your law firm prove liability in a bus injury case?
Through immediate, thorough investigations, detailed fact-finding, and top-notch analysis, our award-winning bus accident lawyers get a quick start on your case and don't let their foot off the pedal. We target all potential at-fault parties and use aggressive discovery and deposition techniques to reveal the truth, get important documents and videos, and hold accountable parties responsible.
We also have a detailed understanding of the law that applies in this arena and the inner workings of the Federal, State, and local laws, regulations, and ordinances that apply to buses and to the roadways. Bus accidents are often the result of systemic issues within the governmental department or private business, including failure to adequately train their drivers or provide proper rest breaks. In many cases, it can be proven that time and profit are often put in front of passenger safety.
Additionally, we have at our fingertips, in-house training and employee manuals from bus cases and a stock of bus accident experts that can analyze all of the information to pinpoint negligence and assign fault. Ultimately, if your case goes all the way to trial, our law firm has an expert trial team that is an industry leader in achieving large verdicts (including a $29 million verdict) and negotiating large settlements (several in excess of $10 million). They have the capability and resources to present your case in the most emotionally impactful way possible to get you the monetary compensation you deserve.
As part of our liability analysis and strategy, we always seek to understand the full scope of the insurance situation on the other side, as it can often be layered and tricky when many companies and many plaintiffs are involved. There is also the possibility that companies that contract with each other will have indemnification and defense clauses that might try to reassign responsibility. All of this is highly technical and very important, which illustrates the need to seek the help of an experienced law firm in these matters.

What types of damages can I claim?
In addition to proving liability, you must prove your damages. "Damages" is a legal term that encompasses all the expenses, pain and suffering, and other losses you have suffered as a result of your accident in the past and in the future. These include the following:
Economic Damages:
Medical costs
Lost earnings
Lost earning capacity
Property damage and loss-of-use of vehicle
Out-of-pocket expenses, including medical insurance co-pays, and other items
Retraining or re-education for job placement if you have suffered a disability
All other expenses or lost opportunities you have incurred as a result of your bus accident
Non-economic Damages:
Pain and suffering
Emotional distress
Loss of enjoyment of life
Wrongful death (loss of support, loss of companionship, loss of love, and many others)
Loss of consortium (for the spouse of the injured victim)
Post traumatic stress disorder (PTSD) and other mental health illnesses
All other non-economic loss that you suffered as a result of your bus crash
Proving damages often takes a coordinated effort between your medical team as well as life care planners, vocational experts, and accident reconstruction experts. We have the industry connections and resources to prove your damages and get you the compensation that you are owed.
How long does a bus injury case take?
Bus injury cases often take longer than other case types because they are typically complex, can involve a large number of plaintiffs and defendants, and have a lot of money at stake. In most jurisdictions, once you file a lawsuit the trial date will be set 12 to 18 months into the future, which typically marks the longest time frame your case could take. We always strive to push your case forward, which is a great benefit to you, but if your bus accident is filled with complex issues, there is a possibility your case may take longer than 12 to 18 months.
How does your law firm stand out from the other personal injury law firms?
The Dominguez Firm has handled thousands of bus injury accidents over our 30 plus years of service. We couple this experience with our compassionate, client-first approach for a winning formula. We apply our three founding principles —compassion, service and results — to every single case and every single client. We keep you informed, consult with you, and obtain your consent on important decisions. More than that, though, we stand by your side and help you throughout the entire process.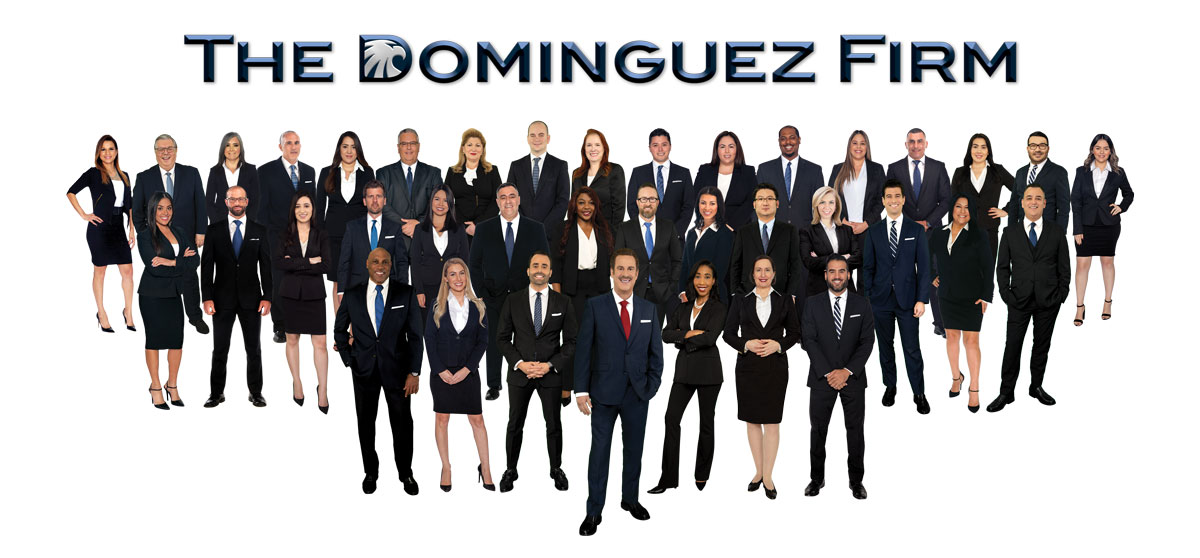 At the end of the day, results matter. Our law firm has won over $750,000,000* for our clients and a 96% success rate* that few can match. Our team of Los Angeles bus accident lawyers work tirelessly on your case and, if necessary, our award-winning trial team stands at the ready to take your serious injury case to trial.
If you have been injured due to another's negligence, it's our mission to make things right and restore you to the life you had before their negligence harmed you. We hold responsible parties accountable for the injuries and loss they cause.
The Dominguez Firm has experienced bus injury lawyers ready to assist and get you the compensation you deserve. If you or a loved one has suffered a bus injury accident, call us right now, 24/7, for a no-cost consultation at 800-818-1818. There is no obligation. If you don't recover, there is no fee!
Helpful Articles From Our Los Angeles Bus Accident Attorneys
Other Bus Accident Resources