No matter how it happens, the death of a loved one is always a tragedy. However, preventable deaths can be especially difficult to process and accept. Even worse, there are medical bills and funeral home expenses to deal with during such a trying time. When a loved one is unexpectedly taken from us as the result of someone else's negligence, the grief can be overwhelming. California law recognizes the particular egregiousness of these losses under the category of a 'wrongful death.'
What is a Wrongful Death Claim?
A wrongful death claim is generally used to refer to when a person dies as a result of a wrongful or negligent act of another person and or kin. In the state of California, a wrongful death is a fatality that occurs by "the wrongful act or neglect of another." When a wrongful death occurs, a civil wrongful death lawsuit for monetary damages can be filed by the survivors of the decedent or their estate against the negligent party. Here's what you need to know about wrongful death claims.
Wrongful Death Survival Actions
Wrongful death survival actions are claims that the deceased individual's estate brings. These claims aim to recover damages for the conscious pain and suffering experienced by the deceased before their death and for any medical expenses incurred due to the incident.
What Damages Can be Recovered in a Survival Action Lawsuit?
The main difference between a survival action and a wrongful death claim is who can recover damages and what types of damages can be recovered. In a survival action, only the decedent's estate can recover damages. These damages include medical expenses, funeral expenses, and pain and suffering from the time of injury until death. The decedent's estate can also recover lost wages and benefits if the decedent would have been able to earn them had he or she not been killed.
In contrast, in a wrongful death claim, only certain surviving family members can recover damages. These surviving family members are usually the decedent's spouse, children, or parents. The damages that can be recovered in a wrongful death claim include loss of love, guidance, companionship, and loss of financial support.
It is important to consult with an experienced wrongful death attorney to determine which type of lawsuit is best for your particular situation. If you have lost a loved one due to someone else's negligence, contact our office today to schedule a free consultation at (800) 818-1818.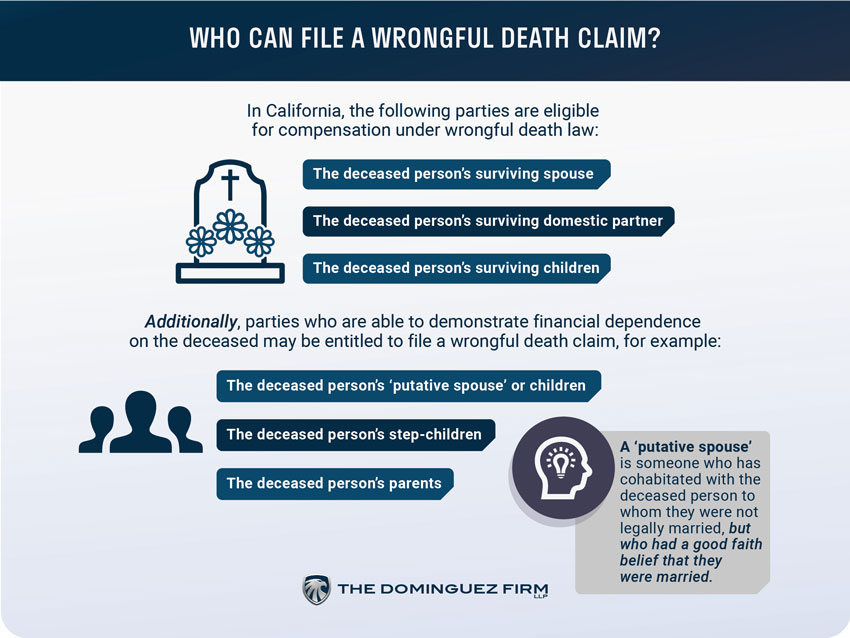 Who Can File a Wrongful Death Claim in Los Angeles?
Wrongful death cases are different from conventional personal injury lawsuits in that it is not the victim who files the primary lawsuit, but rather their next of kin. Additionally, only people with specific relationships with the decedent are eligible to file wrongful death claims in Los Angeles or California.
Throughout California and Los Angeles, the following parties are eligible for compensation for a wrongful death claim:
The deceased person's surviving spouse
The deceased person's surviving domestic partner
The deceased person's surviving children
Additionally, parties who are able to demonstrate financial dependence on the decedent may be entitled to file a wrongful death claim, for example:
The deceased person's 'putative spouse' or children. A 'putative spouse' is someone who has cohabitated with the deceased person to whom they were not legally married, but who had a good faith belief that they were married. This may be the case if the marriage is invalid due to a legal technicality, for example the existence of another legal marriage.
The deceased person's step-children
The deceased person's parents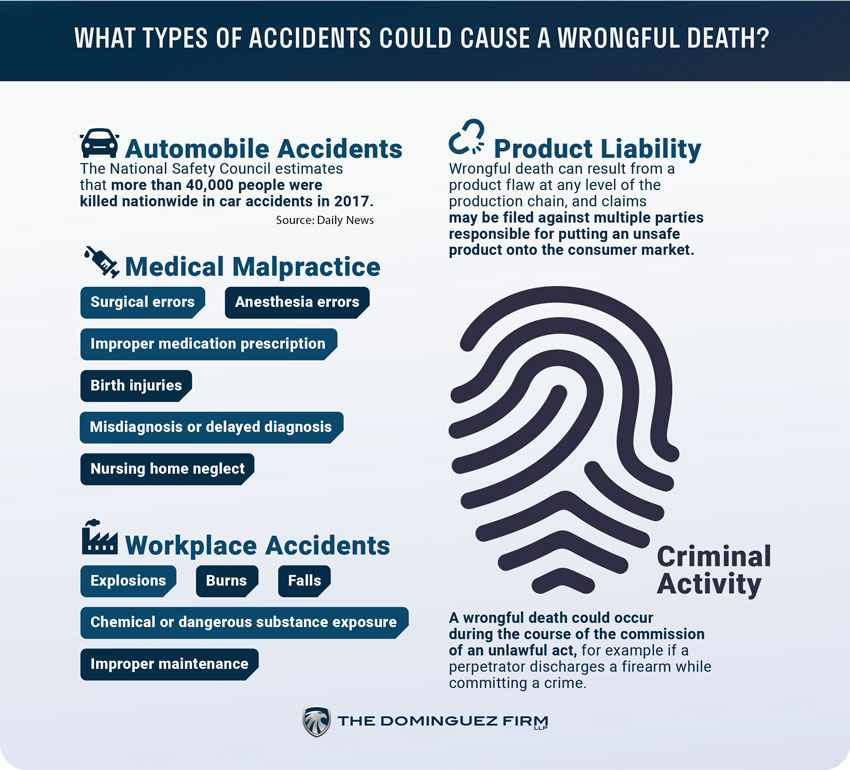 What Types of Accidents Cause Wrongful Death Claims
Wrongful death might occur from any type of accident. The most common causes of wrongful death are:
Automobile accidents. Traffic accidents are one of the biggest killers of Americans. The National Safety Council estimates that more than 40,000 people were killed nationwide in car accidents in 2017. In Los Angeles alone, 244 people died in traffic accidents. Many of these deaths are the result of driver negligence, meaning that they would be entirely preventable had all drivers exercised the appropriate amount of care. Wrongful death includes not only accidents involving other automobiles, but also those involving pedestrians or bicyclists.
Medical malpractice. Doctors, nurses, surgeons, anesthesiologists, and all other types of medical professionals are legally required to give the highest quality of care. There are strict legal and professional requirements that all medical professionals must adhere to in order to secure patient safety. Additionally, pharmaceutical companies and medical device manufacturers are required to ensure the safety of their products before they go to market. Unfortunately, medical negligence results in hundreds of thousands of deaths each year. Some common types of medical malpractice resulting in wrongful death cases include:

Surgical errors
Anesthesia errors
Improper medication prescription
Birth injuries
Misdiagnosis or delayed diagnosis
Nursing home neglect

Workplace accidents. Employers are legally required to ensure a safe and healthy environment for their employees and can be legally liable for injuries or deaths that occur in the workplace or during the course of work. Workers can be injured or killed due to chemical or dangerous substance exposure, explosions, burns, falls, and other risks related to improper maintenance of the workplace.
Product liability. Manufacturers, distributors, retailers, and product designers are responsible for ensuring the safety of their products before going to market and are legally liable for certain assurances for the products they sell to consumers. Wrongful death can result from a product flaw at any level of the production chain, and claims may be filed against multiple parties responsible for putting an unsafe product onto the consumer market.
Criminal activity. Wrongful deaths can sometimes occur during the course of the commission of an unlawful act, for example if a perpetrator discharges a firearm while committing a crime. In these cases, the perpetrator is subject to criminal penalties, but the families of the victim may also file a civil lawsuit for damages related to wrongful death. Even in cases in Los Angeles where the defendant is found not guilty of criminal charges, they may still be found liable for the death in civil court.
Considerations When Determining Settlement Value
Awards can often be substantial as loved ones are able to be compensated for their:
Loss of love, companionship, emotional support, guidance
Lost income and support over a lifetime
Medical expenses
Funeral expenses
Value of household contributions
And other items

What Types of Damages can you Recover for Wrongful Death Lawsuits?
There are several different categories of damages that can be claimed wrongful death lawsuits. What damages can be claimed depend on the facts of the individual case.
Damages are typically allocated in accordance with whether they are meant to compensate the decedent's estate for losses associated with the wrongful death (survivorship claim), or whether the damages are meant to compensate for personal losses family members or loved ones suffered as a result of the wrongful death. Damages associated with losses for the estate might include:
Funeral costs
Burial costs
Medical bills directly related to the wrongful death
Ambulance fees
Lost income related to the wrongful death, including lost income during hospitalization or possible income the decedent may have reasonably been expected to have earned in the future had they lived
The high cost of medical care comes as no surprise. However, the costs associated with burying a loved one can be higher than many people realize. According to the NFDA (National Funeral Directors Association), the average cost of a funeral service in 2017 was between $6,000 and $8,700.
Damages associated with personal losses to the family members of the decedent might include:
Loss of anticipated financial support
Loss of consortium, including love, community, affection, moral support, sexual relations, training and guidance, or other emotional losses related to the family member's death
Pain and suffering
Technically, California does not award punitive damages in wrongful death cases with one exception; if it can be proven the defendant committed felony murder and killed the plaintiff's loved one. Punitive damages are intended to punish the wrongdoer, rather than to compensate the decedent's family or estate.
How Wrongful Death Compensation is Divided
In cases where multiple claimants have standing to make a wrongful death claim, California juries will typically award damages as a lump sum regardless of the number of individuals making a compensation claim. For example, if the decedent has left a spouse and multiple children or dependents, the jury will award a lump-sum amount to the entire family, and the family would be responsible for allocating the payment amongst themselves. Damages are calculated based on standard compensation calculations adopted by the court.
If the claimants cannot agree on how to divide the award, they may ask the court to do so on their behalf. In especially difficult cases where all claimants are in agreement and with the judge's consent, the jury can be instructed to make individual award decisions for each claimant. This may be useful in cases where there is a strong potential for disagreement about award allocation, for example there are complicated relationships between family members, and the claimants would prefer a neutral arbiter on the matter.
Filing a Wrongful Death Lawsuit in Los Angeles
In California, the statute of limitations for filing a wrongful death lawsuit is 2 years after the date of the death. In other words, if you do not file a lawsuit before this expiration date, you will lose your right to wrongful death compensation. In some cases, the statute of limitations will be calculated based on the date of the negligent act that is determined to have caused the wrongful death. In general, your safest bet is to file a wrongful death lawsuit as soon as possible in order to ensure the court will accept your claim.
Once you determine that you want to file a wrongful death claim, that you have legal standing to do so, and that you are within the statute of limitations, you will need to prepare and file a civil lawsuit. Typically, you will first need to file a complaint or petition with the court that provides notice and the factual and legal grounds for your lawsuit. You will also need to file a summons notifying the defendant that the are being sued with pertinent information.
Once you have filed your petition with the court, you must undertake a legal procedure known as "service of process." Since all defendants to a lawsuit have a legal right to defend themselves, this procedure is required by the court to ensure that the defendant to your case has been properly notified that they are being sued. Failure to properly execute service of process may result in your lawsuit being thrown out.
Courts within Los Angeles have strict rules that must be perfectly observed at each step of this process. In order to ensure that your lawsuit is accepted by the court, it is highly recommended that you consult with an experienced Los Angeles wrongful death lawyer, who will be best equipped to guide you through the difficult legal claims process.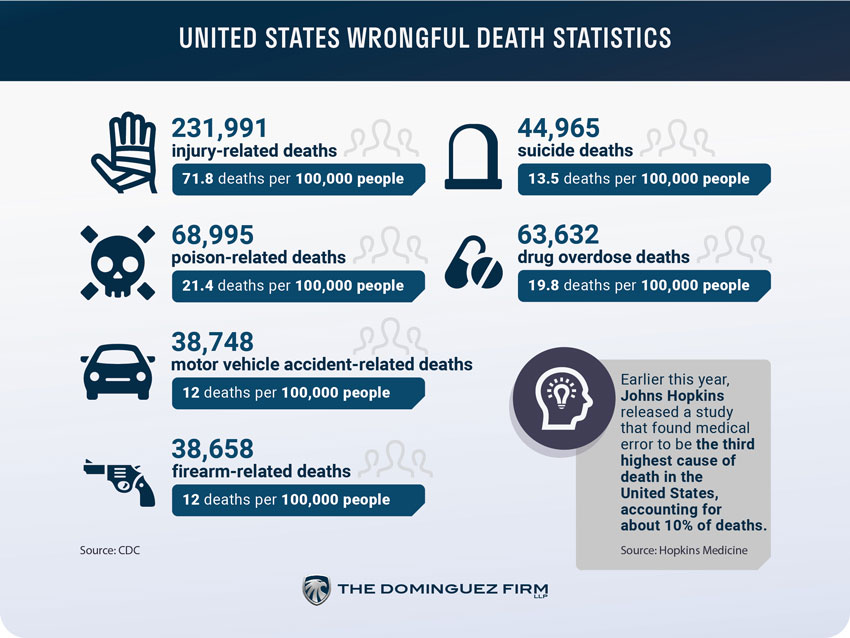 Wrongful Death Statistics
In the United States in 2016, there were:
231,991 injury-related deaths, or 71.8 deaths per 100,000 people
68,995 poisoning-related deaths, or 21.4 deaths per 100,000 people
38,748 motor vehicle accident-related deaths, or 12 deaths per 100,000 people
38,658 firearm-related deaths, or 12 deaths per 100,000 people
44,965 suicide deaths, or 13.5 deaths per 100,000 people
63,632 drug overdose deaths, or 19.8 per 100,000 people
Earlier this year, Johns Hopkins University released a study finding that medical error was the third highest cause of death in the United States, accounting for about 10% of deaths. The study also found that medical errors were the most under-recognized cause of death.
Resources for You, Your Family, and Loved Ones
Can You File a Wrongful Death Lawsuit in Los Angeles if you are Undocumented?
In Los Angeles and throughout California, the law allows everyone to file a lawsuit for wrongful death damages in civil court—even undocumented immigrants. At The Dominguez Firm, we have multilingual wrongful death attorneys and staff that can provide assistance in any language. Don't let the process of filing a Los Angeles wrongful death claim intimidate you, our team will be with you every step of the way.
How Can a Los Angeles Wrongful Death Attorney Help?
If you've lost a loved one due to someone else's negligence or wrongdoing, it's important to seek legal guidance as soon as possible. An experienced Los Angeles wrongful death attorney in Los Angeles can assess your case and help you understand your legal rights and options.
Your Los Angeles wrongful death lawyer can also handle all aspects of your case from start to finish, including investigating the circumstances surrounding your loved one's death, gathering evidence, negotiating with insurance companies, and more. Filing a wrongful death claim is often complex and stressful, but an experienced personal injury attorney can make it much easier for you and help ensure your rights are protected at every step.
While no amount of money can ever bring back your loved one, filing a wrongful death claim can help ease the financial burden caused by their death. A successful claim can also hold the responsible party accountable for their actions and help prevent future tragedies.
Let The Dominguez Firm Help You
If your loss of a loved family member is due to an unexpected accident, you do not need to deal with the aftermath alone. For over 30 years, the Los Angeles wrongful death lawyers at The Dominguez Firm have helped countless families recover just compensation. On qualifying cases, our firm can also assist with funeral expenses. We provide award-winning legal representation with compassion during your time of grief. Our firm has obtained several million and multi-million dollar results in wrongful death cases. Find out how we can help. If there is no recovery, there is no fee nor costs. Call now for a free consultation about your Los Angeles wrongful death claim: 800-818-1818.
Additional reading:
My experience was good. They made sure to kept me in the loop and made sure to let me know what was going on the whole time. My mom has used other attorneys and this experience was beyond better. I would definitely recommend them!
— Ashley Magana
The attorneys were always available and answered my questions. I would recommend them to anyone. Zoe is the best!
— Janet Salazar
My experience with The Dominguez Firm and the attorneys was really good. They were very informative and always returned my calls.
— Jocelyn Gonzalez