Most Americans are happy to breathe a sigh of relief after having survived another stressful Thanksgiving full of food and family.  But the relentless holiday season continues apace, and as soon as the orange and brown Thanksgiving décor comes down, the red and green Christmas decorations go up!  Those of us with children will no doubt be badgered with long lists and pleas for the hottest toy on the market over the coming.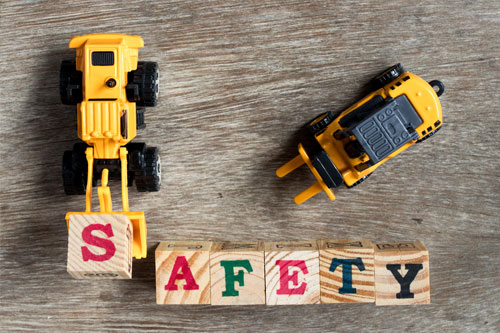 However, before putting on our Santa hat and visiting the elves' workshop, it is important to do your research and ensure that the toys you buy your kids are safe.  Each year, thousands of toys are recalled and lawsuits are filed due to safety hazards, usually after children have already been hurt or killed.  Here's what you need to know about toy safety going into the 2018 holiday season.
Common Safety Hazards
There are seemingly an infinite variety toys on the market—and a huge range of concurrent safety hazards.  Some of the most common toy safety hazards include:
Cords and strings, which pose a strangulation hazard for infants and young children, who can inadvertently wrap these parts around their necks.
Sharp edges, especially metal or glass, can result in stabs, cuts, abrasions, or serious injuries to the eyes.
Small parts are a significant choking hazard, and toys with small parts should not be given to children under 3 (older children should also be supervised while playing with toys with small parts).
Age-Appropriate Toys
It is extremely important to ensure that the toys you purchase your children are age-appropriate.  Federal law requires many toy manufacturers to provide age restrictions on the toy's packaging, however this guideline is not always observed.  The University of Rochester Medical Center makes the following recommendations:
Toys inappropriate for infants:
Toys that hang in cribs and playpens with strings longer than 7 inches
Toys that are small enough to become lodged in an infant's throat
Plastic wrapping from toys is a suffocation hazard
Toys inappropriate for children under 3:
Small toys or toys with removal parts that can become lodged in the child's throat. (For example, a stuffed animal with loose eyes, game pieces, batteries, or marbles)
Toys with breakable or loose parts. (For example, toys with small wheels, or action figures with removable pieces)
Latex balloons
Plastic wrapping from toys is a suffocation hazard
Toys inappropriate for children under 8:
Toys with sharp points or edges
Electrical toys with heating elements. (For example, a toy oven set)
Toys that contain toxic substances. (For example, certain art sets)
Toys that can trap fingers
Shooting or loud toys (such as bb guns, cap guns, or air guns)
Toys that may contain lead paint (usually older toys purchased at garage sales or flea markets)
Toys that don't follow U.S. safety standards
How to Keep Your Children Safe
The trade group, The Toy Association, maintains a running list of recalls, and consumer watchdog, US PIRG, releases an annual report  of findings from safety tests the organization runs on toys on the market.  For 2018, the report highlighted the following particularly risky toys:
Toys with sound, which can damage children's hearing
"Slime," which may contain high levels of toxic boron
Fidget spinners, which are not classified as toys and thus avoid relevant safety standards
Toys with small parts that are a choking hazard
"Hatching" toys, which present a choking hazard
Balloons, which present a choking hazard
Smart toys, which may expose your child's private data to hackers
Makeup, which can contain toxic chemicals like asbestos
Toys with small magnets, which present a choking hazard
What To Do if Your Child is Injured By an Unsafe Toy or Product
Because children are our most vulnerable citizens, the law provides for extra regulation and added product liability for manufacturers and distributors of toys and products marketed to children under the Child Protection and Safety Act of 1969.  If your child has been injured because of an unsafe or defective toy or product, you may be entitled to compensation under this or other personal injury laws.  It is highly recommended that you consult with an experienced defective product lawyer in Los Angeles.  At The Dominguez Firm, our toy choking accident attorney team can help you to secure your child's rights and legal compensation.  Find out how we can help you today by calling 800-818-1818.
My experience was good. They made sure to kept me in the loop and made sure to let me know what was going on the whole time. My mom has used other attorneys and this experience was beyond better. I would definitely recommend them!
— Ashley Magana
The attorneys were always available and answered my questions. I would recommend them to anyone. Zoe is the best!
— Janet Salazar
My experience with The Dominguez Firm and the attorneys was really good. They were very informative and always returned my calls.
— Jocelyn Gonzalez