The beauty of California's natural scenery attracts motorcycle riders from all over the world. The Golden State boasts 840 miles of coastline, majestic mountains and breathtaking desert vistas. For many riders, traveling the roads and highways of California is at the top of their bucket list.
Below we've listed some of the best motorcycle routes in California for 2020. A few are well known while others are a bit off the beaten path. We hope you have a wonderful time. And if you are ever in need of a motorcycle accident attorney, call The Dominguez Firm at 800-818-1818 for a free consultation.
Enjoy the ride!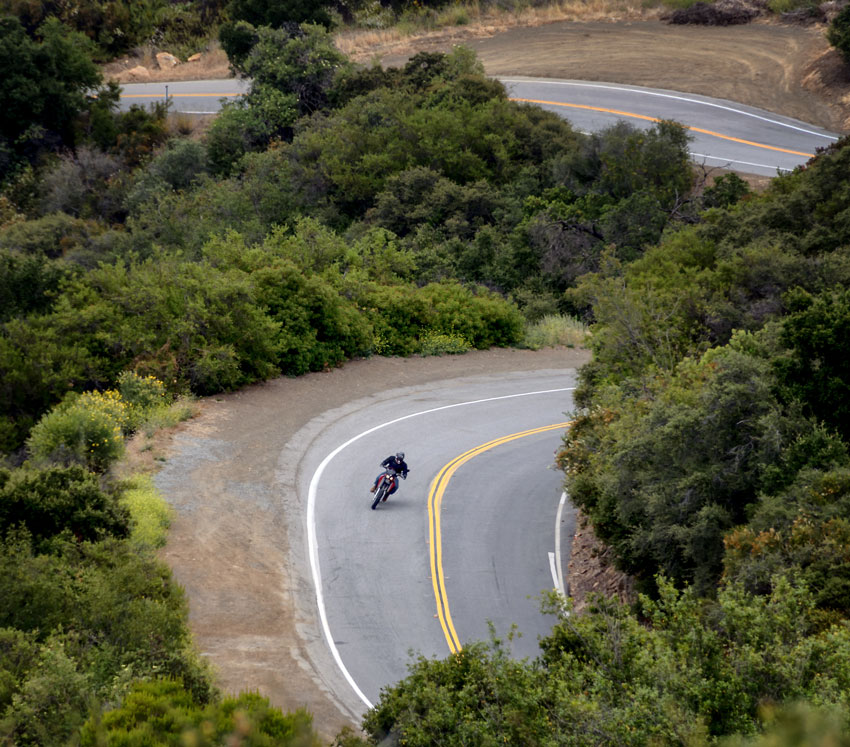 When should you go?
Southern California has a Mediterranean climate, but it can vary wildly. Even within Los Angeles County, temperatures can fluctuate over 20 degrees from one place to another on any given day. If you're headed into the mountains and/or up north, you might encounter snow and ice in the winter. In the summer, the desert is dangerously hot, and the coastline becomes very crowded with tourists.
If you can, plan your trip for spring or early fall. Spring is probably ideal. Flowers are in bloom and the days are longer. Fall is beautiful too but aim for the early part of the season as late fall brings the end of daylight savings and sometimes rain.
A word of caution, some of these routes include mountain roads with hairpin turns, which are not ideal for novice riders. We'll include that information to let you determine if it's the right ride for you.
Now, onto our list, in no particular order.
Pacific Coast Highway (Hwy 1) from Sausalito to Dana Point
This is arguably the most famous roadway in California, and some would argue, the U.S. Sections of it have been seen in countless movies, TV shows and commercials. One note: you can certainly take this trip starting south in Dana Point, Orange County and travel north, but keep three things in mind:
You'll probably be facing a constant headwind if you ride north since there's a prevailing wind that blows southwest along the California coast.
If you ride south, you'll be on the Pacific Ocean side of the road. You'll have better views, and those views won't constantly be blocked by vehicles traveling in the opposite direction.
Turnoffs to rest or take pictures are on the Pacific Ocean side. A spur of the moment decision to pull over is much easier when you don't have to make any left turns into traffic, especially in summer.
Our recommendation: start in Marin County and go south.
There are plenty of attractions along the way. That makes it hard to pick just a few. But here goes:
The beautiful beaches of Orange County including Laguna Beach and Huntington Beach, which is also known as Surf City.
The Los Angeles beach towns of Manhattan, Hermosa and Redondo Beach as well as Malibu.
Santa Barbara and its old world charm.
Hearst Castle sits in a part of California that is completely undeveloped. Once there, you can gaze out over what California looked like in the 1800s.
Big Sur State Park, which has some of the most beautiful coastal scenery of your trip.
San Francisco, a city whose natural beauty, vibrant neighborhoods and cultural attractions make it so unique among American cities.
To end your trip, you'll ride your motorcycle across the Golden Gate Bridge into Marin County. Truly a wonderful end to an epic journey.
In terms of safety, the biggest issue is keeping your eyes on the road with so much beautiful scenery around you. There are plenty of places to stop and take in the views safely, so no need to rubberneck. In some urban areas, you'll have to share the road with very large vehicles, such as big rigs. In the popular tourist spots, watch for RVs, pedestrians and bike riders. Also, the area around Big Sur has very few amenities such as places to eat or get gas, so make sure you're traveling on a full tank and stomach through the area.
Route 74 from San Juan Capistrano to the Coachella Valley
Most people think in terms of north to south when they plan their California motorcycle road trip. But you can also experience very dramatic changes in scenery by traveling east to west. Starting in the city of Palm Desert in the Coachella Valley, you can ride west through Mount Jacinto State Park, pass by Lake Elsinore and end up in the beautiful Orange County beach town of San Juan Capistrano.
Although Route 74 is in excellent condition, it does have many miles of sharp curves. About 5 miles into your trip, you'll come upon the Coachella Valley Vista Point. Besides having some of the best views of the entire Coachella Valley, this turn off also has a bronze plaque asking all those to pass through to drive and ride safely.
This route is best suited for experienced riders. There are several portions that feature mountain roads with numerous switchbacks, including along the portion known as the Ortega Highway from Lake Elsinore to San Juan Capistrano. There's even a large memorial sign in honor of motorcyclists killed in crashes along this segment of the route. Another thing to keep an eye out for on this route is wildlife. Travelers have encountered everything from mule deer to mountain lions, so be aware.
Old Highway 80 from Yuma to San Diego
This road is about as off the beaten track as you can get. Even though Old Highway 80 was replaced by Interstate 8, parts of it still run parallel to its replacement. The section from Yuma to El Centro is pretty much a straight line, but the road itself is not in ideal condition. Watch out for potholes and bumps in the road. Also, it cuts off completely in some parts, so you'll have to get on Interstate 8 for those stretches.
There's something nostalgic about this road, as it offers a glimpse of the earliest predecessors of our modern interstate highways. Remnants of the past can be seen here, including the Old Plank Road. Just as the name indicates, this was a wooden plank road that was built across the Algodones Dunes in 1915 to facilitate car travel between Yuma and San Diego. Parts of it are still visible today.
Other attractions along the way include the Desert View Tower and Jacumba Hot Springs where you can stop and unwind for a while. This part of the trip is uncrowded and makes for some great riding as the roundabout route takes you from desert vistas to the majestic pines of Cleveland National Forest.
Once you pass through Alpine and El Cajon you'll certainly feel like your back in a large city. From there, your ride ends on a high note at Balboa Park in San Diego.
The Ventura – Santa Barbara Loop
This multi-road route takes you around Ventura and Santa Barbara Counties and the Los Padres National Forest. The roads themselves are in excellent condition, but there are multiple twists and turns, making this much more suitable for experienced riders. Here's a quick rundown of the route:
Starting in Ventura, you head east on Route 33 through Ojai and its spectacular views, then up to the intersection with Route 166.
Ride along Route 166 west where desert scenery changes into forest. You'll encounter diverse landscapes including lakes, canyons and mountains. Be forewarned, this stretch of the route is pretty isolated, so make sure you have enough fuel and water on you.
When you reach Santa Maria you can stop off and sample California's contribution to barbeque styles, Santa Maria Barbequeat any number of restaurants.
At this point, you can take the 101 south through Santa Barbara all the way back to Ventura or detour from the 101 via the 154 and stop off at Cachuma Lake before heading back to the 101 and your starting point.
You may want to bring some camping equipment since you will be traveling through Los Padres National Forest. You'll have several opportunities to stop, pitch a tent and bask in the serene, natural beauty all around you.
Malibu Canyon Road
For a motorcycle ride that's shorter and less demanding, but just as beautiful, head out onto Malibu Canyon Road. You can pack a lunch and stop off at Malibu Creek State Park for a hike before continuing on your journey. The dramatic ocean views and deeply etched canyons are well worth the trip. This is also an ideal route for novice riders. Two caveats, this road can get very crowded on summer weekends, so aim for a weekday trip if you can. Also, there is a heavy police presence because sports car drivers have been known to use it as a test track.
With everything that's happened this year, it's best to call ahead or check out the websites of some of the places mentioned here to see if they're open or have had a change of schedule. Whichever route you choose we wish you a safe and happy ride through California. And if you ever need a motorcycle accident attorney, The Dominguez Firm is here to help. Call us at 800-818-1818 for a free consultation today!