Drive along any highway in California and chances are you'll see motorcycle riders splitting lanes. Originating from a desire to cut through the state's notoriously heavy traffic, motorcyclists have been lane splitting for decades. Former Governor Jerry Brown officially legalized the practice in 2016 and the new law went into effect on January 1st, 2017. Before that date, it wasn't illegal, but there was no law governing it either. Yet even today, in 2020, many visitors and some residents of California are surprised to learn that lane splitting is legal here in the Golden State.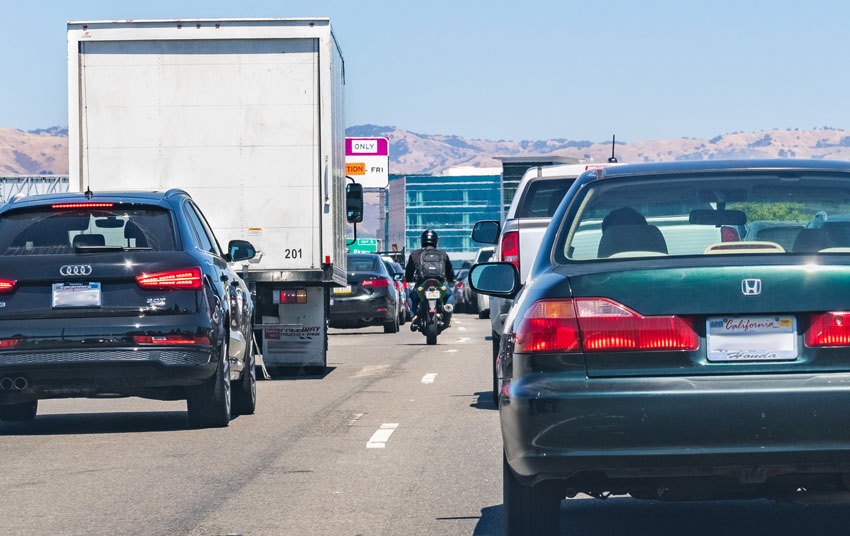 California led the nation with over 822,000 registered motorcycles in 2018. While any attempt by the state to keep riders safe is admirable, motorcycle riders still suffer a disproportionate share of accidents compared to those in a passenger vehicle. If you or a loved one were injured in a motorcycle accident due to someone else's negligence or recklessness, contact the experienced motorcycle accident lawyers at The Dominguez Firm for a free consultation at 800-818-1818.
Read on for more information about motorcycle lane splitting and your rights.
What exactly is lane splitting?
When Assembly Bill 51 was signed into law, it defined lane splitting as "a motorcycle ridden between rows of stopped or moving vehicles in the same lane including on both divided and undivided streets, roads, or highways."
It should not be confused with lane filtering, which is when motorcycle riders weave around stopped or slowly moving cars. Motorcycle riders often do this at red lights, and it is also legal.
Why did California legalize lane splitting?
There were two main reasons why California became the first state to legalize lane splitting. First, it was done to try and help reduce traffic congestion. By not taking up space in any lanes, motorcycle riders who split lanes help increase the flow of traffic as they steadily wind through it. This is especially true when traffic is at a complete stop.
The second reason may surprise you: motorcycle rider safety. By splitting lanes, motorcycle riders avoid being rear-ended. Rear-end crashes often lead to catastrophic injuries and death for the motorcycle rider. When done properly, lane splitting helps motorcycle riders avoid being directly in front of drivers who are distracted, tired or aggressive.
Is lane splitting really safer than riding in the traffic lane?
According to a study at the University of California, Berkley lane splitting improved motorcycle rider safety. The study considered the practice safe as long as traffic was moving under 50 mph and the motorcycle rider was not traveling 15 miles faster than the vehicles around them.
Are there any lane splitting guidelines?
Yes. California's lane-splitting law also gave CHP the right to provide lane splitting guidelines, which they did in 2018. While it is legal, it can still be dangerous. Among the CHP lane splitting recommendations that stand out are:
Avoid splitting lanes around large vehicles such as big rigs.
Don't split lanes when traveling at high speeds.
Be aware of the vehicles around you and avoid driver blind spots.
Try not to split lanes at night.
Wear brightly colored clothing so others sharing the road can see you more clearly.
What are the most common causes of motorcycle accidents while lane splitting?
One of the main reasons motorcycles get into accidents while lane splitting is due to their smaller size. Drivers just don't see them. Another is a sharp increase in the number of distracted drivers. A motorcycle rider splitting lanes and a distracted driver switching lanes while looking at this phone is a major accident waiting to happen. Opponents of lane splitting point to these factors when they claim unsuspecting drivers can easily sideswipe motorcycle riders while switching lanes.
Another unfortunate cause of motorcycle accidents while lane splitting is driver road rage. Some drivers still don't realize lane splitting is legal and will attempt to block the motorcycle rider's path– which is illegal by the way. Incredibly, other drivers, frustrated at having to sit in heavy traffic, resent the motorcyclist's ability to move along and lash out at them. And then there is the natural bias against motorcycle riders. Many mistakenly see motorcyclists as daredevils and thrill-seekers. Whatever, the reason, driver road rage can put a motorcyclist in grave danger. News stories abound of motorcycle riders suffering horrific accidents and injuries due to driver road rage while splitting lanes.
What can I do if I was injured in a motorcycle accident while splitting lanes?
If you were injured in a motorcycle accident while splitting lanes, the first thing you should do is call the motorcycle accident attorneys at The Dominguez Firm for a free consultation. Contact us at 800-818-1818. Keep in mind, waiting can hurt your case as vital evidence can be lost, plus defense attorneys will question why you waited to file your claim.
Taking on the insurance companies and the attorney of the person who caused your accident on your own is a bad idea. This is especially true for a lane splitting case. Both the insurance agent and attorney will probably try to make you doubt yourself. They'll most likely claim you were speeding or cutting off cars. These allegations can be especially damaging in front of a jury. The experienced motorcycle lane splitting accident attorneys at The Dominguez Firm are very familiar with these tactics and the public's negative stereotypes about motorcycle riders. We know how to combat them.
If a car hit you while you were splitting lanes on a highway, odds are you suffered serious injuries. As our client, The Dominguez Firm will immediately make sure you receive the finest medical treatment while we work on trying to get you the maximum compensation you are entitled to by law. We'll handle the insurance adjusters and defense lawyers while you concentrate on your recovery.
What if I can't afford to hire an attorney?
The personal injury attorneys at The Dominguez Firm work on a contingency basis. That means you pay no upfront fees or hidden costs. We receive a percentage of your final settlement or verdict. That percentage will be clearly stated in the client representation agreement you sign with us. And in the unlikely event we aren't able to secure a settlement or verdict for you, you owe us nothing. You win or you don't pay!
Call the motorcycle accident lawyers at The Dominguez Firm today
Motorcycle accident injuries can cause serious and even catastrophic injuries. Victims can face five, six and even seven-figure medical bills. They may also be out of work for months or unable to ever work again permanently. What seemed like a fair offer from the insurance company can quickly run out. And if you lost a family member in a motorcycle accident, you have the right to file a wrongful death claim if you are the next of kin.
Let the motorcycle accident attorneys at The Dominguez Firm help you obtain the justice you and your family deserve. We have recovered over $750 million* for our clients and will work hard for you too. Put our network of resources, 120-plus legal professionals and award-winning attorneys to work for you. Call us at 800-818-1818 today. We're available 24/7.
My experience was good. They made sure to kept me in the loop and made sure to let me know what was going on the whole time. My mom has used other attorneys and this experience was beyond better. I would definitely recommend them!
— Ashley Magana
The attorneys were always available and answered my questions. I would recommend them to anyone. Zoe is the best!
— Janet Salazar
My experience with The Dominguez Firm and the attorneys was really good. They were very informative and always returned my calls.
— Jocelyn Gonzalez