Distracted Driving accidents occur when a person is operating a vehicle while preoccupied with another activity which diverts their attention. There are three primary types of distractions, according to the NHTSA:
Visual distractions that cause people to take their eyes off the road
Cognitive distractions that divert people's minds from driving safely
Manual distractions that cause people not to have their hands on the driving wheel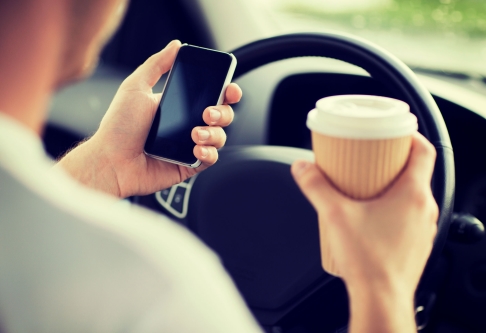 Now some distractions fall into all three categories. Take texting while driving, which not only distracts a user's visual senses but also causes them to take their hands off the driving wheel and renders them unable to focus. That's why texting while driving is one of the leading causes of driving accidents.
Common distractions include:
Using the navigation device
Testing, using an app or attempting to call someone on the phone
Fatigue
Personal Grooming
Engaging with other people on board the vehicle
Playing around with the car's accessories like the mirrors, AC and sound system
Risks Associated with Distracted Driving
All drivers are potentially exposed to a myriad of distractions. However, some factors can be particularly risky for a certain group of people.
Many car accident lawyers agree that teens are at the highest risk of being distracted. In 2015 a CDC survey found that 42% of high school teens and young adults had admitted to texting while driving in the last 30 days. 
Interestingly students who admitted to texting and driving were also less likely to strap on their seat belts. These youngsters were also more likely to drink and drive, as well as be a willing passenger onboard a vehicle with a drunk driver.
Distracted driving also affects the following group of people:
Inexperienced drivers are easily distracted.
Women, as opposed to men, are more likely to be on the phone while driving, which is in many cases, a devastating distraction.
Drivers who have small kids onboard are also at a higher risk of being distracted.
People with certain personality types, like those who don't take safety seriously or have a negative attitude towards it, are also more likely to be distracted while driving.
While the groups of people we've mentioned are highly likely to be engaged in distracted driving which leads to accidents, the list isn't exhaustive. Also, these groups will vary depending on age, identity, location, and nationality.
Now if you are still not convinced that distracted driving accidents are a real thing, then these stats should help you realize the extent of the problem: 
11 teens lose their lives because of texting and driving every day. 
It is estimated that texting and driving is 6 times more likely to lead to an accident as compared to drinking and driving. 
Sending a text or reading one will take your eyes off the road for an average of 5 seconds. At 55 mph you're covering over the length of a football field with all senses preoccupied.
How to Prevent Distracted Driving Accidents?
On the state level, many like California have taken steps to prevent what is labeled the "epidemic of distracted driving." Back in 2008, California banned drivers from talking on their cell phones while driving, which was then followed in 2009 with a ban on texting. 
Massive information campaigns have also been launched to educate drivers about the dangers of distractions. The NHTSA asks that people spread the word among drivers they know and social networks. Parents also need to educate teens about the risks associated with distracted driving. That said, leading by example is what works best. 
Most if not all, employers in Los Angeles, CA, urge employees and their families to put away the phone while driving.
On a personal level, individuals should take the following steps to prevent distracted driving accidents:
If you are feeling sleepy, park your vehicle at the side of the road to take a nap. If you suspect that driving is going to be an issue, then call a cab.
The cell phone should only be reserved for use in times of an emergency. Make sure to move the vehicle to a safe spot if you need to take or make a call.
Limit the number of passengers in your car and have clear rules about the activities in the vehicle.
Refrain from eating or drinking while driving.
It's Illegal to Text and Drive in Los Angeles 
Texting and driving is illegal throughout California and in 47 other states. The penalty for texting while driving in the Golden State will likely be close to $150 for the first offense. For a second or subsequent offense, the cost can go over $250 per ticket. And if you receive a cell phone ticket within 36 months of a prior conviction, the DMV will add one point to your driving record. If the driver is under 18, they can't use their cellphones while driving under any circumstances except an emergency.
If you have been in an accident caused by a driver who was texting, an accident lawyer should be able to help you obtain phone records and reconstruct the accident to prove liability. Once liability is proven in the court of law, the guilty party could receive any number of penalties. 
Additionally, a texting citation is going to be reported to the insurance company, and that will consequently increase insurance premiums. Like all other citations, if you get enough points, it will lead to losing your license.
When Should You Sue the Responsible Driver? 
Every one of us wants that the roads and highways across Los Angeles are safe so that drivers can easily cruise at the mandated speed limits without worrying about if other drivers are paying attention. As a driver, you shouldn't have to assume if another driver is distracted; on the contrary, the assumption should be that they are not.
While distracted driving is often or mostly attributed to the use of cell phones, the truth is that almost anything that distracts while driving can be deadly. Whether you are eating, drinking or even scolding your kids sitting behind, each type of behavior is a deadly distraction.
In other words, anytime you are not focused on traffic and road, it means that you're risking your life and the lives of others. Distracted driving accidents are very common, and the rates at which they occur are alarmingly high. The Centers for Disease Control and Prevention (CDC) states that 9 people are killed, and over a thousand are injured by distracted driving in the US.
While the Los Angeles city council is working hard to minimize distracted driving accidents, it is turning out to be very difficult. As an individual, if you are in an accident caused by a distracted driver, you might want to consider suing the individual.
Suing a driver that caused an accident because they were texting sends the message that this type of behavior isn't going to be tolerated in the city. It, in many ways, acts as a deterrent for those who attempt to circumvent the law.
Seek Compensation for a Distracted Driving Accident 
The Dominguez Firm has been helping people throughout Los Angeles seek compensation for over 35 years. Filing a lawsuit allows the car accident lawyers to have the accident investigated and use the findings as evidence in the case.  
If you suffered serious injuries due to someone else's distracted driving, contact The Dominguez Firm right away for a free consultation at (800) 818-1818.
Our team will get to work investigating the accident and preparing a case for compensation. Our skilled personal injury attorneys will fight to get you the highest compensation possible for your injuries. Plus, all of our cases are backed by our no recovery, no fee guarantee. So, if your case isn't successful, you won't pay us anything. You have nothing to lose and so much to gain, so call us today!
My experience was good. They made sure to kept me in the loop and made sure to let me know what was going on the whole time. My mom has used other attorneys and this experience was beyond better. I would definitely recommend them!
— Ashley Magana
The attorneys were always available and answered my questions. I would recommend them to anyone. Zoe is the best!
— Janet Salazar
My experience with The Dominguez Firm and the attorneys was really good. They were very informative and always returned my calls.
— Jocelyn Gonzalez