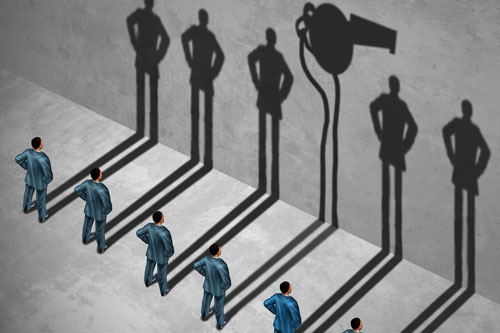 Los Angeles and Southern California are home to some of the largest employers in the country. The sectors they represent include manufacturing, food, entertainment, and energy. Wherever you work here in the Golden State, you expect to do so in a safe, lawful environment. But what if you reasonably believe your employer is breaking the law or acting unethically?
Blowing the whistle can be very difficult, but fortunately, California's Whistleblower law gives you the legal right to report any suspected wrongdoing by your employer. It also protects you if you're fired or retaliated against in any way for taking action.
If you are ready to report wrongdoing by your employer or suffered negative consequences for doing so, call an experienced California whistleblower lawyer at The Dominguez Firm now. We offer free and completely confidential consultations at 800-818-1818.
What follows is more information on the rights of whistleblowers here in California.
What Exactly is a Whistleblower?
According to California's Labor Code, a whistleblower is, "An employee who discloses information to a government or law enforcement agency… so long as the employee has a reasonable cause to believe that they are reporting a violation of state or federal laws or regulations…unsafe working conditions or work practices." A whistleblower can also be an employee who refuses to participate in their employer's illegal activity.
Common whistleblower complaints:
Illegal dumping or polluting
Sexual harassment
Employee discrimination
Tax fraud
Not following health and safety regulations
Fraud involving customers, clients or company or public finances
Any sort of criminal activity such as sex or drug trafficking
How Do I Report Illegal, Unsafe, or Unethical Behavior in My Workplace?
If you work for a government agency, you can report the conduct through one of several channels. Federal employees can file a complaint with the OIG (Our Inspector General) hotline. Los Angeles and California state workers can file a complaint with the state auditor. In the case of workplace safety violations, you can file a complaint with Cal OSHA.
For employees in the private sector, your best option is to call a lawyer who is experienced in whistleblower cases first. In fact, you should not proceed until you have done so. If you file a complaint internally without obtaining legal advice first, you run the risk of being retaliated against. You may even be told it's against company policy to report anything, which is of course, illegal. One note, if there is any illegal activity putting you or others in danger, don't hesitate to contact law enforcement right away.
Your whistleblower attorneys will ask you to gather and share all evidence of wrongdoing, any documentation between you and your employer, and any texts or emails related to your whistleblower complaint and/or retaliation claim. This is all vital evidence needed to put your case together.
What Happens if My Employer Fires Me for Pointing Out Unsafe or Illegal Activities?
Whistleblowers should be rewarded, not retaliated against. Their brave actions can help keep employees and the general public safe. Fortunately, both Los Angeles and California recognizes this. If your employer fired you for reporting unsafe or illegal activities in your workplace, you can file a lawsuit against them for retaliation. The Dominguez Firm can help with this too.
Examples of employer retaliation:
Being demoted
Being given a pay cut
Having your hours and/or benefits cut.
Being given overnight or weekend shifts, even if you have seniority
Being threatened, harassed, or intimidated
Being transferred to a less desirable location, such as one much further from your home
Being given dangerous job duties
Federal False Claims Act: What Does Qui Tam Stand For?
Whistleblower cases filed under the Federal False Claims Act are also known as "qui tam" cases. This act was passed in 1863 to combat defense contractor fraud during the Civil War and it's still in effect today. Qui tam is a shortened version of a Latin phrase that roughly translates into "he who sues for the king and himself".
It lets whistleblowers with firsthand knowledge pursue civil lawsuits on behalf of the federal government against a company or agency. If they're successful, these civilians can claim a part of any funds recovered. The percentage can be between 15-30 percent of the final amount. Common qui tam cases include those involving Medicare and various types of financial fraud.
Let the Dominguez Firm Handle Your Whistleblower Case
Don't take on a whistleblower retaliation case by yourself. They can be very complex and involve multiple agencies. The Los Angeles-based employment lawyers at The Dominguez Firm can help you prove the employer conduct in question, present your case to the proper law enforcement channels and be by your side if you are interviewed by investigators.
We will fight to make sure you claim the maximum amount allowed under the law for your heroism in pointing out illegal or unsafe employer activity. And if you're retaliated against, we will make sure your employer pays for their cowardly actions.
How Do I Pay The Dominguez Firm?
The California whistleblower attorneys at The Dominguez Firm work on a contingency basis. That means you pay nothing upfront or out-of-pocket for our services. Instead, we receive a percentage of your final settlement or verdict amount. That percentage will be clearly noted in the client representation agreement you sign with us. There are no surprises or hidden costs to worry about.
It's highly unlikely, but if we don't secure any compensation for you, then you owe us nothing. In other words: if there is no recovery, there is no fee!
Contact the whistleblower attorneys at The Dominguez Firm for a free and completely confidential consultation. Contact our law firm at 800-818-1818 today!
My experience was good. They made sure to kept me in the loop and made sure to let me know what was going on the whole time. My mom has used other attorneys and this experience was beyond better. I would definitely recommend them!
— Ashley Magana
The attorneys were always available and answered my questions. I would recommend them to anyone. Zoe is the best!
— Janet Salazar
My experience with The Dominguez Firm and the attorneys was really good. They were very informative and always returned my calls.
— Jocelyn Gonzalez