It's no secret that the cell phone has changed our lives. In many ways, it has changed them for the better, but in many ways for the deadlier.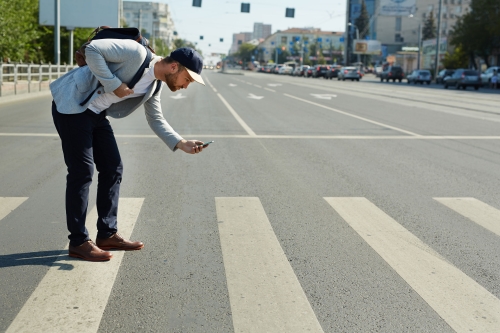 Texting While Walking
Walking or bicycling is one of the best things you can do for your health, especially here in Greater Los Angeles where we have so many days of perfect walking weather. But, as it turns out, walking might be one of the more dangerous activities as well.
For a look at the most dangerous intersections to walk here in Greater Los Angeles, check out this map of pedestrian collisions created by The Los Angeles Times.
According to the USA Today, texting while walking is turning deadlier than ever. It is becoming such a problem that cities, like Honolulu, have banned texting while walking in cross-walks.
This kind of law is sure to spread to other cities as distracted walking, especially because of texting, is becoming a public health crisis. Couple this with the fact so many people are driving their cars and even their motorcycles while distracted and it's no mystery why pedestrian accidents, including wrongful deaths, are all too common.
Who's At Fault?
Pedestrian accidents usually come in the form of trip and falls, slip and falls, or vehicle versus pedestrian collisions. Despite the alarming statistics about distracted pedestrians, it is important to keep in mind that pedestrian injury accidents are not always because the pedestrian was distracted. In many cases the age old adage, "It takes two to tango," may very well apply.
To fully understand who is at fault, or partially at fault, for a pedestrian injury accident it is vital to consult with an expert pedestrian accident lawyer.
Injured While Walking in LA
Whether you've been injured by a sidewalk in a dangerous condition, a slippery walkway near a business, or a negligent driver, a pedestrian accident lawyer can best analyze the evidence to determine if a pedestrian accident lawsuit is necessary. Give one of our lawyers a call for a free consultation at 800-818-1818. We are expert pedestrian accident injury lawyers that will fight to get you the justice and compensation you deserve.