Learn about the dangers of trying to work while driving, your rights as an employee not to respond to a work text or email while behind the wheel, and what to do if you're injured in a car accident as a result of a workplace text or email.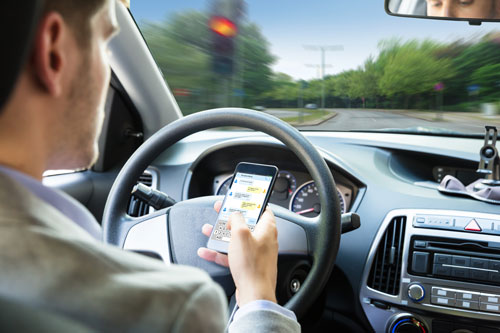 Imagine Cristiano Ronaldo on a breakaway during the World Cup and he pulls a cellphone out of his shorts to respond to his coach's text. It sounds ridiculous, if not insane, but workers do it far too often when they are behind the wheel to appease demanding bosses.
Work and driving are stressful enough even when you keep them separate, but when you try to combine them you put yourself and others at great risk for a work related distracted driving accident that could cause serious injury or death. In fact, of all workplace fatality accidents, transportation accidents are the number one cause of workplace deaths according to the latest data. (See https://www.bls.gov/news.release/pdf/cfoi.pdf.)
Safety Tips for Employees and Employers
For employees to be safe while driving, here are some safety tips to follow:
Always reach your destination before reading and responding to texts or emails
Use the "I'm driving and will get back to you" auto-response on your cell phone
Make sure you use a hands-free talking device for calls (or use your car's Bluetooth system)
Let your supervisors and co-workers know you'll never check a text or email while driving
For employers to keep their workers safe and reduce exposure to lawsuits, they should:
Implement and strictly enforce a "no distracted driving" policy
Equip employees with hands-free talking devices
Set good examples themselves
Enforce the rules and have frequent safety meetings about safe driving
Employers cannot take adverse employment actions, like terminating or firing you, if you do not respond to a text or email while you're driving because they would be demanding that you break Vehicle Code section 23123, which prohibits handheld cellphone use while driving. If you're injured as a result of having to respond to or by someone responding to a work text or email, you will need a powerhouse law firm with award-winning Los Angeles car accident lawyers to maximize your recovery. Our staff, investigators, and distracted driving lawyers will work to safeguard your rights, return you to health, and hold all at-fault parties accountable through a car accident lawsuit, an employment lawsuit, and/or a workers' compensation claim.
The Dominguez Firm has experienced workers' comp lawyers ready to assist and get you the compensation you deserve. If there is no recovery, there is no fee! Call now for a free consultation at 800-818-1818.
My experience was good. They made sure to kept me in the loop and made sure to let me know what was going on the whole time. My mom has used other attorneys and this experience was beyond better. I would definitely recommend them!
— Ashley Magana
The attorneys were always available and answered my questions. I would recommend them to anyone. Zoe is the best!
— Janet Salazar
My experience with The Dominguez Firm and the attorneys was really good. They were very informative and always returned my calls.
— Jocelyn Gonzalez