In the modern work environment, many businesses throw company-sponsored events for their employees.
Company events are organized for a variety of reasons: to boost employee morale and commitment to the company, encourage camaraderie and improved workplace relationships, provide supplemental skills training, to introduce new and experienced employees, or just to let employees blow off some steam after a hard project. Unfortunately, company events can sometimes be the staging ground for accidents.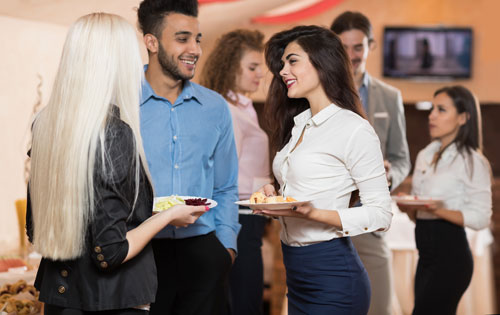 There is a lot of ambiguity around whether an employer is legally responsible for an employee injured at a company event. The short answer is, employers are typically responsible if the event is within the course of employment and compulsory.
However, there exists much wiggle-room in the law and the court's understanding of these requirements. Here's what you should know about filing a workers' compensation claim for an injury that occurred at a company event, according to a workers' compensation attorney.
What does 'Within the Course of Employment' mean?
Recreational or social activities are considered within the course of legal employment when:
(1) They occur on the premises during a lunch or recreational period as a regular incident of the employment; or
(2) The employer, by expressly or impliedly requiring participation, or by making the activity part of the service of the employee, brings the activity within the orbit of employment; or
(3) The employer derives substantial direct benefit from the activity beyond the intangible value of improvement in employee health and morale that is common to all kinds of recreation and social life.
What is 'Compulsory'?
California is one of only a few states that specify that injuries resulting from voluntary recreational activities do not qualify for workers compensation. However, if you can prove that your employer directly or indirectly required participation, then your injury might be compensable.
If your employer explicitly required you to attend the event, and you have a personal record of the mandatory nature of the event or your co-workers can corroborate this fact, then filing a claim should be relatively straightforward.
However, although your employer may not have announced that the event was mandatory, you may still be able to prove that there was indirect pressure to attend, providing grounds for filing a workers' compensation claim. Some examples that support the claim that an event was compulsory include:
If your employer took a record of attendance at the event
If employees were paid for time spent at the event
If employees were required to work if they chose not to attend the event
If your employer has maintained a 'known custom' of attending the event
If your employer can be shown to have received benefits from your attendance at the event
Contact a Workers Injury Lawyer
If you suffered an injury at a work-sponsored event and are still unsure about whether you qualify for workers compensation, call a workers rights attorney. An experienced workers' compensation lawyer will be able to provide guidance about your eligibility, as well as provide help in opening a successful workers compensation case for your medical expenses and additional damages. The workers compensation attorneys at The Dominguez Firm, LLP have years of experience assisting injured workers around the greater Los Angeles area to obtain the monetary compensation they deserve for their injuries, while maintaining their privacy. We are a top California injury law firm and maintain an experienced and professional workers' compensation practice. Our workers' compensation attorneys can provide representation for clients in a wide spectrum of job and work-related areas and cases including insurance, denied disability claims, personal injury, and much more. Call our office today for a free consultation at 866-512-4202.
My experience was good. They made sure to kept me in the loop and made sure to let me know what was going on the whole time. My mom has used other attorneys and this experience was beyond better. I would definitely recommend them!
— Ashley Magana
The attorneys were always available and answered my questions. I would recommend them to anyone. Zoe is the best!
— Janet Salazar
My experience with The Dominguez Firm and the attorneys was really good. They were very informative and always returned my calls.
— Jocelyn Gonzalez