Learn about the dangers of working in a warehouse and how to hold negligent warehouse owners accountable when they cut corners and hurt or kill workers.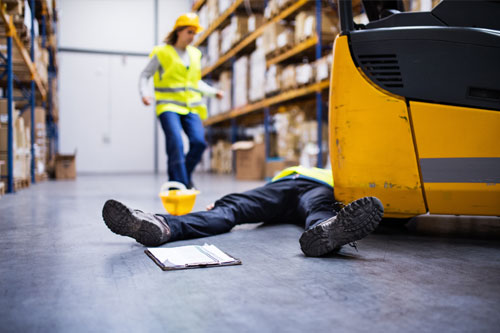 So many of us rely on Amazon to deliver goods at nearly a moment's notice. What we don't realize is that those goods are stored in massive and often very dangerous warehouses where negligent warehouse owners and operators often value profit over safety.
Amazon recently made it on a bad list when the National Council on Occupational Health and Safety named Amazon one of its "Dirty Dozen" after a rash of warehouse deaths. As Amazon's track record shows, warehouse safety breaches and resulting injury and/or death accidents are an all too common occurrence.
Common Warehouse Accidents
Warehouse workplace accidents typically stem from:
Forklift accidents
Trip and falls
Slip and falls
Falls from heights
Falling objects
Loading dock accidents
Heat stress
Overuse, repetitive injury
Lack of ventilation, respiratory issues
Dust and toxic airborne dusts
And others
Injury accidents are almost always avoidable through due care, which includes training to be Occupational Safety and Health Administration (OSHA) compliant, following proper protocol such as thorough inspections and posting signs, as well as proper supervision.
Workers who are injured need not prove employer negligence, as our workers' compensation system is a no-fault system. In many cases, however, warehouses are large spaces that are often occupied and used by several different businesses under one roof. Non-employers that cause or contribute to your accident can be sued for your work injury accident directly in a personal injury lawsuit. Workers who are injured by these third parties must prove that the third party breached its duty of care and their breach caused your injury (in other words, prove that the third party was indeed negligent).
Holding at-fault parties accountable for harming workers not only benefits the injured worker and/or their family, but also prevents future accidents. Hitting corporations and businesses in their pocket book is the best way to keep workers safe. We have over 30 years of handling Los Angeles workplace injury accidents and have the skill, resources, and fortitude to go up against even the strongest businesses and insurance companies.
The Dominguez Firm has experienced work accident lawyers to assist and get you the compensation you deserve. If there is no recovery, there is no fee! Call now for a free consultation at 800-818-1818.
My experience was good. They made sure to kept me in the loop and made sure to let me know what was going on the whole time. My mom has used other attorneys and this experience was beyond better. I would definitely recommend them!
— Ashley Magana
The attorneys were always available and answered my questions. I would recommend them to anyone. Zoe is the best!
— Janet Salazar
My experience with The Dominguez Firm and the attorneys was really good. They were very informative and always returned my calls.
— Jocelyn Gonzalez