The Dominguez Firm are absolutely the best. thorough from beginning to end. Very clear communication from start to finish. Highly recommended!
- Zoe Philander
Commerce Personal Injury Attorneys
Commerce, CA is home to over 12,600 people. Located in the middle of some of the most densely populated areas of Los Angeles County it also has two of the busiest freeways in the nation, the 5 and the 710 cutting right through it. Add the many visitors to Commerce's outlet mall and casino to the mix and accidents are inevitable.
The experienced Commerce personal injury lawyers at The Dominguez Firm have over 30 years of experience helping the residents of Commerce. If you've been in an accident in the City of Commerce, East Los Angeles, Maywood, Pico Rivera or any of the other surrounding areas, call The Dominguez Firm for a free and confidential consultation at 800-818-1818. We are available for you 24/7.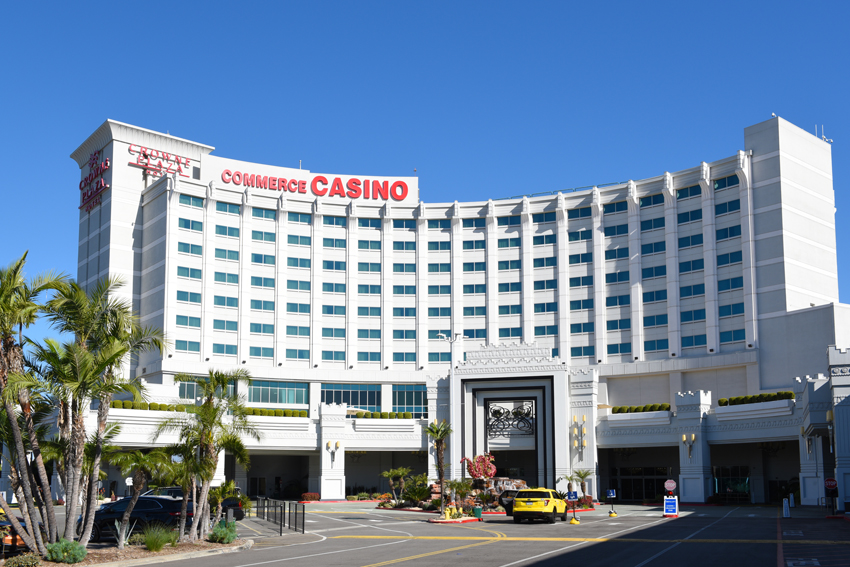 Living and working in Commerce by the numbers
Besides the Commerce Casino and the Citadel Shopping Outlets, the City of Commerce has a heavy industrial presence, as evidenced by its major rail yard and numerous warehouses and factories. All of this economic activity means thousands of employees and visitors travel to and from Commerce every day. The Top 10 employers in Commerce are:
California Commerce Club, Inc. (The Commerce Casino) - 2,191 employees
Los Angeles County – 910 employees
Parsec, Inc. – 890 employees
American International Industries – 592 employees
Gruma Corporation (Mission Foods) – 590 employees
99 Cents Only Stores – 566 employees
Unified Grocers, Inc./SuperValu – 436 employees
Wine Warehouse – 368 employees
Gibson Overseas, Inc. – 346 employees
Smart & Final, Inc. – 337 employees
Given its density and the amount of people that travel through Commerce every day, crime is higher than the state average. While the good news is that overall, crime has been dropping since 2016, Commerce still had a violent crime rate that was a whopping 149% higher than the national average.
As for traffic accidents in Commerce, 144 people were injured or killed in 2017, the last year for which the California Office of Traffic Safety has statistics.
What types of accidents do The Dominguez Firm personal injury attorneys in Commerce focus on?
The Commerce personal injury attorneys at The Dominguez Firm are experts in all types of personal injury accident cases including complex catastrophic accidents, workplace accidents and wrongful deaths. We have helped thousands of clients injured in accidents, including those injured in:
These are some, but not all of the types of accidents our Commerce personal injury lawyers handle. If you've been injured in an accident due to someone else's recklessness or negligence, call The Dominguez Firm personal injury lawyers in Commerce for a free consultation today. Call 800-818-1818. We're available 24/7.
And if you're concerned about the cost of hiring an attorney, know that we promise, you win, or you don't pay! So, there's no reason to wait. Waiting can hurt your case as vital evidence is lost and strict filing deadlines approach.
What compensation could I be entitled to after my accident?
Every accident is different, so no one can put a set dollar amount on what your case may be worth. A lot will depend on the extent of your injuries, your level of recovery and the emotional toll suffered, among other factors. Civil law does categorize these as economic and non-economic damages (the legal term for losses).
Examples of the economic damages a Commerce accident victim can recover include:
Medical expenses – This includes hospital bills, rehabilitation services, mental health counseling, medications and ambulance fees. For serious accidents, in-home care and home modifications are also calculated.
Lost wages – This covers all wages and income lost due to the accident. If the victim is unable to return to their job in the same capacity as before the accident, the cost of new vocational training should be factored in. If they cannot return to the workforce at all, all lost future earnings must be calculated.
Property damage – Generally, this refers to the victim's vehicle and the cost of repairing or replacing it.
For non-economic damages, you can't just take out a calculator and add up all the bills. But as a Commerce accident victim, you can receive compensation for your pain and suffering as well as the impact your accident has had on your life.
Pain and suffering – This category of damages is meant to compensate you for the emotional and physical pain you've suffered because of your accident. It's common for major accident victims to suffer from anxiety, depression as well as permanent injuries. The Commerce personal injury attorneys at The Dominguez Firm have the experience needed to calculate a fair and just amount for pain and suffering.
Loss of consortium/quality of life – If the accident resulted in injuries leading to a loss of companionship, love, sexual relations and support, the victim can seek damages for loss of consortium. If the accident victim's injuries led to a diminished quality of life, these damages can also be pursued. An example would be a parent who cannot play with their child as before their accident due to a serious back injury.
A third, separate type of damages are punitive damages. These are neither economic nor non-economic. They are not commonly awarded, but if the defendant's behavior has been particularly reckless or intentional, may be included. This is done to punish the defendant and deter similar behavior in the future not to compensate the accident victim for their injury.
Why should I choose The Dominguez Firm personal injury attorneys in Commerce?
The Dominguez Firm has over 30 years of experience successfully handling personal injury cases for clients in and around Commerce. Our award-winning attorneys have won over $700 million dollars for clients over that time. When our Founder and CEO Juan Dominguez opened the doors to The Dominguez Firm he did so based on the motto of compassion, service and results. The firm's emphasis on treating clients like family, offering outstanding customer service and obtaining the maximum compensation possible for every client in Commerce is a direct result of this motto.
The Dominguez Firm also has the resources to take on the big corporations and insurance companies. In addition to our skilled attorneys, we also have an experienced legal staff of over 120 professionals, in-house investigators and experts ready to help you present the best case possible.
Do not believe insurance companies when they tell you it's easier to settle a claim directly through them. The adjuster is not your friend. Always remember, they are employees of the insurance companies and they are trained to settle cases for pennies on the dollar. Our experienced Commerce personal injury lawyers know all of their tactics and how to counteract them. The Dominguez Firm will fight to get you the maximum compensation you are entitled to after your accident. That way, you can concentrate on your recovery instead of worrying about your finances.
The Commerce personal injury attorneys at The Dominguez Firm are ready to help you. Call us today at 800-818-1818 for a free and confidential consultation and remember: you win, or you don't pay!
My experience was good. They made sure to kept me in the loop and made sure to let me know what was going on the whole time. My mom has used other attorneys and this experience was beyond better. I would definitely recommend them!
— Ashley Magana
The attorneys were always available and answered my questions. I would recommend them to anyone. Zoe is the best!
— Janet Salazar
My experience with The Dominguez Firm and the attorneys was really good. They were very informative and always returned my calls.
— Jocelyn Gonzalez