Heavy gates are a common sight here in Los Angeles. Many of us pass through them every day without a second thought. Whether it's a parking garage, commercial property or even someone's home, heavy gates are everywhere. But if one malfunctions due to mechanical problems or human error, the victim can suffer catastrophic injuries or even die.
Below we've put together a list of the most commonly asked questions we receive regarding heavy gate accident injuries. If you or a loved one has been injured by a heavy gate, call the heavy gate injury lawyers at The Dominguez Firm today for a free and confidential consultation at 800-818-1818.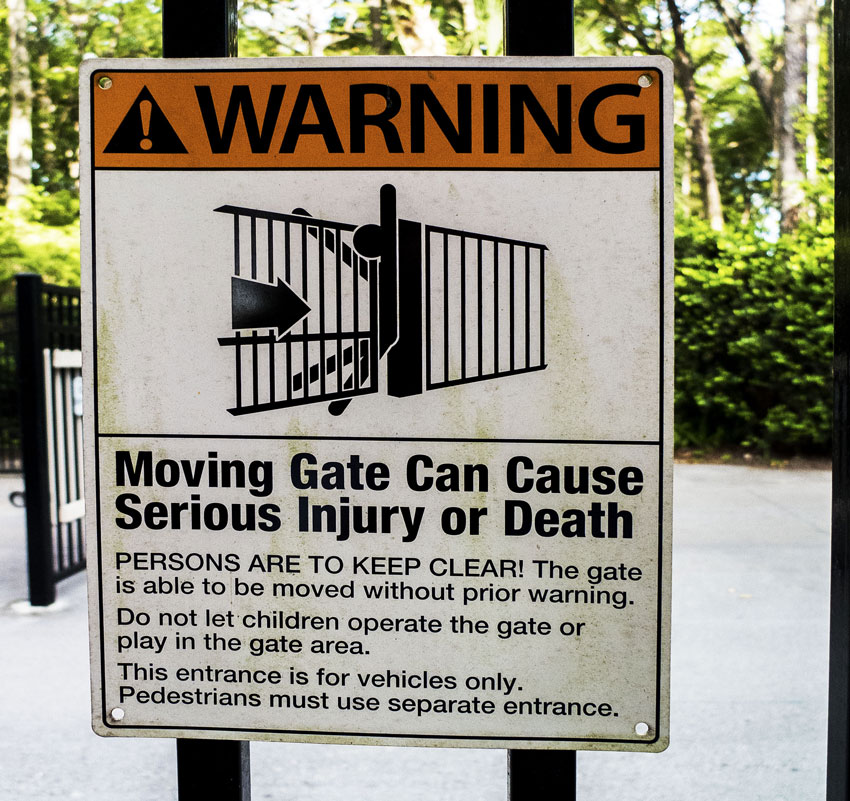 What is Considered a Heavy Gate?
Generally, larger, industrial grade gates fall under the category of heavy gates. In most cases, they are electrically powered, but they can also be hinged like a smaller residential gate. Parking garages, gated communities, commercial properties, industrial properties and even private homes can have heavy gates.
Most heavy gates are electric and in the case of garages, automatic. They operate through the use of sensors. All electric gates should have safety features to protect any pedestrians or vehicles passing through. This is especially true if there is no human operating the gate. Commercial buildings and garages use heavy electric gates with some sort of safety feature. However, if the gate is not properly maintained, that safety feature may not be operating properly. Even worse, some private homes have older gates with no safety features whatsoever.
What are the Most Common Heavy Gate Injuries?
Because of the sheer size and weight of most heavy gates, injury victims can easily suffer major injuries or on occasion, death. Even victims who are in their cars when a heavy gate malfunctions can be crushed or killed. Many are left with lifelong injuries that leave them unable to ever work again. And the emotional toll on victims and families can last a lifetime.
Some of the most common heavy gate accident injuries include:
Traumatic Brain Injury
Spinal cord injury
Facial injuries and lacerations
Severe neck and spine contusions
Paralysis injuries
Can I Sue if I Was Injured in a Heavy Gate Accident?
If your injuries were due to someone else's negligence or because of a defect in a heavy gate, yes. The reason for your accident will determine the type of case you have.
A negligent property owner and/or property manager – If your injuries were due to someone's negligence, then you can sue that person. This is usually the property owner. It can also include a building management company that failed to properly maintain a heavy gate. Legally, this would be considered a premises liability case.
A defective part in the heavy gate – If you were injured because a heavy gate was defective, then the manufacturer and/or the designer of the gate may be held liable. This would be considered a product liability case in legal terms.
An improperly installed gate – If someone is injured due to an improperly installed heavy gate, then the company that installed the gate can be held liable for those injuries.
An intentional act – In rare cases, a person may be injured due to the intentional act of someone else. Closing a gate on someone and causing injuries falls under the category of criminal law, but the victim may also sue for civil damages.
Generally speaking, your chances of successfully suing drop if you did any of the following:
You hit the gate, either as a pedestrian or with your car.
You were tailgating the car in front of you when leaving a garage. Some heavy gates are programmed to only allow a single vehicle to pass at a time and can close on top of the offending vehicle.
You tried to walk through a heavy gate that was for cars only. Note that the owner is obliged to put up signs prohibiting pedestrians at these entrances.
Even if the circumstances of your injuries are similar to one of the categories listed above, you should still contact the experienced heavy gate accident attorneys at The Dominguez Firm to go over your case. That's because California is a comparative negligence state. That means you may still collect damages (compensation in legal terms) even if you were partially at fault for your injuries.
As an example, let's say you walked through a gate crossing intended only for vehicles and were injured. You may have ignored or not seen any signs warning pedestrians not to go through. But, if your injuries resulted from a poorly maintained or installed gate and/or there was no signage, you could be entitled to damages.
In a scenario like this, the court will assign a percentage of blame to you for your injuries and deduct it from the final settlement or verdict. So, if the court decided you were 50% to blame for your accident, you would still receive half of whatever the final amount awarded is.
Who Am I Suing for my Heavy Gate Accident Injuries?
As you can see, several different people and entities may be responsible for your heavy gate accident injury. An experienced heavy gate accident attorney can help you determine all of the parties responsible for your injuries and hold them accountable. They can include:
The owner of the property.
The building management company tasked with operating and maintaining the heavy gate.
The manufacturer and/or designer of the heavy gate if the gate was found to be defective.
The company that installed the heavy gate if faulty installation caused it to malfunction.
An employee who operates a heavy gate improperly, causing someone to be injured.
What Compensation am I Entitled to for My Heavy Gate Accident Injuries?
Heavy gate accident injuries can have devastating consequences on you and your family. Even worse, if someone is unexpectedly killed due to a heavy gate their next of kin can be left emotionally and financially devastated. The victim or their family may be entitled to economic and non-economic compensation.
Economic compensation is easily calculated and can include:
Medical costs, such as emergency room and subsequent doctor visits as well as prescriptions.
Ongoing rehabilitation and medical costs, including mental health costs.
In the case of catastrophic injuries, the cost of long-term in-home care and modifications to the home.
Loss of income if the victim can't work for an extended period of time or permanently.
If the victim was killed, funeral expenses.
Non-economic compensation is more difficult to calculate since it isn't based on any bills or exact estimates. These can include:
Pain and suffering, which is usually based on the extent of the victim's injuries. The more severe and permanent the injuries, the higher the amount usually granted for pain and suffering.
Emotional distress, as the victim may be suffering from PTSD, anxiety and grief.
Loss of enjoyment of life. The victim doesn't have to be a world-class athlete to be compensated for loss of enjoyment of life. It may be something as simple as not being able to play with their children in the same manner as before their accident.
Loss of consortium. If a spouse was killed in a heavy gate accident, their husband or wife is entitled to receive compensation for their loss.
In rare instances, a heavy gate accident injury victim may receive what is known as punitive damages. This is done to punish the defendant more than compensate the victim. It occurs when the court decides that a defendant has acted in a particularly reckless or aggressive manner. It's meant to discourage similar behavior from the defendant in the future while also serving as a warning to others.
Contact the Heavy Gate Accident Attorneys at The Dominguez Firm
The Dominguez Firm has been helping heavy gate accident injury victims obtain the compensation that they're entitled to for over 30 years. We have the personal injury attorneys, legal personnel and resources to take on the large corporations and insurance companies that look to minimize or even deny your claim. And if you're worried about the cost of hiring an attorney, know that at The Dominguez Firm, if there is no recovery, there is no fee! Call us today at 800-818-1818 for a free consultation.
My experience was good. They made sure to kept me in the loop and made sure to let me know what was going on the whole time. My mom has used other attorneys and this experience was beyond better. I would definitely recommend them!
— Ashley Magana
The attorneys were always available and answered my questions. I would recommend them to anyone. Zoe is the best!
— Janet Salazar
My experience with The Dominguez Firm and the attorneys was really good. They were very informative and always returned my calls.
— Jocelyn Gonzalez