Olivier Taillieu Selected to Speak at the CAOC Convention in San Francisco.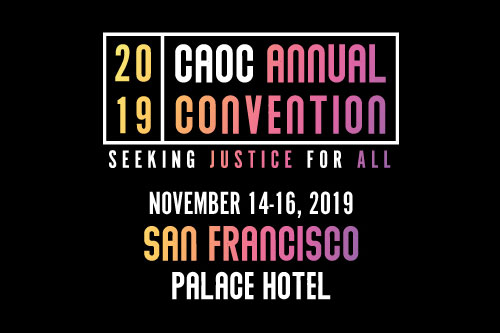 Olivier Taillieu, Chief Trial Attorney at The Dominguez Firm, was recently featured as a speaker at the 2019 Consumer Attorneys of California (CAOC) Annual Convention in San Francisco. As part of the convention's Continuing Legal Education (CLE) program, Mr. Taillieu was asked to present on the topic Picking the Right Jury in TBI Cases to an audience of his peers.
Mr. Taillieu is a recognized authority on Traumatic Brain Injuries (TBIs) within the legal community. He has been a strong advocate for clients affected by TBIs and is regularly called upon to share his expertise with those within the legal and medical fields. "The more we as attorneys share our knowledge and the latest findings regarding TBIs, the better we can fight for the rights of our clients affected by brain injuries." Mr. Taillieu also gives CLE presentations on trial skills to his fellow attorneys.
At The Dominguez Firm, Mr. Taillieu often litigates complex cases involving TBI injuries. He has achieved several multi-million dollar settlements and verdicts for his clients. Among the most notable was a $29 million verdict for a TBI case involving a pedestrian.
In addition to fighting for the rights of TBI clients, Mr. Taillieu is also keenly aware of the emotional toll that TBIs take on victims and their families. As a board member of the Brain Society of California, Mr. Taillieu shares his insights with like-minded professionals. The aim is to bring positive change to a TBI victim's life.
Currently, Mr. Taillieu also serves on several boards, including CAOC and Consumer Attorneys Association of Los Angeles (CAALA). Both legal organizations champion the rights of consumers here in California.
The Dominguez Firm is a nationally recognized personal injury law firm that has been successfully meeting the needs of accident victims for over 30 years. For a free and confidential case consultation, please call us at 800-818-1818.