Dominguez Firm wins $29M Jury Verdict
The Dominguez Firm wins a $29,062,351 record setting jury verdict on October 26, 2016 on behalf of a 19 year old pedestrian that sustained a head injury when he was struck by a car at a crosswalk in 2013.
Defendant, a medical doctor, refused to accept responsibility insisting all along Javier (then a juvenile) was carelessly riding his skateboard in the cross-walk.
Javier Perez v. Caleb David Sunde: Case No.: BC530720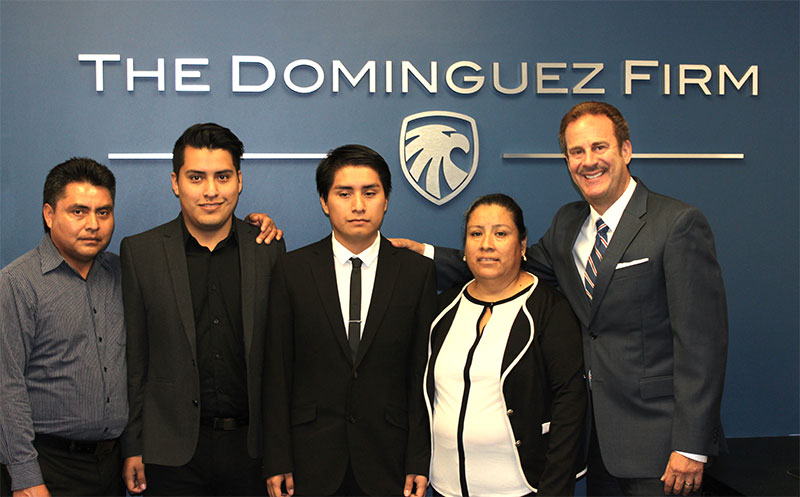 The monies will provide Mr. Javier Perez the medical care and assistance he will need for the rest of his life. Lead plaintiff trial attorney at The Dominguez Firm, Mr. Olivier Taillieu, established 100% defendant liability, although there were no independent witnesses or video to the accident and Mr. Perez had no recollection of how the accident occurred. The only eyewitness version given to the jury was defendant doctor's alleged negligent free operation of his vehicle.
Attorney Olivier Taillieu' last words to the jury were an emotive plea, "I now leave Mr. Javier Perez in your hands." After one day of deliberations, the verdict is believed to have set a new record this year at the Los Angeles downtown courthouse for highest verdict in a mild neurocognitive disorder head injury case this year.
The parents testified during the three weeks trial of their deep concern for Javier's future well-being. The parents and Mr. Javier Perez expressed much thanks and appreciation to the court, their trial team, and for the jury's understanding and verdict.
Nationally recognized plaintiff's attorney Juan Dominguez states, "it was an honor to be part of the trial team with lead trial attorney Olivier Taillieu, Maura Gewirtz, and Larry J. Litzky assisting these most noble and humble client and parents, and to congratulate them with this much-deserved justice"
Since 1987 The Dominguez Firm has resolved over $750 million* in injury cases. It is one of the most widely recognized and successful personal injury law firms in Southern California.