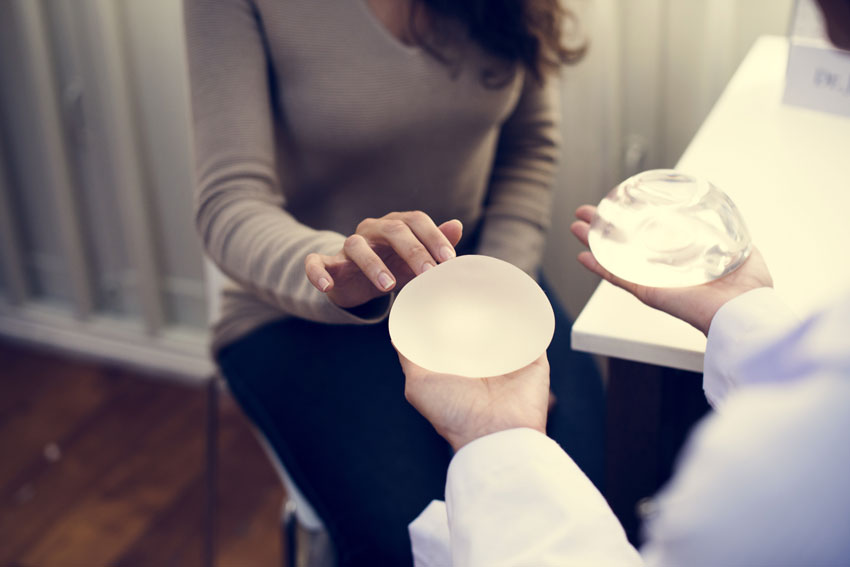 Allergan Breast Implants Recalled by the FDA
Allergan recently announced a recall of their BIOCELL® textured breast implants. There is overwhelming evidence of a direct link to a rare immune system cancer (lymphoma) in women with these implants. The lymphoma is called breast implant-associated anaplastic large cell lymphoma (BIA-ALCL). This slow-moving cancer is potentially deadly if not detected early enough. Symptoms, however, can take years to develop.
If you or a loved one has been diagnosed with breast-implant associated anaplastic large cell lymphoma (BIA-ALCL), you may be angry about this news and unsure of how to proceed. The Allergan breast implant cancer lawyers at The Dominguez Firm are here to answer your questions and provide you with the information that you need. Our attorneys can help you obtain the justice and compensation that you deserve. And you incur no out of pocket expenses. Our promise to you: no win, no attorney fees. Call us today for a free evaluation of your case.
We at The Dominguez Firm believe that any woman who decides to get breast implants, whatever the reason, should not have to worry about developing a rare form of cancer. This type of diagnosis can have far-reaching consequences on your life as well as the lives of your loved ones. Allergan should be made to pay so you or your loved one can undergo medical treatment during this stressful time without worrying about your finances.
What is breast implant-associated anaplastic large cell lymphoma (BIA-ALCL)?
It is a rare type of Non-Hodgkin's lymphoma (immune system cancer) that can develop in the scar tissue around Allergan's textured breast implants. BIA-ALCL is a slow-moving lymphoma. It is NOT a form of breast cancer.
Medical researchers have been unable to pinpoint the exact reason why these textured breast implants appear to trigger lymphoma in women with these types of implants, but the correlation is clear.
What are the symptoms of breast implant-associated anaplastic large cell lymphoma?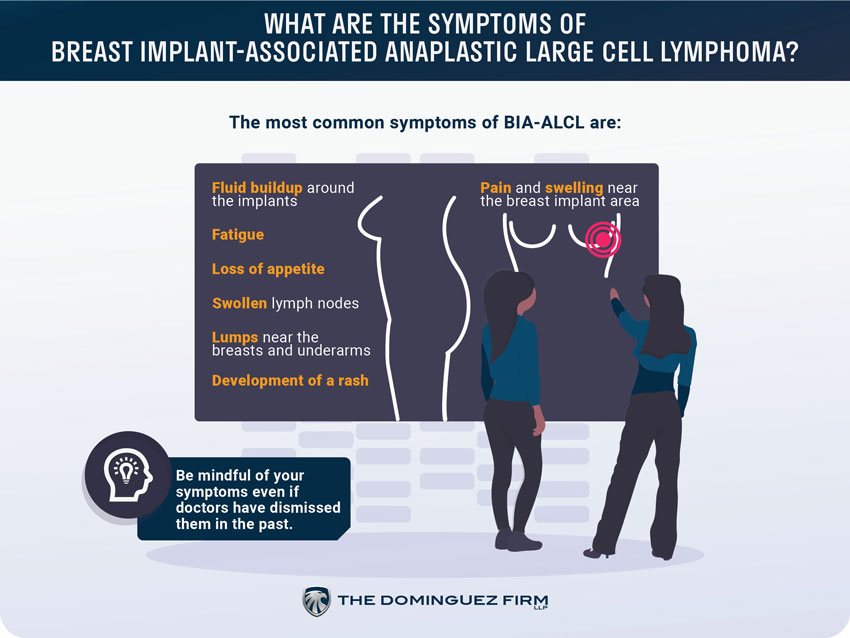 The most common symptoms of BIA-ALCL are:
Pain and swelling near the breast implant area
Fluid buildup around the implants
Fatigue
Loss of appetite
Swollen lymph nodes
Lumps near the breasts and underarms
Development of a rash
The main symptom is pain and swelling in and around the area of the breast implant itself. The FDA suggests monitoring that area regularly and to be aware of fluid or lumps just below the skin.
The FDA has also notified doctors of this recall and of the symptoms associated with BIA-ALCL so they can be more aware of the BIA-ALCL signs to look out for. This is important because women were noting that their doctors were, unfortunately, dismissing or overlooking symptoms of BIA-ALCL in the past.
Is there a list of the Allergan breast implants that have been recalled?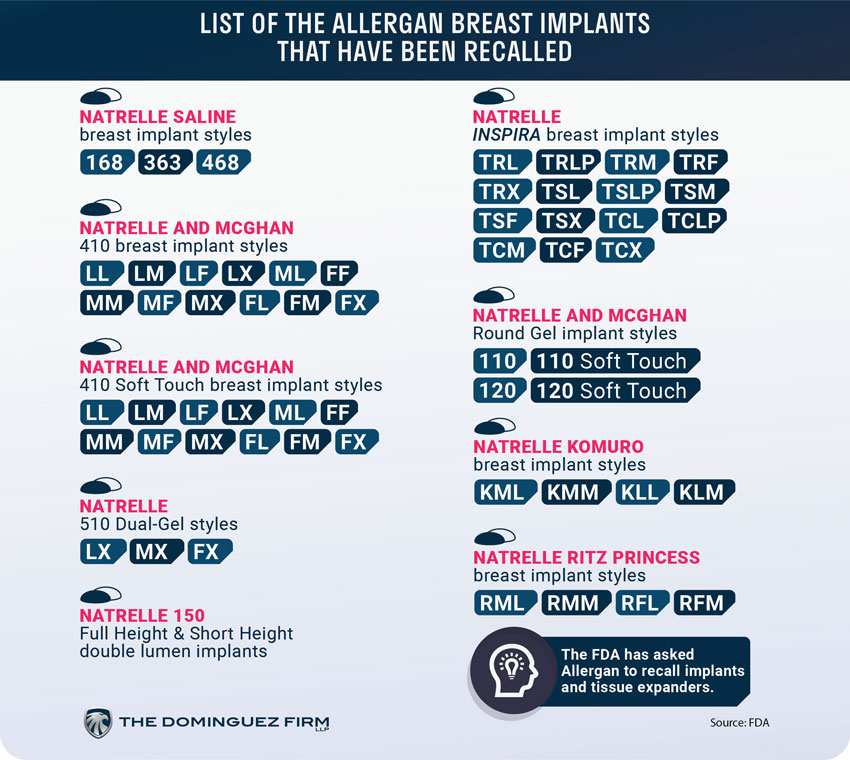 Yes. The FDA has asked Allergan to recall the following textured breast implants here in the U.S. They are:
Natrelle Saline breast implant styles 168, 363, 468
Natrelle and McGhan 410 breast implant styles LL, LM, LF, LX, ML, MM, MF, MX, FL, FM, FF, FX
Natrelle and McGhan 410 Soft Touch breast implant styles LL, LM, LF, LX, ML, MM, MF, MX, FL, FM, FF, FX
Natrelle 510 Dual-Gel styles LX, MX, FX
Natrelle INSPIRA breast implants, styles TRL, TRLP, TRM, TRF, TRX, TSL, TSLP, TSM, TSF, TSX, TCL, TCLP, TCM, TCF, TCX
Natrelle and McGhan Round Gel Implants, styles 110, 110 Soft Touch, 120, 120 Soft Touch
Natrelle Komuro breast implants styles KML, KMM, KLL, and KLM
Natrelle Ritz Princess breast implant styles RML, RMM, RFL, RFM
Natrelle 150 Full Height and Short Height double lumen implants
In addition, the FDA also requested that Allergan recall their tissue expanders. These balloon shaped sacs are used to stretch a patient's skin in preparation for the permanent implant. These products include:
Natrelle 133 tissue expanders with and without suture tabs: styles 133FV, 133MV, 133LV, 133MX, 133SX, 133SV, T-133FV, T-133MV, T-133LV, T-133MX, T-133SX, T-133SV, 133FV-T, 133MV-T, 133LV-T, 133MX-T, 133SX-T, 133SV-T
Natrelle 133 Plus tissue expander styles 133P-FV, 133P-MV, 133P-LV, 133P-MX, 133P-SX, 133P-SV, T-133P-FV, T-133P-MV, T-133P-LV, T-133P-MX, T-133P-SX, T-133P-SV, 133P-FV-T, 133P-MV-T, 133P-LV-T, 133P-MX-T, 133P-SX-T, 133P-SV-T
I have breast implants, but they aren't Allergan implants, should I be worried?
Right now, the FDA ban only affects women with Allergan BIOCELL® textured breast implants. While BIA-ALCL is extremely rare, women with Allergan's BIOCELL® textured breast implants make up more than 80% of the 570 known cases of this lymphoma internationally.
I have the implants named in the FDA's list, but I have no symptoms, what should I do?
The FDA does not recommend that women with these implants have them removed if they show no symptoms of BIA-ALCL. This is due to the rare nature of this form of lymphoma and the risk associated with surgery to remove breast implants. Instead, they ask that women with Allergan BIOCELL® textured breast implants monitor their health and consult with their doctor if they show any of the symptoms listed above.
I had a choice between silicone or saline implants. Does one type of filling pose more of a risk than the other?
Women could choose between silicone or saline-filled implants, but, these fillings do not appear to be a factor in the development of this lymphoma. It is the textured surface of the breast implants themselves which irritate the surrounding scar tissue, causing inflammation and the formation of cancer cells. Ironically, the textured surface was originally touted as a positive feature that would help lessen slipping and scarring.
I have Allergan textured breast implants and my doctor has diagnosed me with BIA-ALCL, what can I do?
First, know that we at The Dominguez Firm are here to help. The FDA has told women with a BIA-ALCL diagnosis to see their doctor and have the Allergan BIOCELL® textured breast implants removed immediately since early intervention is vitally important.
If you or someone close to you received Allergan BIOCELL® textured breast implants and were diagnosed with anaplastic large cell lymphoma, call the breast implant lawyers at The Dominguez Firm right away for a free consultation. We can help you get the compensation you need to move forward with your medical treatments.
How will filing a lawsuit help me?
If you have BIA-ALCL due to Allergan's BIOCELL® textured breast implants, you undoubtedly have large medical bills and lost income due to your illness. You and your family have also been impacted emotionally. The Dominguez Firm has a proven track record of helping our clients obtain compensation to cover their medical expenses and get their lives back on track.
I lost a loved one to BIA-ALCL, is it too late to do anything?
No, The Dominguez Firm may still be able to help you and your family obtain justice, so call us today. Of course, no amount of money can replace the passing of a loved one lost to BIA-ALCL, but making Allergan pay for their stubborn refusal to take these dangerous textured breast implants off the market helps to hold them accountable for the families impacted by their irresponsible behavior. Seeing justice served in the name of a lost loved one can also bring closure to a grieving family.
Is there a deadline for filing a lawsuit?
Each case is different, so call The Dominguez Firm right away for a free case review. We can go over the details of your individual situation and answer any questions you might have. It's important that you not wait, so call us today.
Call The Dominguez Firm today
What's troublesome about this recall is that it appears Allergan was aware of or should have been aware of the danger that these textured breast implants and tissue expanders posed to women. But the pharmaceutical giant continued to manufacture and sell them to plastic surgeons across the U.S., putting profits ahead of public safety.
The FDA finally requested that Allergan ban BIOCELL® textured breast implants in June of 2019. However, only three months earlier, in March of 2019, the FDA decided against a ban. This delay put the health of thousands of women in the U.S. at risk.
You trusted the FDA, your doctors, and Allergan. Unfortunately, they betrayed that trust. 38 countries around the world banned these textured breast implants before the United States. Instead of following that lead, Allergan and the FDA dragged their feet.
Allergan must be made to pay for the lives they upended. The Dominguez Firm has been fighting for the rights of our clients for over 30 years. Our award-winning product liability lawyers will go over the particulars of your case with you and answer any questions you might have.
The Dominguez Firm has taken on large corporations in the past and won, and we can do the same for you and your family. If you or someone close to you was diagnosed with BIA-ALCL due to Allergan's BIOCELL® textured breast implants, call us right away for a free case review. And we stand by our guarantee: there are no out of pocket costs to you. We only get paid if you win.
My experience was good. They made sure to kept me in the loop and made sure to let me know what was going on the whole time. My mom has used other attorneys and this experience was beyond better. I would definitely recommend them!
— Ashley Magana
The attorneys were always available and answered my questions. I would recommend them to anyone. Zoe is the best!
— Janet Salazar
My experience with The Dominguez Firm and the attorneys was really good. They were very informative and always returned my calls.
— Jocelyn Gonzalez