ATTORNEY JUAN J. DOMINGUEZ TO SPEAK AT HOLLENBECK YOUTH CENTER CEREMONY HONORING TOMMY LASORDA
Los Angeles, Calif., July 18, 2018 — On Thursday, July 19, 2018 at 11:00 am, the Hollenbeck Police Business Council, Hollenbeck Youth Center will honor Tommy Lasorda with a Lifetime Achievement award in a ceremony that will feature community VIP guest speakers, including nationally recognized attorney, Juan J. Dominguez.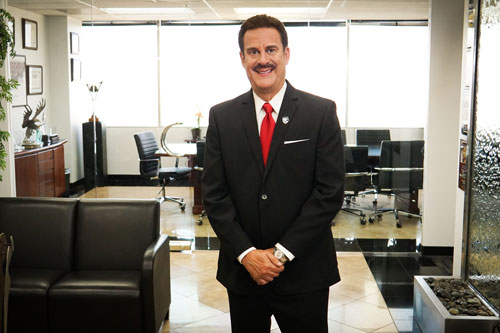 Mr. Dominguez, the CEO and Managing Partner of The Dominguez Firm (TDF), based in Los Angeles, stated, "It's a tremendous honor to be involved with these incredible people and an incredible organization that serve the community in a positive and transformative way. In this day and age, hope is one of the best gifts we can give our future generations and I'm proud and thrilled to be a part of the Hollenbeck Youth Center and the great work they do."
Founded in 1976, the Hollenbeck Youth Center has been a community mainstay under the leadership of Daniel L. Hernandez. Its concept is to provide collaboration between police and local businesses for the betterment of the community and children. Over its 40+ years of existence it has helped thousands of kids of all walks of life.
Mr. Dominguez and TDF are longtime supporters of Hollenbeck and contribute annually to its "Miracle on 1st Street" holiday program, which attracts over 10,000 attendees while giving out over 10,000 toys to inner-city children. Past celebrity guests of Miracle on 1st Street include Kobe Bryant, Arnold Schwarzenegger, and many others.
In addition to Hollenbeck, The Dominguez Firm donates to over 50 charities and provides scholarships to those in need; in and around Los Angeles, Southern California, and Mexico. On giving back, Mr. Dominguez said, "It's an honor and a duty as business owners to give back to our communities so we can help our kids succeed at their dreams. I firmly believe any individual's success is a team effort, as exemplified by Hollenbeck's cooperative approach."
The ceremony will take place at Dodger Stadium Club at 1000 Elysian Park Avenue, Los Angeles, CA 90012. It also will honor Dylan Laiken as its 2018 Youth Ambassador, Gilbert R. Vasquez, CPA as its "Amigos De Los Niños" recipient, and several others.
The Dominguez Firm has recovered over $500,000,000 in its 30+ years of representing injury victims in Greater Los Angeles. The Dominguez Firm is staffed with award-winning trial attorneys and is widely recognized as one of the most successful law firms in Southern California.