Attorney Juan J. Dominguez Ensuring Expansion of Orphanage
Juan J. Dominguez, president and founder of The Dominguez Law Firm, recently traveled to Mexico to make a generous gift in person to the Los Angelitos Orphanage in Tijuana to support its expansion efforts.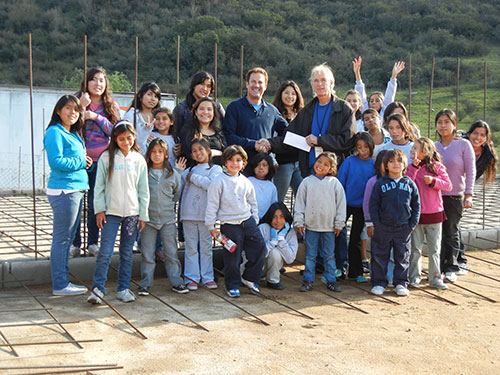 "Los Angelitos Orphanage is a children's home that provides underprivileged children the opportunity to experience secure living conditions, a nurtured upbringing, schooling and a pleasant family life," said Dominguez.
"All of its residents are either orphans or abandoned children that would otherwise be living on the streets of Tijuana."
Los Angelitos is a secure orphanage located in the rural south Tijuana area with a second location in urban Tijuana. It primarily serves children that are under the jurisdiction of the Mexican government.
The orphanage has been operating for thirteen years and currently has children ranging in age from 1 to 21, with several in college.
Dominguez, a first-generation immigrant, has been donating to the orphanage for seven years. He understands the needs of the less fortunate in Latin America, where he has lived and traveled extensively throughout his life.
Because the majority of his clients are of first-generation Mexican heritage, Dominguez wanted to give back to the Mexican community and be able to not only contribute financially, but also be involved personally in Tijuana, Mexico, the closest city in Mexico to where Dominguez lives and works in Los Angeles.
"Los Angelitos Orphanage is our favorite charity and we are honored to help with its continued growth so that they can help as many children as possible," said Dominguez. "There are so many children who need to be saved from the streets of Tijuana, and the ongoing plan is to perpetually improve the environment of the orphanage for the betterment of the children living there."
The future plan for Los Angelitos is to finish the dormitory and kitchen. However, since the orphanage can only afford to hire two construction workers, the timeline for each construction project is very extensive, and they rely on donations to fund these projects.
To donate to Los Angelitos Orphanage, please visit http://www.losangelitos.org/donate.html.
About Juan J. Dominguez, The Dominguez Law Firm, LLP.
Juan J. Dominguez is a nationally recognized, award-winning, bilingual attorney. His personal injury, workers' compensation, immigration, employment law and consumer rights law practice is one of the most successful and well-known in Southern California and provides a free initial consultation. In 2013, Mr. Dominguez was honored with distinction by the Hispanic National Bar Association with the Latino Attorney of the Year award, and in 2014 the Mexican-American Bar Association honored him with the Special Recognition Award for his outstanding career accomplishments and contributions to the community. The Los Angeles Business Journal awarded him the 2015 Latino Business Award for setting the example for excellence.