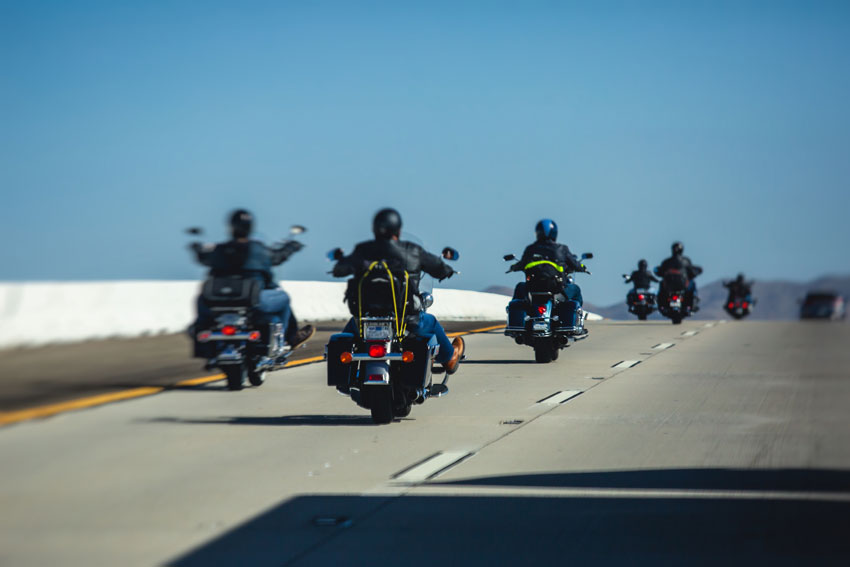 As the largest county in California and the United States, San Bernardino offers thousands of miles of roads for motorcycle riders to explore. Spread out across more than 20,00 square miles, this vast county features everything from snowy mountains to world-famous Death Valley National Park. And while many ride their motorcycles to take in some of San Bernardino County's most notable sites, other motorcycle riders are residents who use their bikes for their daily commutes.
The fact is, motorcycle accidents happen in San Bernardino every day. Usually, the more vulnerable motorcycle rider is either seriously injured or killed. Dealing with the aftermath of a San Bernardino motorcycle accident can be devastating. Victims may need weeks or months to recover. Some suffer permanent injuries. And family members who have lost a loved one in a motorcycle crash are often left overwhelmed both mentally and financially.
No one expects to be hurt or lose a loved one in a motorcycle accident in San Bernardino. But if you are, call the San Bernardino motorcycle accident lawyers at The Dominguez Firm right away for a free consultation at 800-818-1818. We have over 30 years of experience helping motorcycle accident victims fight for their rights and promise to do the same for you and your family.
San Bernardino Motorcycle Crash Statistics
Overall, motorcycle riders are 28 times more likely to die in a traffic accident than those in passenger cars. That's despite the fact that motorcyclists make up only 3% of all registered vehicles in the U.S. In San Bernardino County itself, 902 people were injured or killed in motorcycle accidents in 2018, which ranks it 16th among California's 58 counties for this grim statistic.
The three cities within the county with the highest number of motorcycle crashes in 2018 were:
Redlands – 45 people were injured or killed. That ranked Redlands second for motorcycle crashes among similarly sized cities in California.
Ontario – 51 people were injured or killed in motorcycle crashes. That ranked Ontario 13th among similarly sized cities in California.
Victorville – 32 people were injured or killed in motorcycle crashes. That ranked the city 14th among similarly sized cities in California.
What are the most common motorcycle accident injuries?
Motorcycle riders aren't protected by four doors and air bags. Except for their helmets, they have little protection from rough pavements and other vehicles. That makes them susceptible to many catastrophic injuries including:
Traumatic Brain Injuries (TBI)
Spinal cord injuries
Amputations
Broken bones
Burns
Road rash
Whiplash
Most of the injuries listed above can be classified as catastrophic. Even the lesser injuries, road rash and whiplash can lead to complications and cause permanent injuries or scarring.
Can you still help me if I'm an undocumented immigrant?
Yes. Your legal status in this country has nothing to do with your San Bernardino motorcycle accident and the injuries you've suffered. Not only is it irrelevant, defense counsel is barred from bringing it up at any time during the duration of your case. Rest assured the San Bernardino personal injury attorneys at The Dominguez Firm are well aware of this and will make sure your rights are defended. And once your case is done, your legal status cannot be used against you in any way when it comes to any settlement or verdict you may be entitled to.
I wasn't wearing a helmet when I was injured in a San Bernardino motorcycle crash. Can you still help me?
Yes. California does have a universal helmet law. Anyone who rides a motorcycle must wear a helmet, no exceptions. However, California is also a comparative fault state. That means you can still file a claim if you were injured in a motorcycle accident in San Bernardino, even if you weren't wearing a helmet.
Because you weren't wearing a helmet, you will share some of the fault for your injuries. The court will determine your percentage of fault and deduct that from your final settlement or verdict. And going forward, please wear a helmet.
I lost a loved one in a San Bernardino motorcycle accident. What legal action can I take?
If you are their legal next of kin, you can file a wrongful death lawsuit against the person or people who caused your loved one's death. There is an order of preference starting with the surviving spouse and any children. If the deceased had neither, then any domestic partner and grandchildren would have the right to file a wrongful death lawsuit.
We know that no amount of money can make up for the sudden loss of a close family member but making those responsible pay can give you the financial and emotional peace of mind you need at such a difficult time. It can also help with any medical expenses you may have been faced with.
If I was injured in a San Bernardino motorcycle accident, what compensation could I be entitled to?
The cost of a San Bernardino motorcycle accident injury can range from tens of thousands of dollars to even millions in medical bills, depending on their severity. And that's not even taking lost income and property damage into account. If the accident resulted in catastrophic injuries, the victim may suffer permanent injuries that stop them from ever working again.
Since motorcycle accidents are not your typical type of traffic accident, you want a personal injury firm with experience handling these types of cases. What may seem like a generous offer from the insurance company can quickly run out if the victim needs long-term care or expensive surgeries.
The motorcycle accident attorneys at The Dominguez Firm will start by seeking compensation for the following expenses related to your accident:
All medical bills related to your injuries
Physical therapy and rehabilitation costs now and in the future
Mental health therapy
All lost income and wages due to the motorcycle accident
Property damage to your motorcycle
In severe crashes, long-term or permanent care and home modifications
You may be surprised to learn that the bulk of any settlement or verdict is made up of non-economic damages. That's compensation for your pain and suffering and loss of enjoyment of life. Yes, the physical injuries suffered in a motorcycle accident can be horrific, but the mental toll it takes on you and your family can be just as devastating. Fortunately, our legal system takes that aspect into account as well.
Who do motorcycle accident lawyers hold liable for your injuries?
The Dominguez Firm is a fully-staffed personal injury law firm with nationally recognized trial lawyers and in-house investigators who are available 24/7. As soon as you hire us, our investigators will get to work piecing together every aspect of your motorcycle accident to pinpoint who was to blame. Then our attorneys will formulate the strongest case possible for you based on these findings.
Defense attorneys and insurance companies are well aware of our reputation. They know we will fight hard to get you the justice you deserve for your motorcycle accident injuries and hold those liable accountable. Our 96%* success rate for litigated cases is a testament to this.
How can a Dominguez Firm attorney help you with your motorcycle accident claim?
You might be under the impression that it's better to deal with the insurance company directly. The adjuster may even tell you that you don't need a lawyer. That couldn't be further from the truth. Insurance company adjusters are trained to negotiate claims for the lowest amount possible, no matter the extent of your injuries.
Most people do not negotiate for a living. Part of the proof lies in the fact that many motorcycle riders accept the first offer they're given. An experienced motorcycle accident lawyer from The Dominguez Firm knows these tactics well and how to counter them. They'll also compare your accident and injuries to similar cases they've handled to get a general idea of the fair and just compensation you should be entitled to.
Our attorneys also know there is an inherent bias against motorcycle riders as risk-takers and daredevils. For example, unscrupulous defense attorneys may even try to pin the blame for your accident on you if you were lane-splitting, even though the practice is perfectly legal in California. Fair or not, we're aware of it and know how to present the facts of your case objectively so you're seen as a person, not a stereotype.
Now is not the time to take on the insurance companies, medical bills and other issues arising from your motorcycle accident by yourself. Let the award-winning San Bernardino motorcycle accident lawyers at The Dominguez Firm handle things for you so you can concentrate on what's most important: your health and recovery.
Our No Win, No Fee Guarantee
If you've been injured in a motorcycle accident in San Bernardino, you're probably concerned about your finances right now. You may think you can't afford to hire a personal injury attorney. The thing is, you can, and should hire an experienced personal injury lawyer in San Bernardino.
At Dominguez Firm, we work on a contingency basis. That means you pay us nothing up front. There are no hidden fees. Instead, we receive a percentage of your settlement or verdict when your case ends. That percentage will be clearly stated in the client representation agreement you sign with us. And it won't change based on your settlement amount.
Also, rest assured that in the unlikely event we're unable to secure a settlement or verdict for you, you owe us nothing. In short, you win, or you don't pay!
Call The San Bernardino motorcycle accident lawyers at The Dominguez Firm today
If you or a loved one were injured in a motorcycle accident in San Bernardino, call The Dominguez Firm today for a free consultation at 800-818-1818. We have over 30 years of experience helping injured motorcycle riders in San Bernardino and throughout Southern California. During that time, we have won million and multi-million dollar settlements and verdicts for our motorcycle accident clients. We will fight to get you the maximum compensation you are entitled to for your motorcycle accident injuries, so call us today!
My experience was good. They made sure to kept me in the loop and made sure to let me know what was going on the whole time. My mom has used other attorneys and this experience was beyond better. I would definitely recommend them!
— Ashley Magana
The attorneys were always available and answered my questions. I would recommend them to anyone. Zoe is the best!
— Janet Salazar
My experience with The Dominguez Firm and the attorneys was really good. They were very informative and always returned my calls.
— Jocelyn Gonzalez