Wherever you live in Riverside County, chances are you need a car to get around. The county is also home to many popular destinations, making it a favorite getaway spot for millions throughout Southern California. Located within Riverside are the world-famous Coachella Valley and Temecula Wine Country to name just two. When you combine all of these visitors and over 2.47 million county residents on the same roads and freeways, car accidents are a given.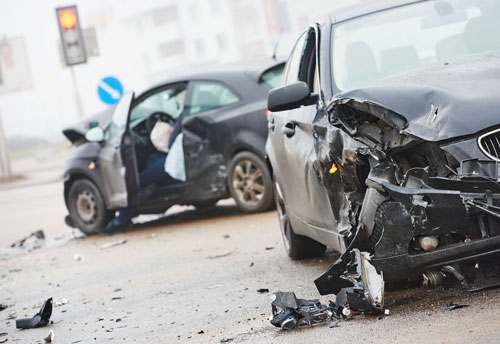 If you've been injured in a car accident in Riverside County, call the Riverside car accident attorneys at The Dominguez Firm today for a free and confidential consultation at 800-818-1818. Our personal injury lawyers have been helping car accident victims for over 30 years and we can help you too. We will fight for your rights and work to get you the maximum compensation you are entitled to under the law.
Below are some of the most common questions we receive regarding car accidents in Riverside.
What compensation could I be entitled to after a Riverside car accident?
You have the legal right to receive compensation if you've been injured in a car accident due to someone else's recklessness or negligence in Riverside. Even a seemingly minor accident can cause painful, lingering injuries such as whiplash. If the pain and discomfort are great enough, it may leave you unable to work for an extended period of time. For more serious car accidents, victims may need extended medical care and in the case of catastrophic accidents, long-term care and home modifications. They may also be unable to ever work again.
The cost of a catastrophic injury, such as a spinal cord injury or traumatic brain injury, can end up being in the hundreds of thousands and even millions of dollars. Initially, the victim and their family are often completely unaware of the costs involved. Insurance companies are counting on that when they present auto accident victims with a settlement offer. What seemed like a generous amount at first can quickly run out due to mounting medical bills or any complications in the victim's recovery.
That's why it's so important to have an attorney with experience in Riverside car accidents by your side. The attorneys at The Dominguez Firm can calculate the compensation you should be entitled to based on similar cases they've handled in the past.
There are two types of damages (the legal term for the money you are entitled to) that can be awarded in a car accident case. They are economic and non-economic damages. As the name suggests, economic damages are all of the specific losses caused by your injury. They are very easy to add up.
Examples of economic damages include:
Medical expenses – You are entitled to compensation for all medical bills related to your injury:

Hospital bills
Ambulance bills
Physical therapy
Consultations with specialists
In-home care services
Psychiatric counseling
Property damage – Generally, the cost of repairing or replacing your car.
Lost wages – All lost wages as a result of your accident now and in the future.
Non-economic damages can't be added up on a calculator. However, they often make up the bulk of a car accident victim's compensation.
Examples of non-economic damages include:
Pain and suffering – Pain and suffering are damages caused to your quality of life by your Riverside car accident.
Loss of Consortium – If the victim is severely injured, their spouse can seek damages for loss of consortium. This is granted for the loss of the victim's companionship and emotional support. It can also include the loss of sexual relations and the ability to have children.
Loss of enjoyment of life – Victims who can no longer take part in activities enjoyed before their accident can receive this category of damages. Examples include not being able to play soccer with friends as before or simply not being able to play with their children as they did before their car accident.
Disfigurement – Car accident victims who have suffered permanent scarring and changes to their appearance can claim disfigurement damages.
Punitive damages are awarded if the actions of the person who caused the car accident (the defendant) were particularly malicious or willful. Punitive damages are not awarded to compensate the victim. They are awarded to make an example of the defendant and discourage similar behavior in the future.
What if I'm partially to blame for my Riverside car accident?
An experienced car accident attorney can still help if you, the victim, were partially at fault. That's because California is a comparative negligence state. That means if the court decides you were 20% to blame for your accident (as an example), your final settlement or verdict amount would be reduced by 20%. So, if you are awarded $500,000, that would be reduced by 20% to $400,000.
Keep in mind, the aftermath of a car accident in Riverside can be confusing and disorienting. Your recollection of the events may not be complete. The Dominguez Firm has an in-house team of investigators who are available at a moment's notice. They, along with our attorneys will go over the particulars of your Riverside car accident case to get a clearer picture of whether you actually share any liability for your accident or not.
What is the statute of limitations for filing a Riverside car accident claim?
Generally speaking, the statute of limitations for personal injury or wrongful death claims is 24 months or 2 years from the date of the accident. If the accident was with a government vehicle, such as a postal truck, it would be six months from the date of the accident.
However, you'll want to hire a car accident lawyer ASAP. That's because over time, vital evidence can be lost and all of the facts surrounding the accident can become less clear. Also, the defense attorney will probably question why you waited to file your claim.
Riverside car accident statistics
Riverside County has the sad distinction of ranking first in California for accidents caused by underage drinking and driving. It's also 10th overall for all alcohol-involved accidents. It was also the 12th ranked county for motorcycle accidents in the same year. In brighter news, it ranked 54th out of 58 counties in California for bicycle and pedestrian accidents.
What are some common causes of car accidents In Riverside?
Despite all of the built-in safety and security features in modern vehicles, car accidents still happen. The leading causes of car accidents in Riverside include, but aren't limited to:
Driving under the influence of drugs or alcohol
Impeding the flow of traffic
Speeding
Tailgating
Unsafe lane changing
Pedestrian right of way violations
Ignoring traffic signals and signs
How long will my Riverside car accident case take?
The short answer is it depends. That's because no two cases are alike. There are many factors that go into determining how long a car accident case will take. These can include:
The extent of your injuries – To calculate your damages, you must reach MMI, which is short for Maximum Medical Improvement. That's the point at which your doctor thinks you've healed as fully as you can. MMI can take weeks and even months to reach.
The number of vehicles involved – If there were multiple cars, pedestrians, trucks, or other large vehicles such as buses involved, the case and the process become more complex.
Whether there are any liability issues (who was at fault) – If there are questions about who caused the accident, your case can take a bit longer.
Whether the case will settle or go to court – Going to court costs money. This is something insurance companies and most defense lawyers do not want. Generally, most cases settle before they go to trial. However, sometimes both sides are too far apart. The Riverside car accident lawyers at The Dominguez Firm are not afraid to go to trial if necessary. We will fight for every penny of the compensation you are entitled to. We have the resources, experience and winning record to see your case through to the very end.
Contact the Riverside car accident lawyers at The Dominguez Firm
The Dominguez Firm is one of the most successful and recognized personal injury law firms in Southern California. We have a 96% success rate on litigated injury cases and have been helping clients injured in car accidents since 1987. We have won over $750 million in settlements and court verdicts. In addition to car accidents, our practice areas include truck accidents, motorcycle accidents, slip and fall accidents and wrongful death claims.
If you are the victim of a car accident in Riverside, we can help. Call us today at 800-818-1818 for a free consultation. And if you're concerned about the cost of hiring The Dominguez Firm, know that we work on a contingency basis. That means we receive a percentage of your final settlement or verdict. That percentage will be clearly stated in the client agreement you sign with us. There are no hidden or upfront fees to deal with. And in the unlikely event that we cannot obtain compensation for you, you owe us nothing. In other words, you win, or you don't pay!
Resources
My experience was good. They made sure to kept me in the loop and made sure to let me know what was going on the whole time. My mom has used other attorneys and this experience was beyond better. I would definitely recommend them!
— Ashley Magana
The attorneys were always available and answered my questions. I would recommend them to anyone. Zoe is the best!
— Janet Salazar
My experience with The Dominguez Firm and the attorneys was really good. They were very informative and always returned my calls.
— Jocelyn Gonzalez