I had the best experience at The Dominguez Firm. Thank you very much to your lawyers for helping me in my case.
- Luigui Morales
Long Beach Personal Injury Attorneys
The Southern California city of Long Beach is the unquestioned center of labor and industry in California.  The city is home to the busiest container port in the entire United States, and is one of the largest shipping ports in the world.  The Long Beach CA skyline is dotted with massive cranes that lift millions of containers each year off of ships transporting products from far off places that are vital for the economy and livelihoods of American consumers.  Long Beach is also home to a still-important oil production and refining industry, as well as a vibrant manufacturing base for the aerospace, automotive, consumer electronic, petrochemical, and home furnishings industries.  In short, Long Beach is a bastion of a proud American blue-collar culture and history; a badge that the city wears with pride.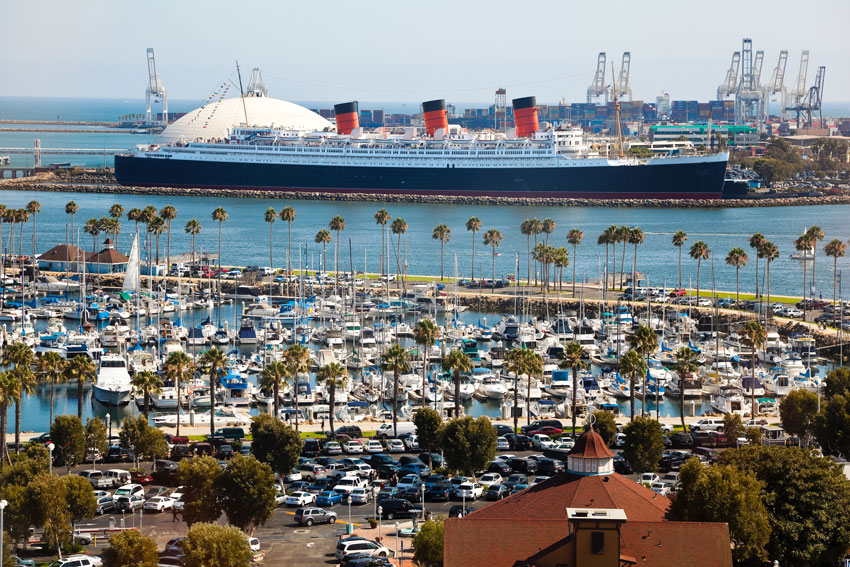 Award-Winning Personal Injury Lawyers in Long Beach
Unfortunately, blue-collar labor is incredibly physical, and workers are routinely exposed to physical and chemical hazards throughout the course of everyday work.  As a result, Long Beach workers and residents face an increased risk of serious injury in their daily lives.  In 2017 alone, there were 376 workplace fatal injuries and nearly half a million nonfatal workplace injuries, the vast majority of which resulted in days away from work or job transfer for injury victims.  Non-workplace injuries are also a big problem in Long Beach CA. Pedestrian and bicyclist injuries and fatalities are on the rise, and Long Beach has been ranked among the top car collision cities in the United States.  Each day, Long Beach residents are put at unjustifiable risk of accidents or serious injuries simply from walking out their doors.
Facing the daily risk of accident or injury in Long Beach CA, it is important to know your legal rights and options for legal recourse if you ever find yourself an injury victim.  That's why contacting The Dominguez Firm should for legal advice should be your first action if you or a loved one is seriously injured in an accident, whether at work, on the road, or elsewhere.
What Types of Cases Does The Dominguez Firm Handle?
At The Dominguez Firm, our personal injury attorney team has more than three decades of experience handling personal injury cases involving accidents of all sorts, including:
Catastrophic injuries
Construction accidents
Uber and Lyft accidents
Slip & Fall accidents
Pool accidents
E-Scooter accidents
Product liability
Medical malpractice
Nursing home abuse
And many more!
Since expanding our practice to also emphasize workers' compensation and employment legal representation, our employment lawyer experts have helped clients with issues related to:
Whistleblower protection
And any other workplace grievances.
No matter how complex or esoteric the situation, an experienced personal injury lawyer at The Dominguez Firm has the experience, knowledge, and legal acumen to provide you with high-quality and personable legal representation.
Top-Rated Legal Representation
The Dominguez Firm is an award-winning personal injury law firm that has served thousands of injury victims around the greater Southern California area for more than three decades.  We have recovered more than half a billion dollars in compensation on behalf of our injured clients, and maintain a litigation success record of 96%–this means that we win 96% of our personal injury cases that are litigated before a judge and jury.  Our team of over 120 personal injury attorneys, support staff, and affiliates work closely to provide comprehensive service to all of our clients, assisting not only with legal matters but also in a variety of other capacities related to the aftermath and effects of having to live with an accident injury.
Our firm and individual personal injury attorneys have been honored with numerous professional awards, including:
Client-Oriented Service
At The Dominguez Firm, we prioritize client satisfaction above all else.  We take a team-oriented approach to legal representation, positioning our client as the team's Most Valuable Player (MVP).  Each personal injury claim is handled by a primary personal injury attorney, and supported by our experienced and capable team of legal assistants, legal secretaries, and paralegals.  Each case is regularly reviewed by a senior partner, who provides advice and guidance and lends the considerable expertise of decades of experience.  In other words, your case will enjoy the full support of our entire firm infrastructure, no matter how big or small the case may seem.
We view our client as a critical member and participant in the legal team, and are sure to keep you in the loop during all phases of case preparation and presentation.  Each personal injury is unique, as is each client and her needs.  As such, we tailor our representation to your individual needs, and view you as an important collaborator in your legal representation.  You will never be treated as an anonymous or interchangeable cog at The Dominguez Firm, but rather as the top priority in all of our activities.
Our client satisfaction record is impeccable, and former clients regularly refer their closest friends and relatives to us for all their legal needs—in fact, much of our current client base comes from referrals from satisfied clients.  Our client testimonials reflect our client-oriented approach:
Thank you so much for giving us a quick a great service! I was assigned an investigator the same day I called regarding my husband's accident. Our investigator was professional and kept us updated regarding his arrival to our meeting. He answered all of our questions and right away assigned us to a chiropractor.

–Delia R.

One of the best law firm in the world! I truly want to address the dedication and trust the Dominguez Firm gives. As a woman, it's really hard to find good people to trust. I was very pleased how [they] handled my property damage. Not to mentioned the great service that my paralegal had towards me and my family. He was very tentative towards my questions and concerns. He helped me get the health care I needed towards my injury. My attorney tried to get me and my family the right compensation and he did. I'm truly blessed to have found the Dominguez Firm!

–Maria V.

The Dominguez Firm's staff was always attentive and answered my questions. Extremely knowledgeable!

–PJ S.

I would recommend this firm to any one that needs an attorney. 5 stars for the excellent service and quick responses. If I ever need assistance again I know who to call.

–Gerardo A.
No Recovery, No Fee
At The Dominguez Firm, we take employment and personal injury cases on a contingency fee basis.  This means there is no cost upfront, and clients are only billed for our services after they have been awarded compensation, as a percentage of the overall award.  In other words, we don't get paid unless you get paid.  This allows our clients to hire our services and enjoy the benefits of world-class legal representation, without taking any financial risk.  We believe that everyone should have access to justice, no matter their financial situation or constraints.  Our No Recovery, No Fee philosophy allows us to provide services to everyone, and ensure that every injury victim can receive the compensation they need to get them back on the path to a full recovery.
Why Choose The Dominguez Firm?
While many personal injury attorneys advertise themselves as the 'best' or 'most aggressive' personal injury lawyer in Long Beach CA, few have the record of success, client satisfaction, and professional recognition that The Dominguez Firm can legitimately claim.  If you have been injured in an accident due to someone else's negligence, you need the strongest legal representation available in order to ensure your case is successful and that you receive the financial compensation you are entitled to.
Whether you face a car accident or wrongful death case, The Dominguez Firm will work as a team to get the case result you deserve and do so with unparalleled personal service.  With our firm, your personal injury claim will benefit from the considerable resources of a big personal injury law firm, paired with the individual touch of a smaller family office—in other words, you'll enjoy the best of both worlds!  You will further benefit from our large network of investigators, medical experts, and specialist contacts.  If you're having difficulty locating or getting an appointment with a specialist to treat your injury, The Dominguez Firm may be able to help you secure a referral.
If you've been injured in an accident in Long Beach, don't settle for the rest, choose the best! Call our offices today at (800) 818-1818 for a free consultation and to talk with one of our personal injury specialists to discover how we can help you secure justice for your injury.