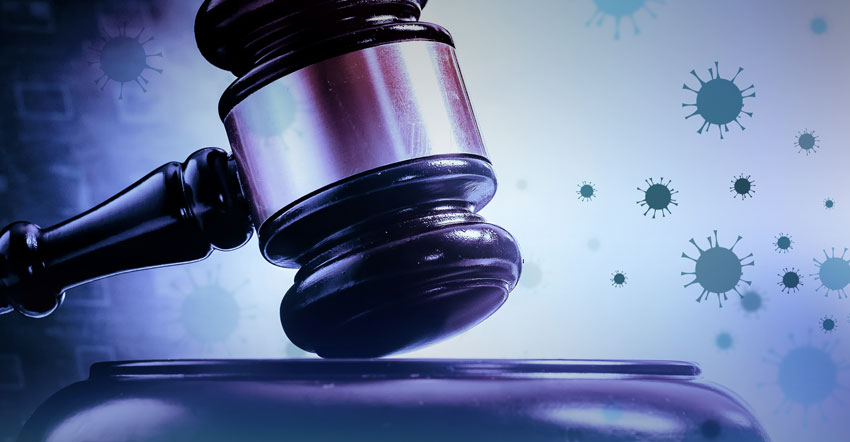 When you contracted an attorney for your personal injury case, you probably didn't imagine you'd have to eventually worry about a global pandemic. And while the courts here in California are indeed closed or severely limiting services, that doesn't mean your case is not progressing. The attorneys and legal staff at The Dominguez Firm continue to work remotely on existing cases during this time.
And although things may have slowed down, accidents still happen. If you've been injured in an accident and are looking to consult a case, you should not wait. We can help. The Dominguez Firm continues to offer free and confidential consultations by phone at 800-818-1818. We're also signing up new clients electronically, without the need to travel or let strangers into your home. Through the use of e-signatures, you and your family can safely proceed with your personal injury case.
This crisis is impacting all aspects of our lives, including current personal injury cases. Below we've outlined in more detail some of the major factors that could be impacting your personal injury case. Of course, if you have any questions regarding your case, do not hesitate to reach out to your case manager.
Financial Situations May Have Changed
Your financial situation may have changed due to the current crisis. You may suddenly find yourself without a source of income. Now, settling can seem tempting. But this would be a grave mistake, especially if you or your loved one suffered major injuries. There are numerous federal and state programs available to you right now. They may help tide you over until your case settles.
Insurance companies are also not immune to the financial impact of the coronavirus crisis. In fact, they are bracing for what could be historic declines in their profits over the coming months. Trying to settle cases for the least amount possible is probably going to be a priority for them going forward. Of course, our attorneys are well-versed in their tactics and how to counter them.
Receiving Medical Treatment is Still Important
While you may feel cautious about visiting a doctor's office during this crisis, you should not miss your appointments. Your visits and the documentation of those visits are an important part of proving the extent of your injuries. That's because you'll only reach MMI, or maximum medical improvement if you keep up with your medical appointments. And MMI is vital in determining the total extent of your injuries and in turn, how much your case is worth.
So, continue to seek the treatments needed to reach MMI while making sure to follow all CDC guidelines regarding doctor visits. One word of caution: if you display symptoms of coronavirus, do not risk your health and the health of others by visiting a doctor's office to treat your injuries. Your case is important, but your health should be your top priority.
Court Schedules Have been Greatly Impacted
Many courts in California have completely closed or are providing limited services due to the coronavirus crisis. Also, even before the pandemic hit, criminal cases have always taken precedent over civil cases, including personal injury cases.
The Los Angeles Superior Court website provides current information regarding the impact of the coronavirus on its operations. The Orange County court system is doing the same. Dates and the services being offered can change from day to day, so it's best to check with your county court website directly for the latest information. You can also click on the links for San Bernardino, Riverside and Ventura County court sites for their latest updates.
The Dominguez Firm Continues Working on Current Cases
These closures do translate into delays, as dates are pushed back. But that does not mean that your case is not being worked on. The attorneys and legal staff at The Dominguez Firm continue to work on client cases uninterrupted. It's important to note that while the courts are closed, they are still accepting filings. By working remotely and using the latest technology to send and receive documents, we will be able to hit the ground running for our clients once the Stay at Home order is lifted.
For its part, the California Department of Insurance has notified all insurance companies that they will be expected to investigate and pay claims in a timely manner during the coronavirus crisis. We at The Dominguez Firm are well aware of this notice when dealing with the insurance companies.
Out of an abundance of caution for your health and the health of our entire staff, we have closed our offices and are working remotely. You can still reach out to consult the status of your case at any time from the comfort and safety of your home.
For those looking to consult a case, we continue to be here for you. Please call The Dominguez Firm for a free and confidential consultation at 800-818-1818 today. And remember, if there is no recovery, there is no fee.
My experience was good. They made sure to kept me in the loop and made sure to let me know what was going on the whole time. My mom has used other attorneys and this experience was beyond better. I would definitely recommend them!
— Ashley Magana
The attorneys were always available and answered my questions. I would recommend them to anyone. Zoe is the best!
— Janet Salazar
My experience with The Dominguez Firm and the attorneys was really good. They were very informative and always returned my calls.
— Jocelyn Gonzalez