Learn about the benefits of motorcycle helmet cams, how they can help prove your case, and how a motorcycle injury lawyer can maximize your recovery.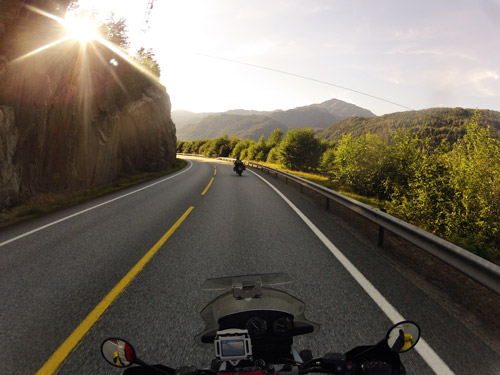 If a picture is worth a 1,000 words then a video must be worth 10 times that. Helmet cameras are becoming more and more popular and are a great way to record your best rides, capture your favorite scenery, and win your motorcycle accident injury case.
There are two big reasons motorcyclists often don't fare so well in a motorcycle injury accident lawsuit after a crash. First, society has a built-in bias against motorcyclists. Most people think you are a reckless and crazy daredevil that has little regard for yourself or anyone around you.
Second, motorcycle accidents usually result in severe injuries and so when the responding officer writes up a Traffic Collision Report they are relying mostly on the statements of the other driver and witnesses, which tend to be self-serving.
Video Footage While Riding Your Bike or Motorcycle Had its Advantages
A video of the accident will usually cut right through these issues while also doing the following:
Keep other drivers and witnesses honest when they know you have a video of the accident
Negate a Traffic Collision Report that is against you
Show the severity, shock, and horror of the accident
Prove liability against the other driver
Prove comparative fault against the other driver
Show you were obeying the rules of the road
Lower your insurance rates (most insurers now give a discount if you use a helmet cam)
Do the "talking" for you if your injuries prevent you from recalling the accident
Show that you care about your safety and well-being
Helmet cameras are safe to use and only take a few rides to get used to, whether it's mounted on the helmet, like a Go Pro, or built-in, like a Bell Star 360fly. Moreover, video footage of the accident is admissible evidence and can be used during depositions, settlement negotiations, or trials to show a jury exactly what happened. In the hands of an award-winning motorcycle injury lawyer, in addition to proving liability, the footage can also show how and why you sustained your injuries, which can be a much more powerful way to express what happened than using words or still photographs.
Motorcycle Accident Lawyers in Los Angeles
If you or a loved one has been injured or worse in a motorcycle injury accident, call us now for a free case consolation with one of our award-winning, highly experienced motorcycle accident attorneys at 800-818-1818. If you don't win, you don't pay.
Related article: Safety Tips For Sharing The Road With Motorcyclists
My experience was good. They made sure to kept me in the loop and made sure to let me know what was going on the whole time. My mom has used other attorneys and this experience was beyond better. I would definitely recommend them!
— Ashley Magana
The attorneys were always available and answered my questions. I would recommend them to anyone. Zoe is the best!
— Janet Salazar
My experience with The Dominguez Firm and the attorneys was really good. They were very informative and always returned my calls.
— Jocelyn Gonzalez