There are nearly 300,000 Americans today living with debilitating spinal cord injuries (SCI), costing on the order of nearly $2 billion in medical costs each year.  The vast majority of these injuries are due to preventable causes like motor vehicle accidents or car accidents, workplace injuries, trucking accidents, and motorcycle accidents.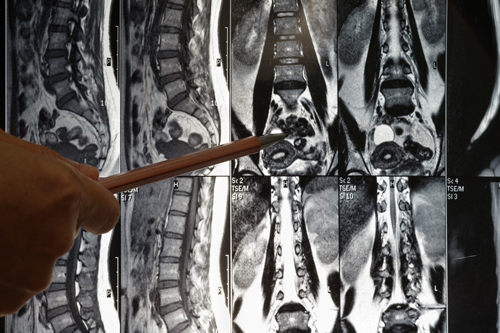 Spinal cord injuries can result in permanent disability,
preventing victims from working and very often causing chronic and untreatable
pain.  Medical care and treatment for spinal
cord injuries are extremely expensive and can continue throughout the patient's
lifetime.  Victims and their families may
have to pay for surgery, rehabilitation, in-home help or care, and other
associated expenses.  Additionally, spinal
cord injury patients are at a higher risk of contracting secondary conditions
or diseases as a result of their loss of functioning and ability. As you
continue reading, we have provided valuable information to learn more about spinal
cord injuries.
Compensable Damages from a Spinal Cord Injury
Medical care (including nursing home care, wheelchairs, etc.)
Lost income and earning capacity (and costs of retraining and re-education)
Pain and suffering
Loss of enjoyment of life
Property damage and the cost of making your house and car accessible for your disability
If married, your spouse may be entitled to loss of consortium damages.
What is a Spinal Cord Injury?
The spinal cord is an organ roughly 18 inches long,
extending from the base of the brain to near the waist, and containing bundles
of nerve fibers.  The spinal cord is the
vital pathway by which messages from the brain are communicated to the rest of
the body, allowing it to perform all necessary functions.
An injury to the spinal cord results in a disruption of this
pathway, resulting in a variety of possibly debilitating symptoms to particular
parts of the body, depending where on the spinal cord the injury is located.  The higher up on the spinal cord the injury
occurs, the greater the effect on a larger portion of the body.
Injuries to the thoracic or lumbar regions of the spine can
result in paraplegia, or paralysis of the legs and lower part of the body.  Injuries to the cervical region of the spine
(located at the neck) can result in tetraplegia or quadriplegia—paralysis or
loss of functioning in the entire body below the head.
Complete spinal cord injuries produce a total loss of motor
and sensory function below the injured region, and equally affects both sides
of the body (left and right).  Complete spinal
cord injuries do not necessarily mean that the spinal cord was fully severed—in
fact, this occurrence is rare.  More
likely, symptoms are caused by a contusion or bruising of the spinal cord, or a
loss of blood flow to the injured part of the spinal cord.  Roughly 50% of spinal cord injuries are
complete.
Incomplete spinal cord injuries occur when some function
remains below the level of injury—for example, the victim may be able to move
one side of their body but not the other or have greater functioning on one
side of their body.  They may experience
lessening, but not total cessation of sensation in certain parts of their body,
or experience weakened but not complete paralysis of certain parts of their
body.
There are different levels of spinal cord injuries?
High cervical nerves C1-C4 from the top of the spinal
These are the most severe of spinal cord injuries. They may cause paralysis in all limbs and  sometimes victims lose the ability to breath on their own and will need assistance in eating, bathing and all other areas of life.
Lower Cervical Nerves C5-C8
C5-C6 injury
These control a person's arms and hands. A victim with a severe injury to these vertebras may require assistance in daily living. Depending on the injury, the use of a power wheel chair may allow the victim to move around independently. A person may lose bowel and bladder control.
A C7-C8 injury
Typically arms and shoulders are not affected at these spinal levels. A person, however, may lose bowel and bladder control.
A C7 injury should have some finger extension and a C8 injury should have basic hand function.
The mid-back or Thoracic Vertebras are the middle of the spinal cord.
T1-T5 injury
This impacts the torso muscles, trunk and legs. The severity depends on the injury.  A victim is most likely to use a manual wheelchair, with normal arm and hand function.
T6- T12
Normal upper body functions.
Some victims can stand or walk with crutch braces. Bowel and bladder could possibly still be impacted.
Lumbar Nerves L1-L5 injury
This impacts the hips and legs and it may impact bowel and bladder control. May need wheelchair and walk with braces.
Sacral Nerves S1-S5 injury
Possibly least severe in ramifications of spinal cord injuries, but could entail having little or no control of the bowel and bladder. May impact hips and legs. And these could be extremely painful injuries.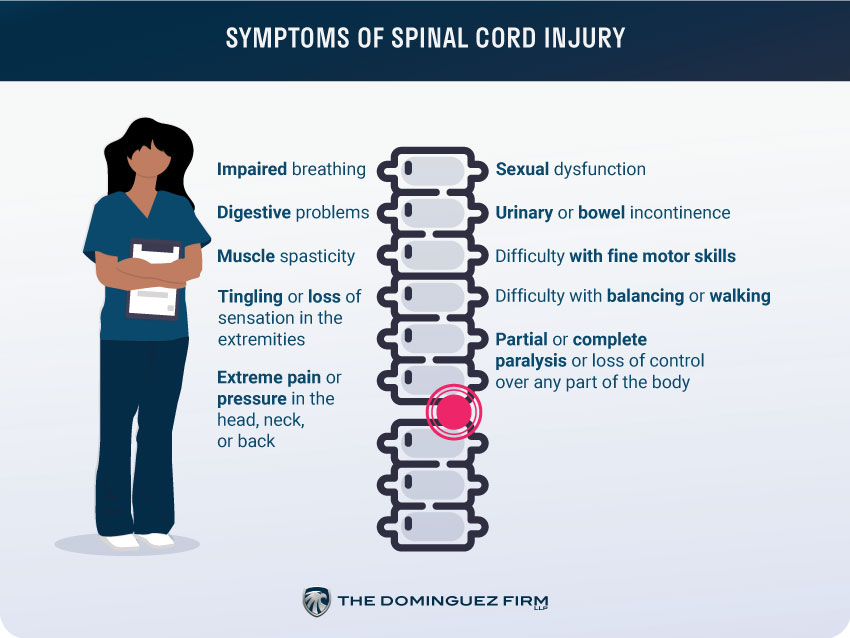 Symptoms of Spinal Cord Injury
Common symptoms of spinal cord injuries include:
Tingling or loss of sensation in the extremities
Partial or complete paralysis or loss of control
over any part of the body
Extreme pain or pressure in the head, neck, or
back
Difficulty with balancing or walking
Muscle spasticity
Difficulty with fine motor skills
Digestive problems
Urinary or bowel incontinence
Sexual dysfunction
Impaired breathing
In addition to the above symptoms directly related to spinal
cord injuries, many patients suffer from secondary diseases or conditions that
come about as a result of spinal cord injury symptoms.  Respiratory
disease is the leading cause of death among spinal cord injury patients,
followed by heart disease and infections.
Spinal cord injury patients are also prone to problems arising from
immobility, such as deep vein thrombosis and bed sores. Spinal cord injury symptoms
may prevent patients from recognizing the signs of these secondary diseases and
prevent them from seeking medical treatment.
Spinal Cord Injury Statistics
The National Spinal Cord Injury Statistical Center (NSCISC) reports
that there are roughly 17,700 new cases of spinal cord injuries each year—or
approximately 54 cases per million Americans.
These numbers do not include spinal cord injuries that result in death
at the scene of the accident, which is not uncommon.
Spinal cord injury victims are at highest risk of death within the first year after the incident, with a mortality rate of 15% for Americans within the year.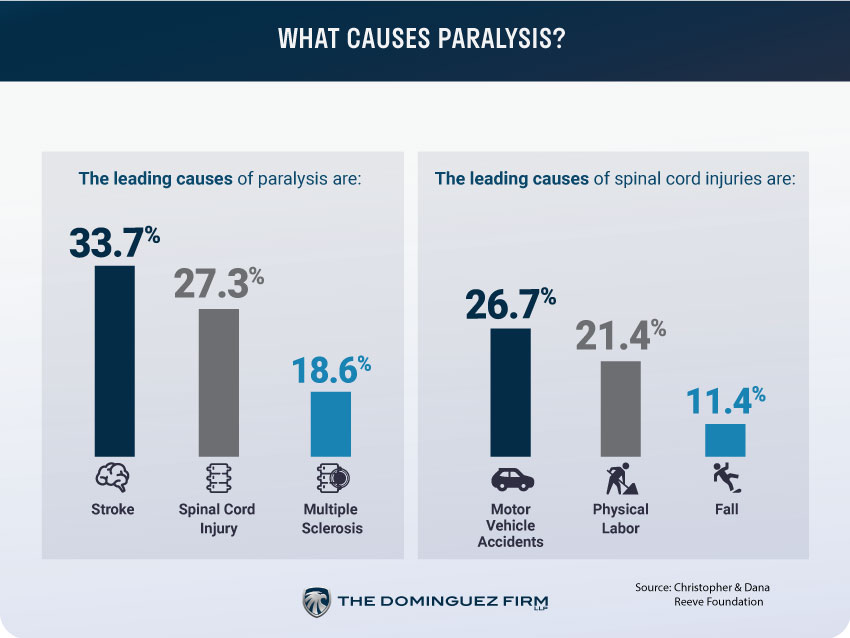 What Causes Paralysis?
According to a comprehensive 2013 study conducted by the Christopher & Dana Reeve Foundation, nearly 5.5 million Americans suffer from some form of paralysis.
The leading causes of paralysis are:
Stroke (33.7%)
Spinal cord injury (27.3%)
Multiple sclerosis (18.6%)
The leading causes of spinal cord injuries are:
Motor vehicle accidents (26.7%)
Physical labor (21.4%)
Fall (11.4%)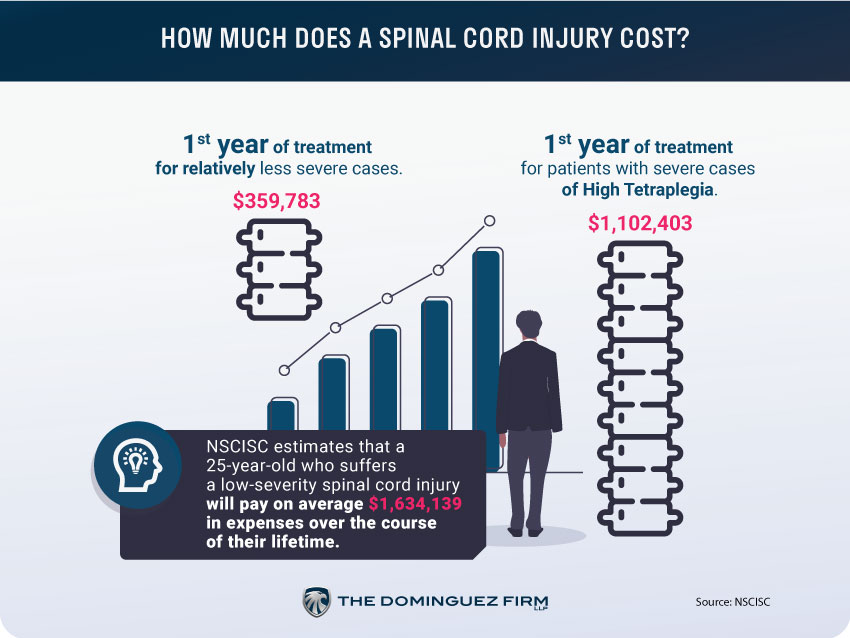 How Much Does a Spinal Cord Injury Cost?
The cost of treatment for spinal cord injuries vary
significantly based on the severity of the injury and the specific situations
of individual patients, however the NSCISC estimates a minimum of $359,783 in
expenses during the first year of treatment for relatively less severe cases,
and $1,102,403 for patients with severe cases of High Tetraplegia.
And these expenses don't end after the high-risk first
year.  NSCISC estimates that a 25-year-old
who suffers a low-severity spinal cord injury will pay on average $1,634,139 in
expenses over the course of their lifetime, and nearly triple that if they
suffer from High Tetraplegia.
Furthermore, these estimates only take into account health
care costs and living expenses, and do not include indirect costs such as lost
wages, fringe benefits, and productivity lost as a result of a disabling spinal
cord injury.
When You Need a Spinal Cord Injury Attorney
The leading cause
of spinal cord injuries is motor vehicle accidents—accounting for 38.3% of all reported
SCI—followed by falls (31.6%), acts of violence (13.8%), and sports accidents
(8.2%).  Nearly all of these occurrences
(and as a result nearly all incidents of SCI) are preventable.
Unfortunately, no matter how many precautions you take to
ensure you and your family's safety, you cannot always account for the actions
of others.  If you or someone you love
has suffered a serious spinal cord injury as a result of someone else's
negligence, you need an experienced spinal cord injury lawyer to fight for your
rights.
When looking for an award-winning spinal cord injury lawyer in Los Angeles, The Dominguez Firm has the skills and law experience to fight for you to get the compensation you deserve. Our personal injury lawyers have represented hundreds of personal injury clients in successful claims processes and legal lawsuits.  We have won verdicts and settlement awards in the tens of millions of dollars—money that has been essential for injured clients and their families as they recover to rebuild their lives. Contact our offices today for a free consultation at 800-818-1818.
Additional Resources
My experience was good. They made sure to kept me in the loop and made sure to let me know what was going on the whole time. My mom has used other attorneys and this experience was beyond better. I would definitely recommend them!
— Ashley Magana
The attorneys were always available and answered my questions. I would recommend them to anyone. Zoe is the best!
— Janet Salazar
My experience with The Dominguez Firm and the attorneys was really good. They were very informative and always returned my calls.
— Jocelyn Gonzalez