Can I Be Fired For Being A Whistleblower?
Learn how the law protects those that stand up and do what is right when they report their employer's violations.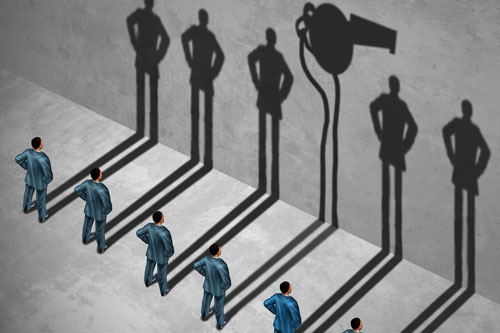 Many people flock to Greater Los Angeles and its diverse economy for a job or career. Industries range from Hollywood's entertainment and film employers, to government, construction, tourism, and everything in between.
After you land a job, though, what if you reasonably believe your employer is breaking the law and harming others? Being put in this position can be very difficult, but fortunately California Labor Code section 1102.5 encourages you to report any suspected wrongdoing by making it illegal for your employer to fire you in retaliation.
A whistleblower is, "An employee who discloses information to a government or law enforcement agency…so long as the employee has a reasonable cause to believe that they are reporting a violation of state or federal law or regulation…unsafe working conditions or work practices." A whistleblower can also be an employee who refuses to participate in their employer's illegal activity.
Whistleblowing Examples
Common activities that may elicit you to blow the whistle include:
Environmental pollution and/or dumping
Frauds and scams
Unsafe and illegal employment practices
Illegal trafficking of people, drugs, or any other illegal items
Food handling and safety issues
Making A Claim For Retaliation
For the most part, your disclosure of information has to be to someone outside of your employer such as a law enforcement agency that can take action and stop the wrongdoing. Otherwise, if you've been wronged directly, make a complaint about it internally, and get wrongfully terminated, then you can still make a claim for retaliation under the Fair Employment and Housing Act (FEHA) without it being a full-on whistleblowing case.
Consult With An Employment Lawyer
While whistleblower laws are there to protect you, an unscrupulous employer likely doesn't have much respect for the law and may fire you if you've blown the whistle on their wrongdoing. If so, then rest assured that you can seek redress through an employment lawsuit under theories of retaliation, relevant whistleblowing statutes, and other possible causes of action under the FEHA. We have aggressive, skilled Los Angeles employment lawyers ready and willing to file an employment lawsuit to hold law-breaking employers accountable for their actions.
The Dominguez Firm has experienced employment lawyers to assist and get you the compensation you deserve. If there is no recovery, there is no fee! Call now for a free consultation at 800-818-1818.