The Winner of The Dominguez Firm's Spring 2022 Legal Scholarship is Dae'Nisha Lyles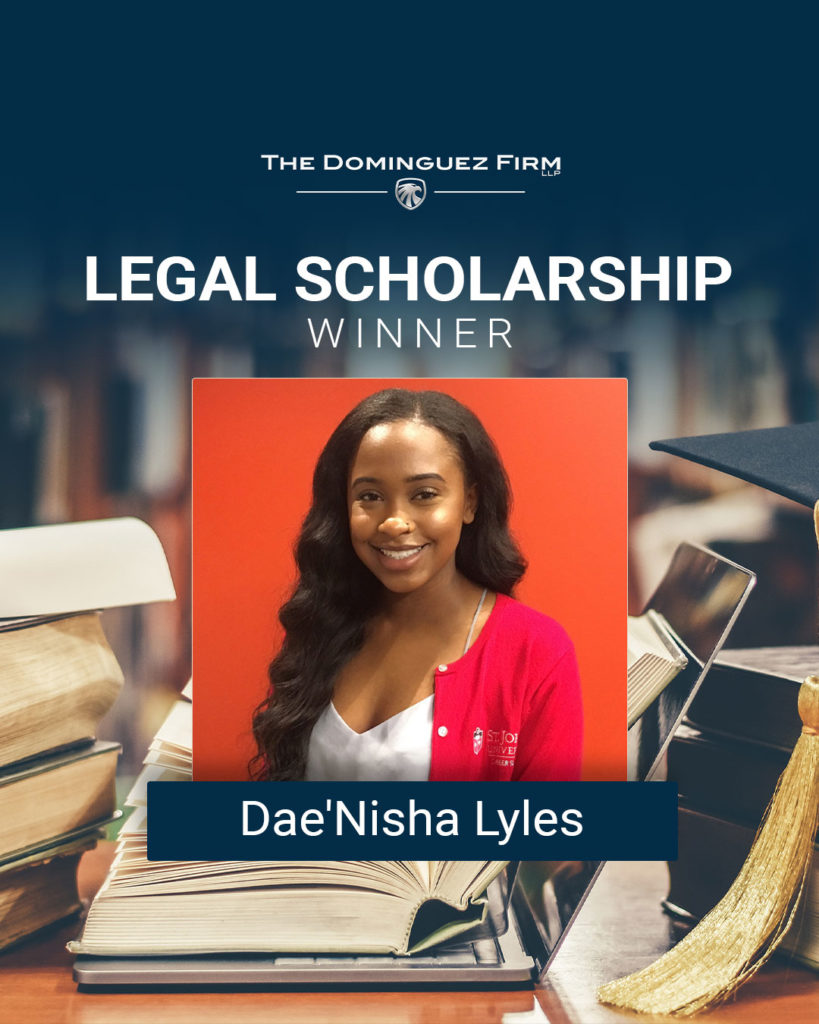 The Dominguez Firm is proud to announce that Dae'Nisha Lyles has been selected as the recipient of its 2022 Legal Scholarship award. Her determination to help find solutions to the devastating effects of systematic racism led her to seek a career in law. Today, she is a student at Loyola Law School in Los Angeles, CA.
Juan J. Dominguez started the Legal Scholarship award to encourage noteworthy students interested in a career in law. It is his strong belief that promising students who are looking to make a positive impact on society through the law should be able to do just that. Over the years, the overwhelming response and number of notable applicants encouraged Attorney Dominguez to double the number of yearly scholarships available. The firm thanks everyone who applied for this spring.
This year, as in others, we received many impressive applications from students who were either in or getting ready to attend law school. We looked at a wide variety of candidates but were particularly impressed by Dae'Nisha. She and her family suffered several setbacks due to systemic racism. However, instead of discouraging her, these setbacks forged her determination to work towards criminal justice reform. From a very young age she questioned the sentencing disparities for people of color. She also took note of the fact that only 5% of all attorneys in the U.S. are African American, an underrepresentation that helps perpetuate injustice.
Dae'Nisha started on her road towards becoming an attorney by interning at the offices of a prominent assemblywoman and the District Attorney of New York City. Her on-the-job experience continued through her work at some of the most prestigious law firms in the Big Apple. Now she is one step closer to realizing her goal of becoming a lawyer and making a difference.
"I am sincerely honored to be selected as the recipient of the Dominguez Firm Legal scholarship. As a first-generation student, who is also working full time to attend law school, this scholarship will help alleviate financial pressure and allow me to focus more on school." All of us at The Dominguez Firm are confident Dae'Nisha will be a strong advocate for criminal justice reform and positive change.
The Dominguez Firm is a powerhouse personal injury and employment law firm that has been helping clients for over 30 years. The firm's award-winning attorneys have recovered over $1 billion* for deserving clients with a focus on outstanding customer service. For a free consultation, call 800-818-1818. Available 24/7.