New Laws That May Affect You in 2020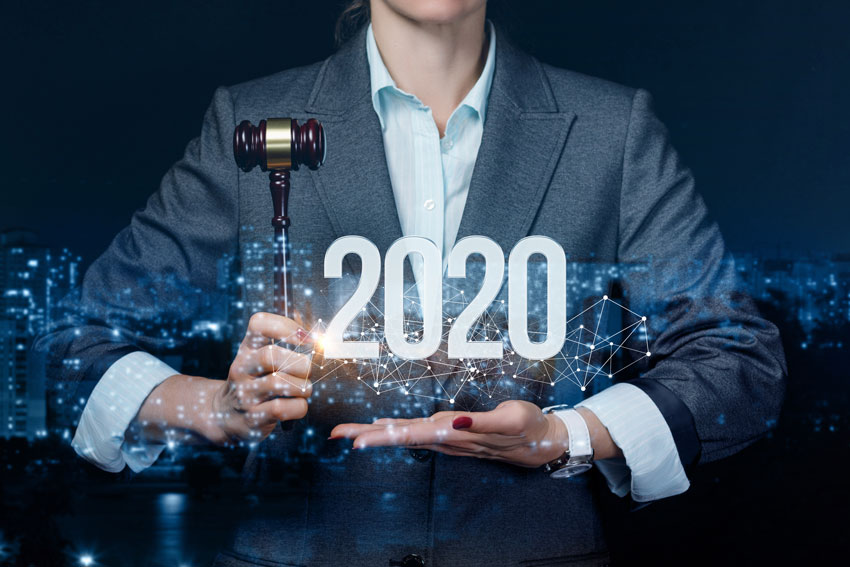 The dawn of the new year means new laws going into effect in California. If you live in the Golden State, some of this new legislation may impact you directly. Here at The Dominguez Firm, we're always keeping up with any changes to better serve you. Below you'll find more details on some of these new laws and resulting changes.
Employment Law:
The minimum wage in California will go up to $13 an hour starting January 1st, 2020. Employers with less than 26 employees will be allowed to pay employees $12 an hour. The minimum wage in Los Angeles County will be slightly higher. It will go to $14.25/hour for small employers and $15/hour for large employers starting July 1, 2020.
AB 5 – Classification of Workers
Of all the bills that Governor Gavin Newsom signed into law in 2019, AB5 was probably the most widely covered in the media. It was passed in an effort to protect the rights of gig economy workers such as Uber drivers. It establishes new criteria for the classification of workers as either independent contractors or employees. The worker's classification is determined by something called the ABC test. As taken from the language of the law itself, the following three criteria must be met for the person to be considered an independent contractor:
The person is free from the control and direction of the hiring entity in connection with the performance of the work, both under the contract for the performance of the work and in fact.
The person performs work that is outside the usual course of the hiring entity's business.
The person is customarily engaged in an independently established trade, occupation, or business of the same nature as that involved in the work performed.
The worker must meet all of these requirements to be considered an independent contractor. Uber and Lyft, two of the companies most affected by this new law have vowed to fight AB5. They are gearing up to introduce a ballot measure in 2020 that would exempt rideshare drivers from this new classification.
AB9 – Lengthens the Deadline for Filing a Workplace Complaint
Employees who allege discrimination, harassment or retaliation under the Fair Employment and Housing Act (FEHA) now have 3 years to file a complaint. Previously they had a one-year time limit.
AB51 – Bans the Majority of Mandatory Arbitration Agreements
This law bans forced arbitration agreements between an employee and their employer. Until now, employees who signed forced arbitration agreements could not sue their employers for sexual harassment, discrimination, or other workplace violations. They were forced to go through private arbitration.
AB749 – Bans No Re-Hiring Provisions Contained in Employee Settlements
Employers will no longer be able to require departing employees to sign settlement agreements forbidding them from re-applying for employment. The no re-hire provision has been a common part of settlement agreements. Previously if an employee reapplied to the same company anywhere in the U.S., the employer had the right to reject their application. The only exception going forward will be for employees who were terminated because of sexual harassment or assault.
SB83 – Paid Family Leave
Those on paid family leave will receive benefits for eight weeks, up from the previous six weeks. This will take effect on July 1, 2020.
SB142 – Lactation Requirements Will be Expanded
Employers will have to provide reasonable break times and accommodation to any employee who needs to express milk. The room must provide access to a sink and refrigerator, and be completely private. In addition, it must have a place to sit and a way for the employee to operate a breast pump. A bathroom will not be considered reasonable accommodation.
SB188 – Discrimination Against Hairstyles
Also known as the Crown Act, SB188 protects employees from racial discrimination because of their hairstyle. Workplace policies forbidding afros, braids and other hairstyles typically associated with African Americans will be illegal. However, employers will be allowed to require that employees secure their hair due to safety or hygiene concerns.
SB778 – Gives Small Businesses an Extra Year to Start Anti-Harassment Training
In September of 2018, California broadened the requirement for mandatory supervisory anti-harassment training to include employers with five employees or less. The deadline for this training to be completed had originally been set to January 2020. This new law extends that deadline by 1 year to January of 2021.
Personal Injury/Sexual Assault:
AB 218 – Statute of Limitations for Sexual Assault
Beginning on January 1st, 2020, adult victims of childhood sexual assault will have a new three-year window to sue their attackers and/or the institutions involved. Previously, victims who had let the statute of limitations (time limit for suing) lapse had no recourse. Also, victims will now have until the age of 40 to sue. The previous age had been 18. For childhood sexual assault victims over the age of 40, the time limit would be 5 years of discovery of the abuse.
The Dominguez Firm is a nationally recognized personal injury law firm that has been successfully meeting the needs of its clients for over 30 years. For a free and confidential case consultation, please call us at 800-818-1818.