How Proposition 213 Could Impact You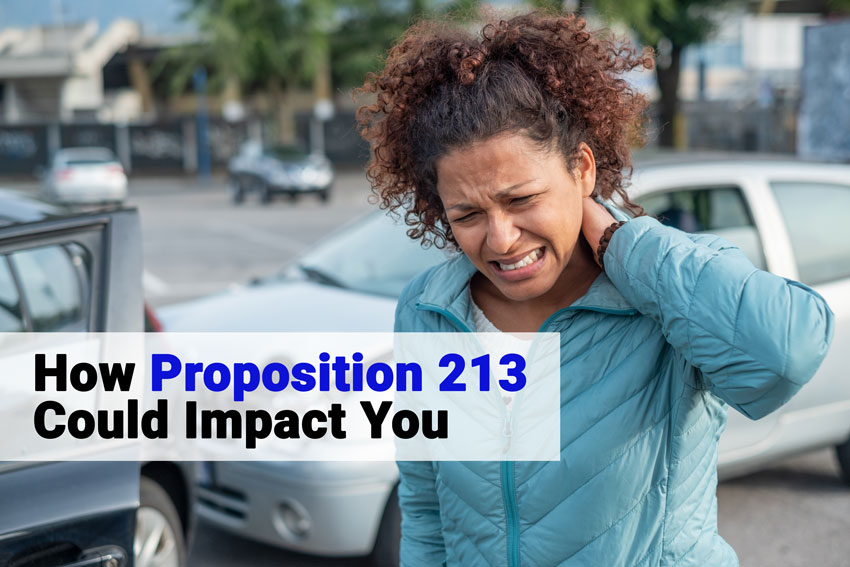 In 1996, California voters overwhelmingly passed Proposition 213. This law limits the rights of certain individuals to receive compensation if they are injured in a car accident. Insurance companies spent millions and lobbied hard to help pass Prop 213. Prominent organizations that also backed Prop 213 included Mothers Against Drunk Driving (MADD) and the California Association of Highway Patrolmen.
Most people don't know what Prop 213 is, let alone how the law impacts them if they get into an accident. Below you'll find more detailed information on Prop 213 and answers to some of the most common questions we receive regarding this law.
If you were injured in a car accident and qualify as an exception to Prop 213, call The Dominguez Firm for a free consultation at 800-818-1818 today.
What exactly is Prop 213?
Prop 213 stops uninsured motorists, felons and drunk drivers from receiving significant compensation if they are involved in a car accident. This includes accidents that were 100% someone else's fault. They can only recover economic damages (legal-speak for compensation) such as any medical bills associated with their accident, but they can't recover non-economic damages, which often make up the bulk of a car accident victim's verdict or settlement amount. That means no compensation for pain and suffering and emotional distress, among others.
Then isn't Prop 213 a good law?
Not always. Sometimes innocent people get unfairly shortchanged due to the very strict parameters of Prop 213. Of course, not allowing drunk drivers or felons in the process of committing a crime to sue for pain and suffering is a good thing. But Prop 213 isn't full of good intentions. As noted previously, insurance companies poured significant amounts of money into the passage of Prop 213. They didn't do this out of the goodness of their hearts. They did it to limit the amounts they would have to pay out for car accident injuries. The majority of accident cases that fall under Prop 213 are for drivers who let their car insurance lapse, not accidents involving DUI drivers or felons. This allows insurance companies to save millions in payouts every year.
How is Prop 213 unfair?
We all know that it is mandatory to carry insurance on our cars in California. And we should all do so, no one is questioning that. But there are certain situations where you could find yourself driving without insurance and not realize it:
There's been a momentary lapse in your insurance coverage that you weren't aware of.
You borrowed someone's car not knowing they didn't have insurance on it.
If you get into an accident in either of these two situations, the punishment most certainly does not fit the crime, especially if you are seriously injured due to someone else's negligence or recklessness.
Even worse, you could be out of luck even if you were just sitting in your car. For example, say you were sitting in your parked car when another car hits you at a high speed, leaving you with serious injuries. If the car you were driving was uninsured, you would be shortchanged by the insurance company. Even worse, there's probably nothing you could do about it even though you were not at fault or even driving the vehicle.
On the flip side, if you drive in a large metropolitan area like Los Angeles, you should seriously consider adding uninsured motorist (UM) coverageto your policy. The estimated percentage of uninsured drivers in California in 2015 was over 15%. Many of those drivers were concentrated in major urban areas. Whether you drive a car, SUV or motorcycle, UM coverage can give you much-needed peace of mind on the road.
Are there any exceptions to Prop 213?
There are a few exceptions to Prop 213. They are:
If you were driving an employer's vehicle and it was uninsured.
If the driver borrowed an uninsured car but had insurance on their own vehicle. The driver would be considered insured and could collect all damages in the case of an accident injury.
In most cases, if you were a passenger in the vehicle.
If the accident led to a wrongful death.
If the accident occurred on private property.
If the driver was hit by someone who was driving under the influence of drugs or alcohol.
If the driver could show that a defect in the roadway caused their car accident.
If the driver got into an accident because their vehicle had a manufacturer's defect.
I was injured as a passenger in a car of someone who did not have insurance, do I have any rights?
Yes. You can seek economic and non-economic damages for injuries suffered in a car accident if you were a passenger unless you were the owner of the vehicle (see directly below)
I got into an accident with my car, but I wasn't driving, someone else was. I was badly injured; can I recover non-economic damages?
In this situation, the same limitations that apply to the driver, apply to you, the passenger. Since this was your own vehicle, you were obligated to carry insurance on it, whether you were driving or not. So no, you would not be able to recover non-economic damages for your accident injuries.
What if I got into an accident because of a vehicle defect? Can I recover non-economic damages if I did not have insurance on my car?
Yes. If you got into a car accident because your vehicle had a manufacturer's defect, it doesn't matter if you were carrying insurance or not. Do keep in mind you would have to bring a products liability case (legal-speak for a product defect) against the automobile manufacturer for your accident injuries.
What specific damages can I recover if I fall under Proposition 213?
You can recover economic damages for your car accident. These include:
Medical bills related to your accident, including any bills for mental health counseling.
The cost of repairing or replacing your vehicle.
Lost income due to the accident.
For more serious injuries, long-term care and home modifications.
You would not be entitled to any of the following non-economic damages if you fall under Proposition 213:
Pain and suffering
Disfigurement
Loss of enjoyment of life
Loss of consortium
Receiving compensation for any medical bills and lost wages is certainly helpful, especially at such a difficult time. But the cost of a car accident can be much higher than many think. Since there is no cap on how much can be awarded in non-economic damages, they usually make up the largest part of most car accident settlements and verdicts. In the case of an accident with permanent injuries, this additional money could have provided vital financial assistance to the victim over time.
Do punitive damages fall within the limits of Prop 213?
No. Punitive damages are separate from economic and non-economic damages. So they don't fall under the limits of Prop 213. Know that punitive damages are rarely awarded in car accident cases. But if the court finds the behavior of the defendant to have been particularly malicious or negligent, they may award punitive damages, whether a driver was insured or not.
I lost a loved one in a car accident. They weren't insured, does Prop 213 apply to me as well or can I take legal action?
Since you were not operating the vehicle at the time of the accident, yes. You can sue for the wrongful death of your loved one if you are the legal next of kin. There is no recovery for pain and suffering in a wrongful death lawsuit. However, you can sue for "loss of care, comfort and society" which is also considered a form of non-economic damages.
Call The Dominguez Firm personal injury attorneys
If you were injured in a car accident due to someone else's recklessness or negligence and fall under one of the exceptions to Prop 213, call The Dominguez Firm at 800-818-1818 for a FREE consultation today. We are available 24/7 to take your call and can travel to your home or hospital at a moment's notice.
Our award-winning personal injury lawyers have helped thousands of clients injured in car accidents over the years and we can help you as well. And if you think you can't afford to hire The Dominguez Firm, think again. We work on a contingency basis. That means we receive a percentage of your final settlement or verdict. That percentage will be clearly stated in the client representation agreement that you sign with us and it won't change depending on the amount we recover for you. You have no upfront fees or hidden costs to deal with. And if there is no recovery, there is no fee! So call us today.