Have you been injured at a Construction Site?
Sometimes construction site injuries are the fault of an outside business or contractor, not your employer. You have the right to sue this company or contractor for your injuries. In legal terms, this is known as a third party case.
If you or a loved one was injured on a construction site by a company or contractor other than your employer, call the personal injury attorneys at The Dominguez Firm at 877-924-2639 now for a free consultation.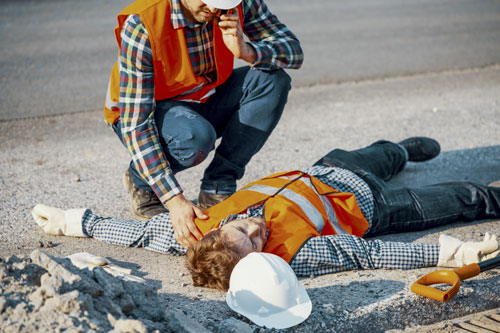 You would have two possible cases. One through the workers' compensation system, and one through a personal injury construction accident lawsuit.
$1 Million Construction Accident Settlement
Take for example a case our construction injury lawyers settled for our client in the amount of $1,000,000. In that case, our client was working on the roof of a house when he was seriously injured by falling onto an open window frame that was covered but unmarked. While this might seem like a direct case against the roofing company, it turned out to be a much more complex situation. The roofing company blamed the general contractor for failing to mark and put warning signs on the roof window frames.
What happened was, it was late and a rainstorm was fast approaching, causing the general contractor to panic in his quest to get the project sealed. In his rush, he had his workers put thin tar paper over the roof window frame, but he forgot something very important: putting up barriers or warning signs as well.
If we had not filed a construction accident claim via a third party claim, it would have been difficult, if not impossible, to obtain this information and sue the right people and entities for this serious mistake. By filing a personal injury construction injury lawsuit, we were able to take advantage of laws that allow us to obtain information from defendants that they might not otherwise have been willing to share.
Construction Accident Case Review
We can prove negligence through a construction injury lawsuit because once a lawsuit is filed we have certain tools at our disposal we can use. These include written discovery, where they have to answer our questions in writing, as well as oral depositions, where they have to answer questions in person.
If you or a loved one was injured in a construction accident call us now for a free consultation at 800-818-1818. We have specialized construction accident attorneys who will fight to get you the maximum legal compensation allowed. And as always, we promise: If there is no recovery, there is no fee!