Construction accidents are especially dangerous—and unfortunately common.  Thousands are injured or killed each year on construction sites, where the presence of bulky materials and equipment, power tools, high altitude, and occasionally-lax safety enforcement are a deadly combination for workers and bystanders alike.  Falls, strike-bys, caught-betweens, and electrocutions claim thousands of victims and hundreds of lives each year, and the numbers keep growing despite OSHA crackdowns.  Claims or lawsuits arising from injuries that result from construction accidents can also be especially difficult to litigate, since the involvement of multiple parties on a single construction project can make it hard to determine who is responsible for a construction accident injury.  Additionally, those injured on-the-job may have to decide whether they want to file both a workers' compensation claim and a civil lawsuit.  In cases involving construction accidents, an experienced construction accident attorney can help you maximize your compensation and minimize your stress.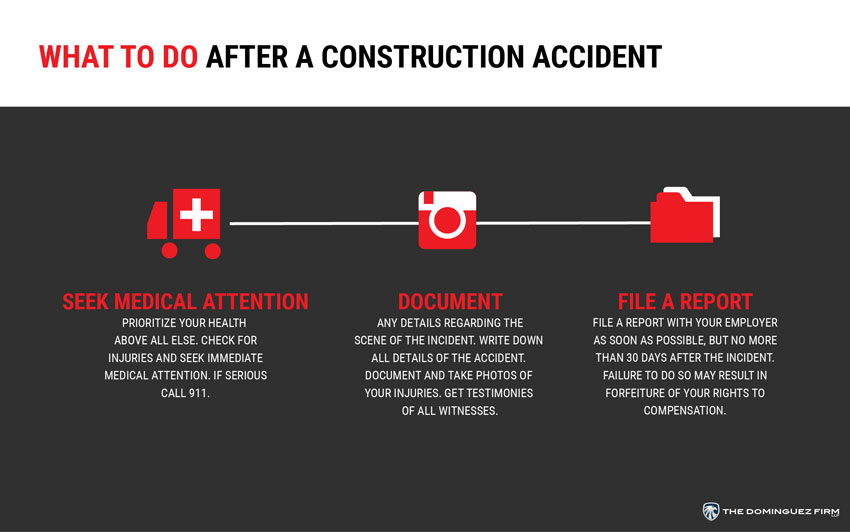 What Should I Do After a Construction Accident?
Seek medical attention. When an accident occurs on a construction site, prioritize your health above all else.  Check for injuries and seek immediate medical attention.  The site manager should have a first aid kit or basic medical supplies available and may have some basic first aid training.  If you are bleeding, elevate the wound above the heart in order to minimize blood loss, and clean and bandage the wound once bleeding has slowed.  If the injury is serious, call 911 or have someone drive you to the hospital emergency room.
Document your accident, injury, and medical treatment. Once you are safely out of harm's way, you should begin the process of investigating your accident and gathering evidence for a potential personal injury lawsuit.  Write down all the details of the accident as soon as possible, while the details are fresh in your mind.  Document and take photographs of all of your injuries.  If you are able, take photographs of the scene of the accident.  Get contact information for anyone who was a witness to the accident, as their testimony may be important when filing a workers' compensation claim or lawsuit.  Be sure to document all your medical expenses, including hospital bills, ambulance bills, paramedic bills, insurance claims, and any other costs related to your accident and medical treatment.  Keep copies of all materials you receive from medical or insurance providers in a safe place and consider digitizing or making duplicates of them.
File a report with your employer or the site manager. You should file a formal report with your employer as soon as possible, but no more than 30 days after the incident.  Failure to do so may result in forfeiture of your rights to compensation under California workers' compensation law.  Sometimes your injury will not be immediately apparent and instead will develop gradually, for example tendinitis or hearing loss.  In these cases, report your injuries to your employer as soon as you notice symptoms and can reasonably assume that the injury or illness was caused by your accident.  You will want to be as detailed as possible with this report, providing all relevant information relating to the circumstances of the accident and the parties involved.  This information will be important when filing a claim, as well as important for the future safety of construction site workers when the incident is reported to the Occupational Safety and Health Administration (OSHA).
Contact a construction accident attorney. Although technically you can file a workers' compensation claim on your own, it is highly recommended that you seek the help of a qualified personal injury or workers' compensation lawyer.  Filing a successful claim is very complex, technical, and can be very difficult.  A personal injury attorney will be able to advise you on how to ensure a successful claim and can guide you through the complicated legal process.

What are the Most Common Causes of Construction Accident Injuries?
Construction sites are extremely dangerous.  Open wires, power tools, heavy building materials, and open structures present ample opportunity for serious accidents of all types, even if all safety protocols are followed.  Here are some of the most common causes of construction accident injuries:
Falls: Workers may fall from the structure to the ground, fall between floors, or fall from the building's scaffolding.  Falls can also occur off of ladders, cherry pickers, or other high equipment.  Falls can result in broken bones, abrasions, concussions, or even death.
Strike-bys: OSHA refers to incidents involving a worker being struck by an object as a "strike-by."  Workers may be hit by unsecured equipment and building materials like beams or tools.  They may also be struck by moving equipment, such as trucks or cranes.
Electrocution: Open or unfinished wiring on a construction site poses a serious safety risk.  Contact with active wires, or contact with overhead power lines, can result in electrocution injuries such as burns, or even death.
Caught between: OSHA refers to incidents involving a worker being caught in between objects, or construction or moving equipment.  Caught betweens can be caused by walls, trucks, and collapsing structures, and can result in crush injuries, broken bones, or death.
Falling objects: Workers may be struck by objects falling from above them, such as dropped tools or unsecured building materials and equipment.  Falling objects may cause head injuries, brain injuries, and spinal cord injuries.
Equipment-related accidents: Heavy machinery used on construction sites can cause serious injuries or death.  Sometimes equipment malfunctions or fails due to faulty design or manufacturing, in which case you may be entitled to compensation under product liability laws.
What Types of Compensation Can I Recover from a Construction Accident Injury?
If you were injured on a construction site during the course of your employment, you may be entitled to workers' compensation benefits.  Under California workers' compensation law, you may be entitled to compensation for:
Costs of medical care related to your accident. This may include hospital or doctor visits, treatment services, laboratory and diagnostic tests, medicines or medical equipment, prosthetics, ongoing care and rehabilitation, and the cost of traveling to and from your office visits.
Temporary disability benefits, which compensate you for lost wages while your injury prevents you from working.
Permanent disability benefits, which compensate for lost wages related to a permanent loss of ability to work as a result of your injury.
Supplemental job displacement benefits. If your doctor determines that you have a permanent disability preventing you from performing your previous job, supplemental job displacement benefits can help pay for retraining or skill enhancement to facilitate finding a different job that you are able to perform.
Death benefits, which compensate your spouse, children, or other dependents in the event that the accident results in death.
If you were injured on a construction site outside of the course of your employment, for example, you were a pedestrian walking by the site or were a visitor to the site, you are not entitled to workers' compensation benefits and will need to file a conventional personal injury lawsuit.  A civil lawsuit can be filed for both economic and non-economic damages related to:
Medical expenses
Property damage
Pain and suffering
Lost wages
An experienced construction accident lawyer will be able to advise you as to what specific damages you are legally entitled to, based upon the facts of your case.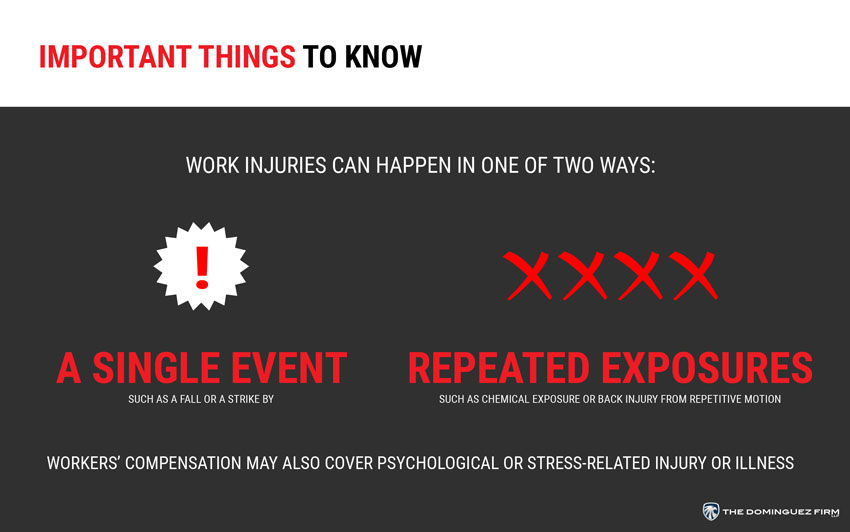 Important Things to Know About California Workers' Compensation
Workplace injuries can happen in one of two ways:
A single event, for example a fall or strike-by.
Repeated exposures at work, for example long-durational chemical exposure or a back injury caused by repetitive motion that causes strain on the muscles and joints over time.
Workers' compensation may also cover psychological or stress-related injury or illness.
California workers' compensation law is particularly strong in protecting workers, though many workers are unaware of the rights under the law.  Here are some important things that many workers don't know about the California workers' compensation system:
Employers must pay for medical care if an employee is hurt on the job, regardless of whether the employee has to take time off from work or not.
Temporary or part-time workers may be eligible for workers' compensation benefits.
Independent contractors may be eligible for workers' compensation benefits.
Undocumented workers are eligible to receive most workers' compensation benefits.
You are eligible to receive benefits no matter who was at fault for your construction site injury.
It is illegal for your employer to punish or fire you for requesting workers' compensation benefits or for being injured while on the job.

How Much Can I Expect to Receive for Disability Benefits?
How much you receive in disability benefits will depend on your wages prior to your injury, the size of your company, your age, your occupation, apportionment, and other particular facts of your case.  However, according to the California Department of Industrial Relations Guidebook for Injured Workers, you may be eligible for:
 A minimum of $162.26 per week in Temporary Disability Benefits, up to a maximum of $1,128.43, if you were injured in 2016.
Up to $6,000 for Supplemental Job Displacement benefits if you were injured after 2013.
Permanent Disability Benefits are more difficult to estimate since they depend on the nature and severity of your injury.
Who is Liable for Construction Accident Injuries?
If you were injured at a construction site outside the course and scope of your employment, you would have to file a civil lawsuit other than a workers' compensation claim, in order to receive compensation.  One of the most difficult aspects of this type of lawsuit is determining liability for your injuries, which is important for determining which party (or parties) to sue.
On larger projects, more than one legal entity may be partially responsible for on-site accidents, for example, the property owner or property developer, the designer or architect, the engineering team, construction contractors or subcontractors, equipment manufacturers and suppliers, or materials manufacturers and suppliers.  Very often, contractors and subcontractors will include clauses within their contracts designating safety responsibilities or that indemnify the contractor or developer for any liability arising from construction accidents.
Many injury victims will file a lawsuit against multiple parties or will file a lawsuit against another party to the accident while simultaneously filing a workers' compensation claim with their employer.  A California construction accident lawyer will be able to advise you how best to secure a successful claim.
Construction Accident Statistics
According to OSHA, 5,190 workers were killed on the job in 2016—averaging, more than 14 on-the-job deaths per day.
1% of those fatalities were people employed in construction.
The California Dept. of Industrial Relations reported 84 worker fatalities in construction accidents in 2019, the highest number recorded over a seven year period. 
The leading cause of death in the construction industry (excluding traffic fatalities) were falls, struck-bys, electrocution, and caught-betweens. Known as the "Fatal Four," these causes were responsible for 63.7% of construction workers deaths in 2016.
According to the National Safety Council, construction workers suffered 310,000 medically consulted injuries in 2016.
Construction ranks 5th overall in occupations with the largest number of workplace injuries resulting in days away from work.
One in 10 construction workers are injured each year.
Injured in a Construction Accident?  Call The Dominguez Firm
The Dominguez Firm is an award-winning, personal injury law firm that has helped thousands of injured clients around Southern California to recover millions of dollars in compensation for their injuries.  Our experienced construction accident attorney team will provide you with the strongest legal representation available, and our client-oriented approach prioritizes comprehensive and compassionate service.  No matter how complex the case, our personal injury attorneys will ensure that you are awarded the compensation you need in order to assist you and your family on your road to recovery.  We represent personal injury clients on a no recovery, no fee basis—which means that we don't get paid unless you do.  If you have been injured in a construction accident, call our offices today for a cost-free consultation at 800-818-1818, and find out how we can help you.
 Additional Resources
My experience was good. They made sure to kept me in the loop and made sure to let me know what was going on the whole time. My mom has used other attorneys and this experience was beyond better. I would definitely recommend them!
— Ashley Magana
The attorneys were always available and answered my questions. I would recommend them to anyone. Zoe is the best!
— Janet Salazar
My experience with The Dominguez Firm and the attorneys was really good. They were very informative and always returned my calls.
— Jocelyn Gonzalez