Quadriplegia or paraplegia injuries are catastrophic and can have devastating consequences on a person's life. When this type of serious injury is caused by someone else's negligence or recklessness, the sense of injustice can feel even greater.
Whether you or your loved one suffered a quadriplegia or paraplegia injury, you have the right to file a claim against the person at fault. With the help of the experienced attorneys at The Dominguez Firm, you have the right to seek compensation for the financial and emotional losses you've endured due to their actions. Call us at 800-818-1818 for a FREE consultation today. We can travel to your home or hospital at a moment's notice.
Please keep reading for more information on quadriplegia and paraplegia injuries, what your rights are, and how The Dominguez Firm can help.
What is the Difference Between Paraplegic Paralysis and Quadriplegic Paralysis?
First, let's define paralysis itself. It is a loss of muscle control and function in a part of the body. Paralysis injuries are usually caused by nerve damage either to the brain and/or spinal cord.
Paraplegia is a paralysis of the lower body. Generally below the waist. Paraplegia can cause a lack of movement in the legs and feet. What differentiates quadriplegia is that this paralysis also extends to the upper body and arms. Another word for quadriplegia is tetraplegia, which is what is commonly used in the medical field. Quadriplegia is considered more serious because it impacts the entire body. In more severe cases, a quadriplegic may need a respirator to assist them with their breathing.
The location of the spinal cord or brain injury determines whether someone is diagnosed with a paraplegia or quadriplegia injury.
What Types of Accidents Can Cause Quadriplegia and Paraplegia Injuries?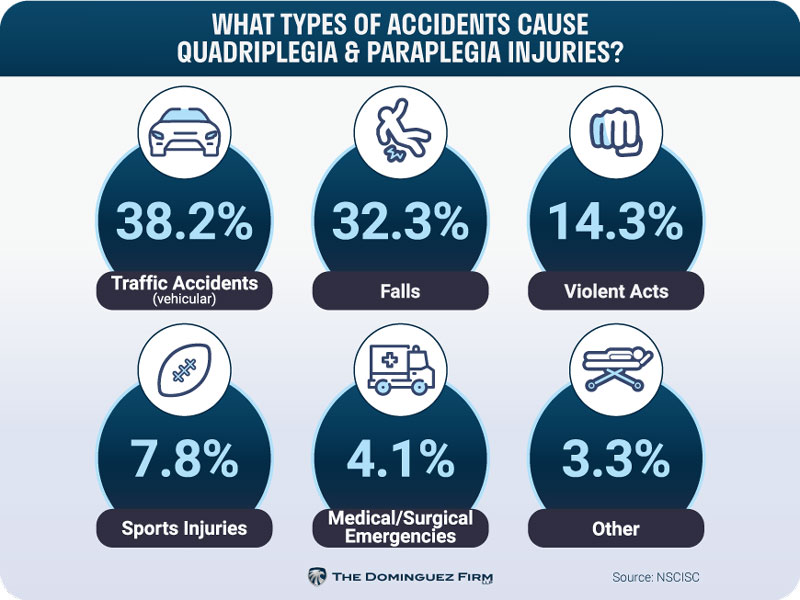 According to the NSCISC (National Spinal Cord Injury Statistical Center), traffic accidents are the leading cause of spinal cord injuries. Falls are a close second. The complete list:
Traffic (vehicular) accidents – 38.2%
Falls – 32.3%
Violent acts – 14.3%
Sports injuries – 7.8%
Medical/surgical emergencies – 4.1%
Other – 3.3%
Traffic accidents can involve more than just two cars. It can include trucks, motorcycles, bicycles, and pedestrians. The most common violent act is a gunshot wound. Disturbingly, most spinal cord accident victims are diagnosed with incomplete tetraplegia (quadriplegia) regardless of which accident type they fall under.
How are Paraplegia and Quadriplegia Injuries Treated?
The immediate goal of any medical care for a paraplegic or quadriplegic injury patient is to stabilize them. Emergency surgery may be needed to remove foreign objects and relieve pressure on the patient's spinal cord or brain. Medication to stave off blood clots or infections will also be administered.
Once the patient is stable, two important possible treatments are rehabilitation and physical therapy. Note that these are two separate treatments even though many people use the terms interchangeably. Rehabilitation helps the patient recover from a paraplegia or quadriplegia injury. Physical therapy works to improve their strength and movement.
Rehabilitation is often recommended to address problems that can occur as a consequence of the paralysis, to enable the paralyzed person to live as independently as possible, and to provide the person with a high quality of life. Examples of rehabilitation for people with paralysis include:
Electric wheelchairs or scooters
The use of walkers, braces, and canes
Adaptive vehicle controls
Assistive technology for phones, computers, and the home
Examples of physical therapy treatments:
Massage and exercise to stimulate the nerves and muscles.
Water aerobics
Weight training to avoid muscle atrophy
Another important component of paraplegia and quadriplegia treatment includes mental health counseling. Many patients suffer from depression. Support groups and therapy can make a major difference in how patients adjust and deal with their injuries.
What Secondary Conditions Can Develop Due to Paraplegia and Quadriplegia Injuries?
Paraplegia and quadriplegia can cause patients to suffer from other problems besides paralysis. These health issues can be temporary or permanent. They can include:
Chronic pain
Abnormal muscle tightness (spasticity)
Skin lesions and sores
Respiratory infections
Problems speaking, swallowing, or breathing
Incontinence
Blood clots, especially in the legs
Depression
Can a Paraplegic Regain the Ability to Walk?
That depends on how severe the victim's injuries were. While any spinal cord or brain injury is considered serious, not all lead to permanent injuries.
If the patient retains some sensation and movement in their limbs below the point of their injury, there's a good chance they'll eventually walk again. If all sensation and movement are lost below the area of the injury, the chances of walking again go down.
Of course, only a doctor can evaluate and diagnose the chances of a paraplegia or quadriplegia victim ever walking again.
I Suffered a Paralysis Injury While on the Job. Can Your Firm Help Me?
Yes. If you suffered a paralysis injury while on the job, you can file a workers' compensation claim. The Dominguez Firm has an entire department dedicated solely to workers' compensation claims and can help you with yours.
If someone outside of your job, such as a vendor or customer caused your paraplegia or quadriplegia injury you would likely have two possible claims, one for workers' compensation and another for personal injury. Luckily, The Dominguez Firm can handle both types of claims for you.
I May Share Some Fault for My Accident. Can The Dominguez Firm Still Help Me?
Yes. When it comes to personal injury cases, California is a comparative negligence state. That means you can share part of the fault for your accident and still file a claim against the other person involved. In most cases, a judge or jury will determine your percentage of fault. That percentage will be subtracted from your final settlement or verdict.
For example, if your final compensation is $2 million, but you are found to have been 25% responsible for your accident injury, you would receive $1.5 million: $2 million – 25% ($500,000) = $1.5 million.
You may have doubts about the chain of events that led to your accident or believe you caused it. It's normal to be confused after such a traumatic experience, but you could have been in a state of shock or rendered unconscious at the scene. Therefore, your recollection of what happened may not be correct. Bottom line: if you've been seriously injured in an accident, don't hesitate to hire a personal injury attorney right away.
The Dominguez Firm is a full-service law firm. Our in-house investigators and personal injury lawyers will piece together what happened to help present your paraplegia or quadriplegia accident claim in the strongest, most accurate way possible.
How Can The Dominguez Firm Help Me?
Catastrophic accident cases involving paraplegia or quadriplegia injuries can cost a victim and their family hundreds and even millions of dollars over a lifetime. Cruel as it may sound, the insurance companies aren't interested in paying out multi-million dollar settlements, regardless of your injuries. On the contrary. They want to settle claims quickly and for the least amount possible.
Our attorneys have over 30 years of experience successfully handling paraplegic and quadriplegic accident injury claims. We will fight to get you compensation for all of your financial and emotional losses due to your injury:
All medical bills caused by your paraplegia or quadriplegia injury.
All lost wages now and in the future due to your injury.
Loss of enjoyment of life
Loss of Consortium (companionship)
Pain and suffering
An example of loss of enjoyment of life would be no longer being able to participate in a sport or hobby you once enjoyed because of your injury.
How Do I Pay for Your Services?
The Dominguez Firm works on a contingency basis. That means our payment comes from a percentage of your final settlement or verdict. You don't have to worry about any surprise costs or hidden fees when you become our client. Instead, our percentage will be clearly marked in the representation agreement you sign with us. And that percentage is fixed, no matter how much compensation we recover for you.
We also stand by our promise: if there is no recovery, there is no fee. In the unlikely event we aren't able to recover any compensation for you, you owe us nothing. You truly have nothing to lose and so much to gain from hiring The Dominguez Firm.
Don't deal with the insurance companies on your own. Instead, let the paraplegia and quadriplegia injury lawyers at The Dominguez Firm fight for your right to the maximum compensation you are legally entitled to. Call us at 800-818-1818 today for a FREE consultation today.
My experience was good. They made sure to kept me in the loop and made sure to let me know what was going on the whole time. My mom has used other attorneys and this experience was beyond better. I would definitely recommend them!
— Ashley Magana
The attorneys were always available and answered my questions. I would recommend them to anyone. Zoe is the best!
— Janet Salazar
My experience with The Dominguez Firm and the attorneys was really good. They were very informative and always returned my calls.
— Jocelyn Gonzalez