Attorney Juan Dominguez Receives Special Recognition Award From the Mexican-American Bar Association
Juan J. Dominguez, a prominent Los Angeles-based attorney, was honored with the Special Recognition Award from the Mexican-American Bar Association (MABA) at its 54th Annual Awards Gala on Feb. 15, 2014.
The Special Recognition Award recognizes Dominguez's 25 outstanding years in the legal profession as well as his ongoing commitment to charitable, community and educational causes.
Honors Legal Career and Charitable Work
During the event, Dominguez also received signed recognition certificates from Los Angeles Mayor Eric Garcetti, Speaker of the California State Assembly John A. Perez, and U.S. Congresswoman Lucille Roybal-Allard. MABA's award also recognizes Dominguez's recent award from the Hispanic National Bar Association (HNBA) as 2013 "Latino Lawyer of the Year." The HNBA represents the interests of more than 100,000 U.S. Latinos in the legal field.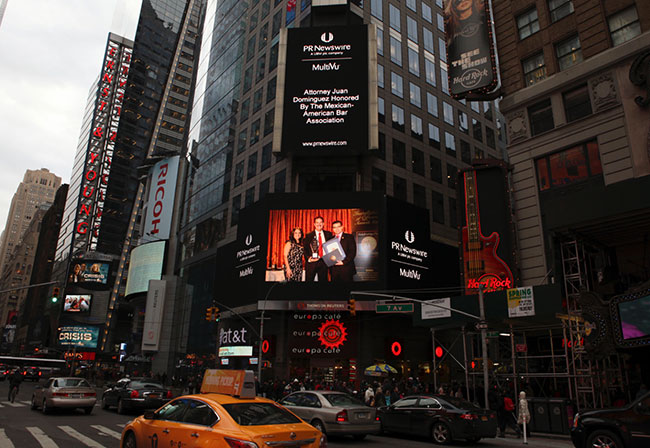 MABA, which was founded in 1959, is one of the largest and most prominent Latino bar associations in the country. Members include attorneys, judges, and elected officials.
"I am deeply honored to receive this very special award from The Mexican American Bar Association," said Dominguez. "I believe strongly in the organization's mission to empower and educate the Latino community."
An example of Dominguez's charitable commitment is the donation of $30,000 he made during a recent visit to Los Angelitos Orphanage in Tijuana, Mexico, this past December. The donation is funding construction of a new building that will include housing, a mess hall and a study hall. Dominguez has been visiting and supporting the orphanage for several years. The new building will bear his name.
Dominguez also visited Hogar Infantil, about 13 miles south of the U.S. border, during his December trip to Mexico. He made a significant donation to this orphanage as well. It is home to 50 children who have been abandoned or removed from their homes by the Mexican Social Service Agency, DIF.
"It is important to me to visit these organizations and the children who live there," Dominguez said. "It is so special to work with these children and caregivers in person, to see the difference you can make in someone's life."
In late October 2013, Javier Duarte de Ochoa, Governor of Veracruz, Mexico, and Federation Veracruz USA, recognized Dominguez's charitable work for victims of Hurricanes Ingrid and Manuel that damaged the Sinaloa, Veracruz, Guerrero and Oaxaca provinces of Mexico. The presentations were made during "Cruzada Por Mexico," a fundraising event in Lynwood sponsored by Dominguez and others to raise funds for hurricane victims.
All told, Dominguez contributes to and supports more than 50 charitable organizations that serve children, families and the homeless, as well as educational and sports programs, both in the U.S. and abroad.
About Juan J. Dominguez
Juan J. Dominguez is a nationally recognized, award-winning, bilingual attorney based in Los Angeles. In 2013, Dominguez was named national Attorney of the Year by the Hispanic National Bar Association. Juan J. Dominguez, a Professional Law Corporation, his personal injury and consumer rights law practice, is one of the most well known in Southern California. Since 1987, it has grown to more than 70 employees and has recovered in excess of $300 million in verdicts and settlements for clients involved in personal injury, workers' compensation and consumer rights cases. Dominguez also supports and contributes to more than 50 charitable and community organizations in the U.S. and abroad.