Juan J. Dominguez Named A Top 10 In Client Satisfaction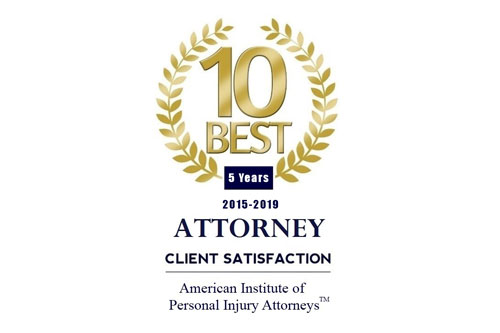 The American Institute of Personal Injury Attorneys Names Juan J. Dominguez A Top 10 Personal Injury Lawyer.
Juan J. Dominguez recognized for emphasis on client satisfaction.
LOS ANGELES, Calif. – Personal injury attorney, Juan J. Dominguez, has been named as one of California's top ten personal injury attorneys by the American Institute of Personal Injury Attorneys (AIOPIA) in client satisfaction.
The top ten list, published annually in each state by third-party attorney rating organization AIOPIA, recognizes exceptional performance in client satisfaction which Juan J. Dominguez has received consecutively for the past five years.
"It's an honor to be named one of California's top ten personal injury attorneys in client satisfaction," said Dominguez, founder, CEO, and managing partner of The Dominguez Firm. "I, and everyone at The Dominguez Firm, pride ourselves on treating all of our clients like family while delivering a 96 percent success rate on litigated injury cases."
In order to be considered for the prestigious honor, attorneys must pass AIOPIA's rigorous selection process. This begins with a client and/or peer nomination and is followed by AIOPIA's thorough independent evaluation. Perhaps the most important consideration AIOPIA makes during its selection process is on an attorney's relationships and reputation among his or her clients.
Attorneys named to the top ten list exhibit a sterling record of success in the field of personal injury law while demonstrating the highest standard of client satisfaction.
Dominguez is no stranger to picking up awards. Among his many accolades, Dominguez has been named attorney of the year by the Hispanic National Bar Association in 2013, a member of the National Trial Lawyers Top 100, and is annually ranked a Super Lawyer by Los Angeles Magazine and a Top Attorney by Pasadena Magazine, among other honors. The Dominguez Firm is one of the most successful and well-known personal injury law firms in Southern California, with offices in Los Angeles, Beverly Hills, Long Beach, Orange, Riverside, San Bernardino, Oxnard, San Diego, Bakersfield, San Jose, and Sacramento.
For more information about Juan J. Dominguez and The Dominguez Firm, visit dominguezfirm.com or call for a free consultation at 800-818-1818.