Juan Dominguez: Justice for All
By Mark Browne, Latino Leaders
The courthouse with its 100 courtrooms is the largest in the United States. It stands at the corner of West 1st street across from the LA Law Library. The courthouse is an institution that attorney Juan J. Dominguez knows well, although he could never have imagined what this symbol of justice in Los Angeles would mean to him when he arrived in the City of Angels with his parents after they fled Cuba when he was just 10 years old.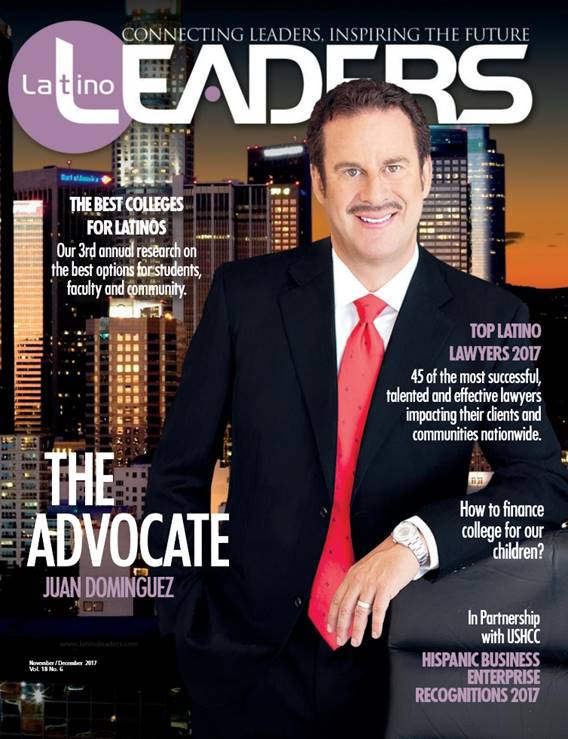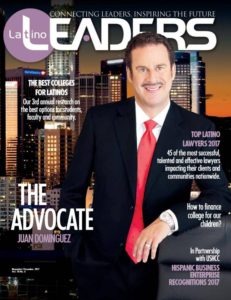 LA was a very different city back then. There was no Cuban community to support or cushion the family's transition into life in America. "A lot of immigrants come to the US and tend to congregate in certain communities. We didn't have that so we were an island unto ourselves," Dominguez said in a recent interview.
In Cuba, his father worked as a pharmacist, but had to take a factory job when the family arrived in the US. "We didn't have much money for anything and my family would not accept government support," Dominguez said. "We grew up here basically very humble because we came without a nickel in our pockets and had to start from scratch."
Years later, however, the American dream is a hard-won reality for Dominguez, his parents and his five siblings. Dominguez's father founded a chain of pharmacies in California, and all of his children graduated from college.
Today his son, Juan J. Dominquez is a highly successful attorney and the founder, CEO and managing partner of his own law firm, The Dominguez Firm, LLP., a Los Angeles-based law practice specializing in personal injury cases. The firm has more than 100 employees and Dominguez is one of the most recognized attorneys in Southern California.
His many awards include a 2015 Latino Business Award from the Los Angeles Business Journal, a 2014 Special Recognition Award from the Mexican-American Bar Association, and 2013 Attorney of the Year from the Hispanic National Bar Association. Dominguez's leadership and service to the Latino community have earned him numerous recognitions from other local leaders including Los Angeles Mayor Eric Garcetti, Congresswoman Lucille Roybal-Allard, and former Speaker of the California Assembly John A. Perez. Los Angeles Magazine has named Dominguez a "Super Lawyer" for seven years in a row and Pasadena Magazine recognized him as a "Top Attorney" from 2010 through 2016.
An early passion for justice
Through the years, Dominguez has seen a "seismic change" in the demographics of Southern California. "Now I go back to those neighborhoods where I grew up in and it's 101% Latino. The change has been incredible."
In school, he said he was one of a few bilingual students and was constantly pulled out of class in both primary school and high school to help translate meetings with new Latino families in the principal's office. Being different, however, wasn't easy. "Immigrants got picked on because of our accents. It was rough growing up in that sense. I always stood up for my rights or stood up for someone that was being picked on."
Defending other immigrant students came naturally to Dominguez, a harbinger perhaps of his future career as an attorney. "I got into fights at school sometimes because I was defending someone else's rights. I've always believed in justice. I have an innate sense of justice," he said.
English, first, then the law
As a student, Dominguez realized that mastering English would be essential to succeed professionally: "The challenge I had mostly growing up was English. That is a challenge you have to overcome. You have to get just as good in English as the other people that are trying to succeed in your profession."
Dominguez attended junior college to better his English and then California State University, Long Beach, where he earned a Bachelor of Arts Degree in Latin American and Chinese history in 1984. He opened his law practice the same year he graduated from the University of California Hastings College of the Law in 1987. "I was a maverick in that sense, I just graduated and dove into my own law firm. Most of what we do is personal injury, workers' compensation, and employment law," Dominquez said. The firm has recovered more than $500 million in verdicts and settlements since it opened.
An ethic of service to others
Before entering law school, Dominguez spent several years working at trauma units at the UCLA Medical Center and St. Francis Hospital in Lynwood, where he said he saw firsthand the difficulties and needs of severely injured patients. The experience reinforced his desire to help others.
"For the last thirty years, I have been representing mostly first-generation Latinos, 80% of whom are Spanish-speaking only. I really enjoy being an attorney. I am passionate about what I do, and above all, I put myself in the client's shoes. If I can do justice for the client, that's great."
Dominquez founded the Juan J. Dominguez Scholarship Fund which targets aid to deserving students. And while his father was his first mentor, Dominguez believes strongly in encouraging other Latinos to pursue their dreams and careers. "When I was growing up, there weren't a lot of role models. I hope I can be a role model to any Latino kid out there. We're always looking for Latino attorneys that are top talent, and I believe Latinos should pursue careers in every profession."
He has also contributed to the Fund for Justice and Education from the American Bar Association. This organization helps individuals who are part of a minority group and wish to pursue a career in law. With every dollar donated, a student is able to meet financial demands that may help them meet financial demands.
While attending a nephew's recent graduation from Loyola Law School, Dominguez said he was surprised at the number of Latino graduates. "I was shocked. A good third or more were Latino last names. I couldn't believe it. That's great. I am so happy that's happening."
Dominguez is the father of two children, a boy and a girl. His wife Scarleth is a graduate of Universidad de Ciencias Comerciales in Nicaragua where she obtained her MBA.