J.J. Dominguez named to CAOC's President's Club list for 2020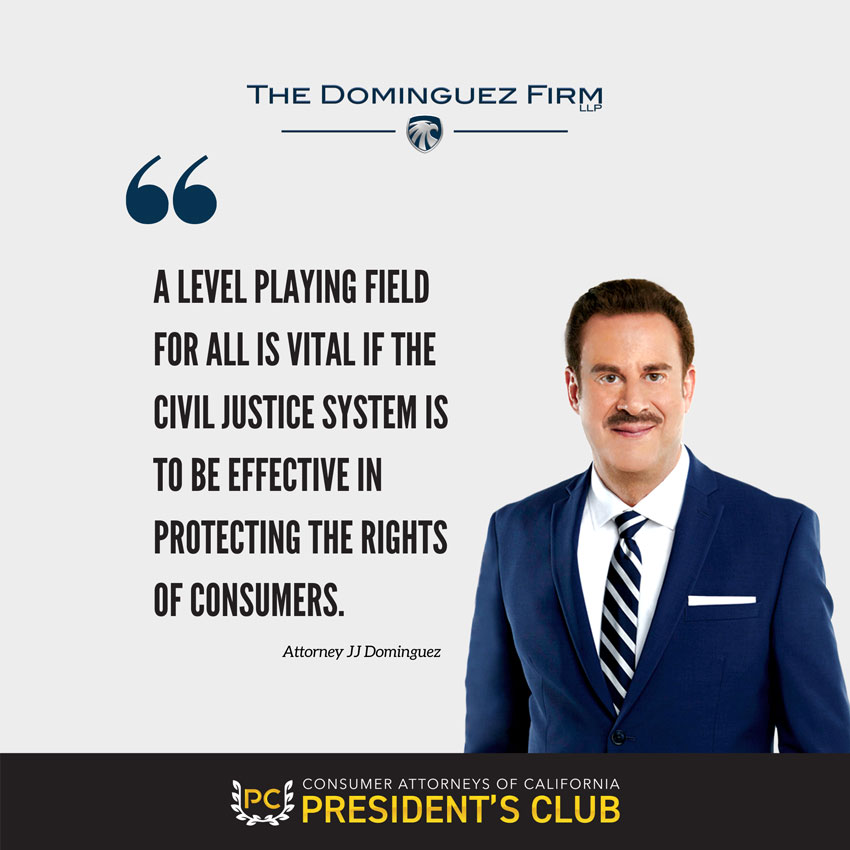 Los Angeles, July 20, 2020 – The Dominguez Firm continues its commitment to protecting the rights of consumers in California. In keeping with that, the firm's founder and CEO J.J. Dominguez has made a donation in support of CAOC (Consumer Attorneys of California). His donation earned The Dominguez Firm a place on CAOC's President's Club list of sponsors for 2020.
Recognizing the vital work that CAOC does led to J.J.'s support of this worthy organization. CAOC does the hard work of tirelessly advancing the cause of consumers with legislators in Sacramento. They maintain a year-round presence in the state capital to monitor and advocate for consumer rights. This ensures equal access to civil justice for all. As a member of CAOC's President's Club, The Dominguez Firm helps the organization continue its important work on behalf of consumers in California.
For over 30 years, The Dominguez Firm has been offering quality legal representation to all sectors of the community. As a plaintiff firm that represents consumers against large entities such as corporations, insurance companies and manufacturers, The Dominguez Firm and CAOC share many goals in common. Just like CAOC, The Dominguez Firm has helped thousands of clients fight back against defendants with deep pockets that attempt to discriminate against or harm them. "A level playing field for all is vital if the civil justice system is to be effective in protecting the rights of consumers" J.J. stated.
The Dominguez Firm's involvement with CAOC extends beyond its inclusion on The President's Club list. Lead Trial Attorney Olivier Taillieu currently serves on the CAOC Board of Directors. As a leading authority on Traumatic Brain Injuries (TBIs), Olivier was a featured speaker at last year's CAOC convention in San Francisco on the topic of TBIs. His presentation was a part of CAOC's Continuing Legal Education program for attorneys.
The Dominguez Firm is one of the most recognized and successful personal injury law firms in California. Call 24 Hours/7 days a week: 1-800-818-1818 for a free consultation.