Such a great place to come! The staff is very friendly, straight to the point, and efficient. They strive to achieve the best for you. 10/10 would recommend anyone call them.
- Alberto Sanchez
San Diego is known as the birthplace of California, the historic home of the United States Navy and a major port of international trade. More recently it has also become a center of biotechnology and tech innovation. The city's mild climate and beautiful beaches also attract millions of visitors each year.  In short, San Diego has earned a reputation as a highly attractive economic, cultural, and innovation hub of California, which has resulted in significant growth in recent decades.
Unfortunately, more people means more risk.  San Diego is intersected by some of the most dangerous highways in the state, and each year thousands of San Diego visitors and residents are injured in car accidents.  Everyday hazards like unsecured construction sites or slippery restaurant floors are likewise a constant risk for unwary citizens.
Luckily, the distinguished personal injury lawyers at The Dominguez Firm are available to help injured San Diegans, whatever the cause of their accidents.  With over thirty years of experience helping thousands of clients in San Diego and all over the Golden State, The Dominguez Firm is the right choice if you want to secure compensation and justice for your injuries.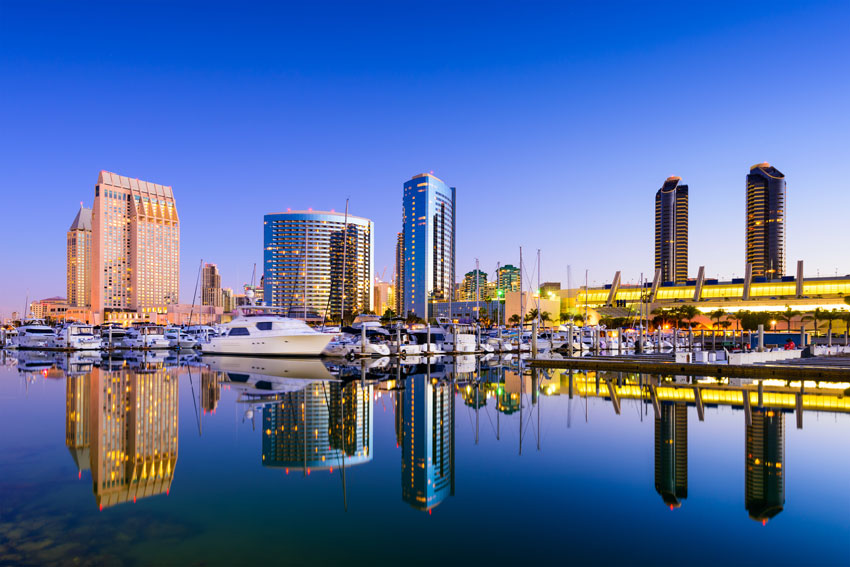 San Diego Accident Statistics
According to the San Diego Department of Public Health, in San Diego County between 2011 and 2016 there were:
21 drowning accidents
307 fall incidents that required medical intervention
49 firearm-related accidents
1,201 injuries that were not self-inflicted
389 poison-related injuries
By far, the biggest injury risk to San Diego residents is motor vehicle accidents.  Car accidents take more lives than intentional murders in San Diego.  According to the California Office of Traffic Safety, in 2016 in San Diego there were:
9,476 traffic accident-related injuries and fatalities
714 motorcycle injuries and fatalities
753 pedestrian injuries and fatalities
457 bicyclist injuries and fatalities
1,901 DUI arrests
How Can The Dominguez Firm Help You?
Whatever the cause of your injury, The Dominguez Firm can help you.  We have assisted victims involved in a vast array of accidents, including:
Workplace injuries
Construction accidents
Uber and Lyft accidents
Animal bites
Slip & Fall accidents
Pool accidents
E-Scooter accidents
Product liability
Nursing home abuse
And many more!
The Dominguez Firm's employment lawyers also handle cases involving employment law issues of all types, including:
Sexual harassment
Workplace discrimination
Wrongful termination
Workplace harassment
Wage and hour issues
Whistleblower protection
And any other workplace grievances.
If you have suffered an injustice or injury in the workplace, The Dominguez Firm is ready and capable of providing you with the high-quality legal representation you need to win your case.
What Kind of Compensation Can San Diego Injury Victims Win?
Under California law, personal injury victims are entitled to compensation relating to damages arising from injuries that occurred as a result of someone else's negligence, recklessness, or intentional conduct.  In other words, if you are injured either because of someone else's direct actions or their failure to take appropriate precautions to ensure your safety or otherwise exposing you to unjustifiable risk, you may be entitled to compensation.
Damages may include economic losses such as:
Hospital bills
Medications and medical equipment
Cost of ongoing treatment
Physical or occupational therapy
Loss of income or income-generating capacity
Property loss or damage
Damages may also include non-economic losses such as:
Pain and suffering
Emotional distress
Anxiety
Post-traumatic Stress Disorder (PTSD)
Physical pain
Debilitation or disfigurement
Negative impact on quality-of-life
Loss of companionship or consortium
Non-economic damages relate to emotional, psychological, or relational losses that result from an accident or injury, and thus are more difficult to quantify.  However, for many victims, these losses are the most meaningful and difficult to bear—and at The Dominguez Firm, we understand that compensation for all losses, economic and non-economic, is crucial for our clients in order to allow them to move forward.
Prestigious Personal Injury Firm
Over its three decades of existence, The Dominguez Firm has earned a place as one of the most recognized and prestigious personal injury law firms operating in Southern California.  Our attorneys have recovered more than half a billion dollars on behalf of our clients, and we maintain a 96%* success rate in injury litigation cases that proceed to trial and are litigated in front of a judge and jury.
Our competence and success have earned us the recognition of many local, state, and national professional organizations.  Our attorneys and firm have been awarded:
In choosing The Dominguez Firm, you can rest assured that you have strong and trusted legal representation on your side.
Impeccable Record of Client Satisfaction
At The Dominguez Firm, we take a client-centered approach to our work.  We work together as a team on each case, and treat our clients with the care and attention they deserve.  Each case is handled by a primary attorney, who works closely with our administrative support staff, paralegals, and investigators to put together the strongest case possible.  Each case is also regularly reviewed by a senior partner, ensuring that all of our clients benefit from the collective legal experience of our firm—no matter how large or how small the amount at issue.
This team-centered and client-oriented approach has earned us the trust and satisfaction of a loyal base of current and former clients.  Referrals form a substantial proportion of our new clients, and former clients regularly refer their closest friends and family members to our practice, demonstrating that the trust we earn while representing victims extends long past the settlement of their case.
Most of our attorneys are bilingual or multilingual, which means that we can provide service to all injury victims, no matter their language, background, or status.  We strive to make the lives of our clients as easy as possible, and to that end have cultivated a broad network of medical providers and specialists that we work with in order to assist our clients in their recovery.  Our attorneys and staff are responsive, knowledgeable, and kind—and these qualities have earned us the broad appreciation of our clients.
Former Client Testimonials:
I suffered severe injuries on my right foot. The Dominguez Firm helped me obtain the medical attention and treatments that I needed and resolved my case for $3 million dollars. I am grateful to The Dominguez Firm for their excellent service and support throughout my entire case.

—Donald Nielsen
Thank you so much for giving us a quick a great service! I was assigned an investigator the same day I called regarding my husband's accident. Our investigator was professional and kept us updated regarding his arrival to our meeting. He answered all of our questions and right away assigned us to a chiropractor.

—Delia R.
One of the best law firms in the world! I truly want to address the dedication and trust the Dominguez Firm gives. As a woman, it's really hard to find good people to trust. I was very pleased how [they] handled my property damage. Not to mentioned the great service that my paralegal had towards me and my family. He was very tentative towards my questions and concerns. He helped me get the health care I needed towards my injury. My attorney tried to get me and my family the right compensation and he did. I'm truly blessed to have found the Dominguez Firm!

–Maria V.
Why You Need The Dominguez Firm
If you or a loved one has been injured in an accident, you need a competent and professional personal injury attorney on your side.  The Dominguez Firm attorneys bring together decades of experience, an unbeatable record of success, and compassionate service that has earned us thousands of satisfied clients.  Although hundreds of personal injury lawyers advertise themselves as being the best, most aggressive, or the top lawyer in San Diego, few have the success rate and client satisfaction rate to back up these claims.  When you choose the Dominguez Firm, you are choosing a proven and trusted personal injury firm with a long history of working in Southern California.  Call our offices today at (619) 332-4554 for a FREE and completely confidential consultation. And we stand by our promise: if there is no recovery, there is no fee!
My experience was good. They made sure to kept me in the loop and made sure to let me know what was going on the whole time. My mom has used other attorneys and this experience was beyond better. I would definitely recommend them!
— Ashley Magana
The attorneys were always available and answered my questions. I would recommend them to anyone. Zoe is the best!
— Janet Salazar
My experience with The Dominguez Firm and the attorneys was really good. They were very informative and always returned my calls.
— Jocelyn Gonzalez