The population of San Bernardino County increased by more than 425,000 people from 2010-2019. Today, over 4.2 million people call San Bernardino home. That, combined with a dramatic increase in the number of major warehouses here in recent years and you've got a lot more trucks traveling through the county's roads and highways. All of this means more truck accidents. Truck accidents and the legal issues they present are much more complex than regular car accidents. That's why if you or a family member are injured in a truck accident in San Bernardino County, you'll want to choose an attorney who is experienced in truck accident cases.
The Dominguez Firm is one of San Bernardino's leading personal injury law firms with over three decades of experience litigating truck accident cases. As a leading truck accident lawyer, we offer free consultations. Truck accident victims can discuss their case with us without worrying about the cost.
Call us today at (877) 265-2167 to take advantage of your free consultation.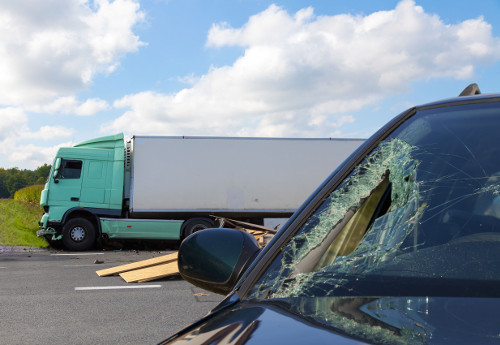 What are Commercial Trucks?
Trucking and transportation happen to be an integral part of the American economic engine as they transport goods all over the country. However, an accident with one of these large commercial trucks, like a semi-trailer truck results in the death of anyone in the passenger vehicle 67% of the time. But they aren't the only type of commercial vehicles that are dangerous to others on the road. As a driver, you probably contend with a host of other types of commercial trucks, including:
Cement mixer trucks
Flatbed trucks
Dump trucks
Tow trucks
Delivery trucks
Garbage trucks
Common Causes of Truck Accidents
The Federal Motor Carrier Safety Administration's Pocket Guide to Large Truck and Bus Statistics published in 2017, lists 414,000 crashes involving large trucks in 2015 alone. Around 3,600 involve at least one fatality with 83,000 resulting in varying injuries.
The FMCSA also has a list of the most common causes of truck accidents. These include:
Operating the truck under the influence of prescription medication, over the counter medication, or illegal drugs.
Going over the speed limit or driving recklessly.
Driving fatigue due to traveling long distances without resting, a well known safety issue with truck drivers.
The driver's unfamiliarity with the roads.
Issues regarding the construction of the road,such as potholes or debris.
Issues relating to the flow of traffic.
It is important to emphasize that this isn't an all-inclusive list of common truck accident causes. However, these certainly make up the majority of reasons for a truck accident.
Some of the most common problems leading to truck accidents include:
Problems with the vehicle's brakes – Around 41,000 or 29% of trucks had an accident because of brake issues.
The driver was going to fast – Around 32,000 or 23% of crashes were caused by going over the speed limit.
Not being familiar with the roadway – 31,000 crashes or 22% of crashes are a result of the driver being new to the roadway.
Roadway problems – 29,000 or 20% of crashes were caused because there was a problem with the road.
Who Is Liable For A Truck Accident in San Bernardino?
In most cases, it is the trucking company who is legally responsible and liable for most truck accidents in San Bernardino. The trucking company will need to be held accountable for any negligence of its drivers in addition to any other negligence (vehicle maintenance). Issues pertaining to poorly maintained trucks, lost loads, and improper training of the drivers all indicate to the trucking company's liability.
In rare cases, the trucking company may not be responsible for a wreck. For instance, if the accident was caused by an improperly maintained road. Potholes, debris, etc. can all lead to a crash, and if these factors are what caused the accident, then it's the highway authority and county that can be held responsible.
A product manufacturer, that is, the manufacturer of the product being transported in the truck can also be held responsible. For example, the manufacturer can be held responsible if their products caused the truck to catch fire, or even explode, causing an accident.
The best way to ensure that the right parties are held liable for the accident is to hire a truck accident lawyer to handle this type of personal injury case on your behalf.
Recovering Damages in a Truck Accident Case
Truck accidents can be catastrophic for the occupants of the passenger vehicle. If it collides with a pedestrian, it can result in the pedestrian's death. That's why a potential lawsuit could mean being able to recover thousands if not millions of dollars in compensation for your injuries or the death of a loved one.
A truck accident lawyer can help you receive compensation for the medical costs resulting from your injuries in the past, present and in the future. You'll also need to be compensated for the pain and suffering involved. However, recovering damages often means dealing with the trucking company's insurance adjusters who will play hardball to try and pay the least amount they can. That's why having a seasoned personal injury lawyer handle your case can help ensure they don't use these tactics to try and strong-arm you into submission.
Injured In San Bernardino? Discover The Value Of Your Truck Accident Case
If you have been injured in a truck accident, it is crucial to hire an attorney with experience. You always want an attorney who is knowledgeable about the trucking industry, regulations, and all the agencies involved. Not only can a truck accident attorney help to establish liability, they can also estimate what your case is worth before going into negotiations with the insurance company or preparing for litigation.
At The Dominguez Firm, we take several steps to secure and preserve all the information needed to build a case. We then work with you to identify all damages caused by the accident so that you get the compensation you need to move on with your life. Plus, we handle all negotiations, documentation and investigations involved. We present the strongest case possible so we can go after the maximum compensation you are entitled to by law.
If you are looking for a professional San Bernardino truck accident lawyer that has your best interests at heart and a history of winning similar cases then call The Dominguez Firm for a free consultation at (877) 265-2167.
My experience was good. They made sure to kept me in the loop and made sure to let me know what was going on the whole time. My mom has used other attorneys and this experience was beyond better. I would definitely recommend them!
— Ashley Magana
The attorneys were always available and answered my questions. I would recommend them to anyone. Zoe is the best!
— Janet Salazar
My experience with The Dominguez Firm and the attorneys was really good. They were very informative and always returned my calls.
— Jocelyn Gonzalez