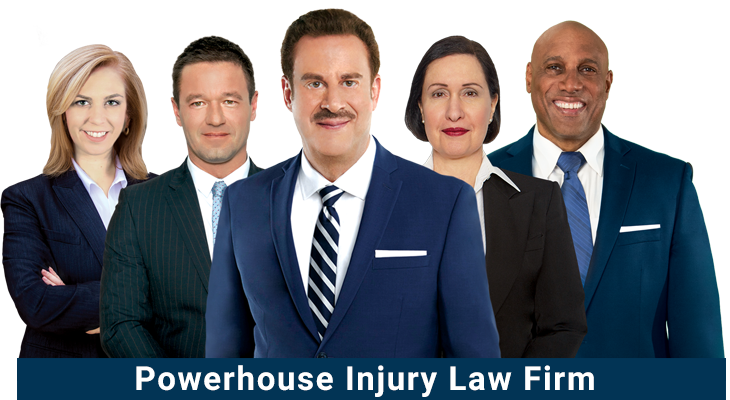 Motorcycle accidents are very common in California. However, many accidents are caused by a multitude of factors that have nothing to do with the rider's abilities. In fact, many Riverside motorcycle accidents are not the fault of the rider. You can and should file a personal injury claim if the accident was caused by something other than rider error. At The Dominguez Firm, our team of highly qualified and award-winning lawyers can help you seek rightful compensation for your accident.
If you or someone you love is a victim of a motorcycle accident in Riverside, California, it is important to know your rights. Call us today for your free consultation at (800) 818-1818.
Common Causes of Motorcycle Accidents in California
As mentioned earlier, many factors can lead to a motorcycle accident. According to experts, there are literally dozens of reasons for a motorcycle accident. In our experience, Riverside motorcycle accidents that aren't the fault of the rider or another driver have three very common causes:
Improper Mechanical Repairs
Did you recently get your motorcycle repaired? Now whether you had the motorcycle in the repair shop or had sent it back to the company for warranty repairs, if a mechanical issue caused the accident, you can hold the mechanics responsible. A repair shop, for instance, is responsible for making sure that all repairs were adequately taken care of when the motorcycle was with them. If they were negligent, and the inadequate repairs led to an accident, then you can hold the shop and the mechanic that was working on the motorcycle responsible.
You can also hold the mechanic responsible if they overlooked a potential issue with the motorcycle, which could lead to a catastrophic accident. The fact that they (repair shops) might have overlooked critical repairs for a mechanical issue means that they were negligent.
Bad Road Conditions
Uneven pavements, potholes, missing hazard signs, and debris are all road hazards that can potentially cause a motorcycle accident. It is important to keep in mind that unlike a car, the slightest of road imperfections can cause the motorcycle to slip or result in a crash. What makes matters worse is if the road is being shared by heavy vehicles like commercial trucks on a highway. If bad road conditions caused your crash, then you can hold the city responsible.
Roadside Construction Crews
Roads in just about every American city are carefully designed to ensure that everyone on the street is safe. The streets are assumed to be safe for cars, trucks, and motorcycles alike. However, during road construction, the crew might not be as attentive and fail to pay attention to potential hazards as they otherwise would.
If dangerous traffic patterns caused your motorcycle accident, then the construction crew can be held partially responsible for it. They might be held liable for your injures.
What to Do if You're Involved in a Riverside Motorcycle Crash?
It is estimated that motorcycle riders are four times more likely to get into a serious accident leading to injuries or even being killed as compared to other motorists. Riverside motorcycle accidents are surprisingly common, with many victims losing their lives. So, apart from riding safely, it is important that you be aware of your rights, especially if your accident was caused by someone else's negligence or recklessness.
If you are in an accident, it is essential to document the scene. You can make a video with your smartphone, and document what caused the crash. For instance, if you crashed because of a pothole, make sure that you document it. The same goes if you were hit from behind by another driver. Make sure to get lots of photos of their vehicle.
Of course, since your health and wellbeing take precedence over everything else, if you're seriously hurt seek medical attention. Call 911 and get the treatment you need.
After you have recovered to the extent that you can visit an attorney, that should be your next step. Get a free consultation with one of our Riverside motorcycle accident lawyers and provide them with all the evidence you have. Our lawyer should then be able to advise you on the best course of action moving forward.
Who Is Liable for Your Motorcycle Accident Injuries?
Every motorcycle accident is going to be different, and with it, who is liable. For instance, if you wiped out because of a pothole, then the city may be liable. However, if your accident was caused by a drunk driver who rear-ended your motorcycle, then that driver is responsible.
In most motorcycle accident cases, you should leave it to an experienced lawyer to decide liability.
Do You Need A Riverside Motorcycle Accident Lawyer?
Yes! You will need a motorcycle accident lawyer if the objective is to seek rightful compensation. In most cases, an individual will never get fully compensated until and unless they hire an attorney who will fight for their rights. However, there is a lot that goes into establishing liability and then working towards seeking compensation.
An attorney can help you seek compensation for the following types of damages:
Damage to your property, i.e. your motorcycle. Your insurance company should cover most of the damage to your motorcycle. If not, then an attorney can help you.
An attorney can also help you seek compensation for your medical expenses. Most motorcycle accident injuries are serious. Knowing your medical bills are being taken care of can give you peace of mind and help you concentrate on your recovery.
An attorney can also help calculate how much you may lose in lost wages. Factoring that into the equation is extremely important.
Establishing a solid case requires that a motorcycle accident lawyer start with an understanding of what caused the accident. They must evaluate the evidence available and if required, undertake their own investigation. The next step is assigning liability. Finding out whose negligence or recklessness led to the accident is a lot more difficult than most people assume. Sometimes more than one party may be to blame.
Once the party responsible has been identified, the next step is to file a compensation claim. That often leads to negotiations with the insurance company. They will try their best to pay either nothing or very little. A qualified and experienced Riverside motorcycle accident lawyer knows how to handle insurance adjusters, and seek the maximum compensation for your motorcycle accident injuries.
If the insurance company and the attorney fail to settle, the case then goes to trial. The Dominguez Firm motorcycle accident attorneys in Riverside have the resources to go to trial if the insurance company won't give you the maximum compensation you are entitled to for your injuries. Not every law firm or attorney can say that.
Call The Dominguez Firm Today!
If you were in a motorcycle accident, make sure to contact an experienced Riverside accident lawyer right away. Our award-winning attorneys will help to negotiate on your behalf and fight to obtain the maximum compensation you are entitled to. Motorcycle accident injuries are rarely minor. There are medical bills, lost income, and damage to your motorcycle to be considered. That's why it is so important to have a recognized law firm with a winning record on board to handle your case.
At The Dominguez Firm, we have in-house investigators, award-winning attorneys and a support staff of over 120 legal professionals. Defense counsel and insurance companies know we'll go to court if need be and that gives your case the kind of leverage law firms with fewer resources can't provide. Plus, we charge you nothing out-of-pocket! By working on a contingency basis, clients pay nothing until they are compensated. So, you can consult with us without worrying about the cost. In other words, you win, or you don't pay! Call us today at (800) 818-1818 for a free consultation.
My experience was good. They made sure to kept me in the loop and made sure to let me know what was going on the whole time. My mom has used other attorneys and this experience was beyond better. I would definitely recommend them!
— Ashley Magana
The attorneys were always available and answered my questions. I would recommend them to anyone. Zoe is the best!
— Janet Salazar
My experience with The Dominguez Firm and the attorneys was really good. They were very informative and always returned my calls.
— Jocelyn Gonzalez