I had the best experience at The Dominguez Firm. Thank you very much to your lawyers for helping me in my case.
- Luigui Morales
Los Angeles, the "city of angels," is synonymous with sun, sand, and Hollywood glamour.  With over 4 million residents, L.A. is the second most populous city in the United States—and also one of the most diverse.  Unfortunately, L.A. can also lay claim to the title of car accident capital of America, workplace injury leader of California, and dominance in DUI convictions.  The qualities that make our metropolis so exciting and robust, can also lend themselves to increased safety hazards in everyday life.
That's why you need The Dominguez Firm on your side.  Our award-winning team of trial lawyers have assisted thousands of accident victims and injured Angelinos to win millions of dollars in compensation—collecting over $1 billion* on behalf of our clients since opening business in 1987.  Our firm boasts a 96%* success rate in personal injury cases, and we are primed and ready to provide premier representation to all injury victims.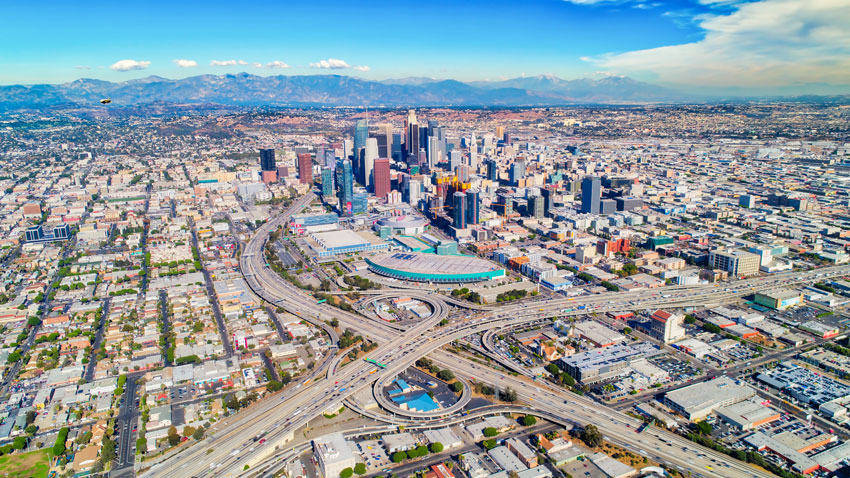 Client-oriented Service
Many large law firms churn through cases and clients as quickly as possible in order to maximize profits.  At The Dominguez Firm, we prioritize client service and strive to achieve personal and professional excellence in our relationships with our clients.  We want you to feel part of the legal process, and not merely a witness to your claim.  As such, we keep you informed every step of the way, and work with you to develop a strategy that fits your needs and priorities.  With us, you will not be an anonymous and interchangeable client, but rather an integrated part of our family.
We further aim to be a full-service firm.  Most of our attorneys are bilingual or multilingual, allowing us to service nearly all corners of the cultural diversity that so defines Los Angeles.  In addition to our excellent trial attorney team, we employ in-house investigators who can respond 24/7 to the scene of an accident, and maintain a roster of eminently qualified professional experts to assist in the technical and factual elements of your case.  Need a medical specialist to treat your unique injury? The Dominguez Firm has got you covered.
At The Dominguez Firm, we regard our clients as family.  We know how hard it is to recover from a serious injury—made even more difficult with the added stress of a complicated legal process.  We aim to unburden you in whatever way we can, by providing the highest quality legal representation with a smile.
Collaborative Representation
The Dominguez Firm believes that two heads are better than one, and many heads are even better!  As such, we take a team-oriented approach to the representation of our clients.  Each case is handled by a primary attorney, who works closely with our team of highly skilled support staff such as paralegals and legal secretaries. Additionally, each case is regularly reviewed by a senior managing attorney, who brings a wealth of experience and provides crucial case guidance.  You'll enjoy the benefit of our world-class team of legal professionals, without the high costs you may find elsewhere.   Of course, the MVP of our team is always the client—and we want to make sure you bring home the best results possible!
Award-winning Lawyers
The achievements of The Dominguez Firm have been widely recognized, earning the firm and its lawyers recognition from regional and national professional bodies—making The Dominguez Firm one of the most awarded personal injury law firms in Los Angeles.
Attorneys at the firm have been named:
Although it is an incredible honor to receive these prestigious awards, by far our most valued achievement comes from the satisfaction of our current and former clients.  Our firm consistently receives glowing testimonials, and our unparalleled service keeps clients coming back again and again for all of their personal injury needs (as well as referring our firm to their closest friends and family).  The trust and overwhelming satisfaction of our client base is the most significant honor that we enjoy.
No Recovery, No Fee
Many people believe that hiring a lawyer will cost them a small fortune, and worry they'll be on the hook for thousands of dollars in lawyers fees even if they don't recover any compensation in their case.  Unfortunately, with other firms this is often the case.  However, at The Dominguez Firm, we take cases on a contingency fee basis.
So how does a contingency fee work?  Rather than billing our clients by the hour, as is the case with most conventional billing arrangements, we take cases at no cost up front.  Instead, in our client agreement we will stipulate a certain percentage of your compensation award that the firm will collect, only after you have won your case.  In other words, our fee is proportionate with your compensation, and we only get paid if and when you do.
This means that we are accountable foremost to you, and not to our own bottom line.  This also means that in signing with our firm, you take no financial risk, and will only reap benefits.  We strive to take the stress and anxiety out of the legal claims process for our clients, and in instituting our No Fee, No Recovery philosophy, we aim to relieve some of the financial burden that our clients face.  Everyone deserves justice, regardless of their income or financial situation, and at The Dominguez Firm we firmly believe that increasing access to justice is fundamental to ensuring fair outcomes.
What sorts of cases do we handle?
The Dominguez Firm handles cases involving accidents or injuries of all sorts, including:
We have recently expanded our practice to focus more broadly on employment issues.  Our employment attorney team handles cases involving:
Workplace discrimination
Wrongful termination
Workplace harassment
Wage and hour issues
Whistleblower protection
And any other workplace grievances.
If you have been injured or aggrieved as a result of someone else's negligence, recklessness, or otherwise illegitimate act, The Dominguez Firm can help you to mobilize the law and achieve justice.
What are the most common causes of injuries in Los Angeles?
Los Angeles County has one of the highest injury hospitalization rates in California, even more so when you account for population density.  There were more than half a million injury-related emergency department visits in L.A. in 2013 alone.
510,237 'unintentional' injury-related admissions
186,059 fall-related admissions
62,700 motor vehicle accident-related admissions
9,395 poisoning-related admissions
In 2012, there were 3,480 deaths in L.A. county, including:
2,056 'unintentional' accident-related deaths
763 poisoning-related deaths
675 motor vehicle accident-related deaths
462 fall-related deaths
Among unintentional accident-related injuries, the leading causes in L.A. county in the period 2009-2013 were:
Falls
Struck by/against
Motor vehicle/traffic
Cut/pierce
Overexertion
Children and young adults are especially at risk.  There were 7,365 unintentional injury hospitalizations of residents under 20 years old in L.A. in 2014–that's nearly 270 injury hospitalizations per 100,000 residents! 5,453 were due to unintentional incidents or accidents—and thus probably preventable.
Why choose The Dominguez Firm?
Although there are many personal injury lawyers and firms claiming to be the best in L.A., few can match the reputation, recognition, success record, and commitment to clients of The Dominguez Firm.  With a 96%* success record and impeccable client satisfaction (and testimonials to back up this claim), The Dominguez Firm has earned its place among the premier personal injury and employment law firms both in Los Angeles and Southern California.
Our multilingual lawyers and support staff service the incredible global tapestry of Los Angeles, with the professional acumen and cultural sensitivity required of us by our diverse client base.  We have assisted our clients recovering more than $1 billion* in our decades servicing the Los Angeles community.  If you're looking for a personal injury lawyer in Los Angeles, The Dominguez Firm combines the highest quality representation and resources of a high-powered "Big Law" firm, with the down-to-earth and client-oriented approach of a family operation.  If you have been injured or are facing a complicated employment issue in Los Angeles, call our offices to speak with an attorney and find out more about how we can help you.  Call today for a free consultation at: 800-818-1818.
My experience was good. They made sure to kept me in the loop and made sure to let me know what was going on the whole time. My mom has used other attorneys and this experience was beyond better. I would definitely recommend them!
— Ashley Magana
The attorneys were always available and answered my questions. I would recommend them to anyone. Zoe is the best!
— Janet Salazar
My experience with The Dominguez Firm and the attorneys was really good. They were very informative and always returned my calls.
— Jocelyn Gonzalez