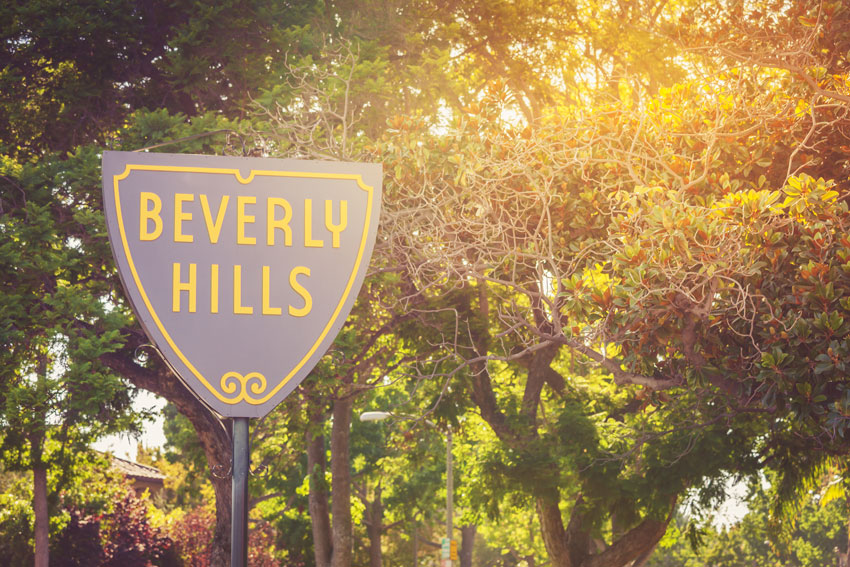 Beverly Hills is the epicenter of old Hollywood luxury.  Home to Rodeo Drive, the Beverly Hotel, and
many celebrities, landmarks around Beverly Hills have become iconic backdrops
to film and TV throughout the decades.  It
is not unheard of to run into Brad Pitt or Jennifer Lawrence browsing the snack
aisle at your local Beverly Hills Whole Foods.
Unfortunately, all that money and glamor does not
necessarily translate to a safer city.
Beverly Hills is also home to three of the most dangerous intersections
in Los Angeles county, which contributed to 36 pedestrian accidents between
2002 and 2013, and the Office of Traffic Safety has ranked Beverly Hills among
the most dangerous small
California cities for those who walk, bike, and drive.  Traffic accidents, slip-and-falls, workplace
accidents, and all manner of injury-causing misfortunes are just as likely in
Beverly Hills as any less glitzy locale.
Happily, The Dominguez Firm is here to back you up if you're
one of the unlucky ones and fall victim to an accident in Beverly Hills.  Our office is conveniently located on
Wilshire Boulevard, and we're ready to provide the strongest legal
representation available in all types of personal injury cases.
Why choose The Dominguez Firm?
Billboards and bus stops, radio ads and Google results abound
with advertisements for attorneys and firms claiming to be the best personal
injury lawyer in Beverly Hills.  So what
distinguishes The Dominguez Firm from all the rest?
Multiple city, regional, and national award-winning firm and lawyers
Unparalleled client satisfaction, backed up by glowing testimonials
96% case success rate
More than 3 decades of experience
More than half a billion dollars recovered on behalf of our clients
No Recovery, No Fee
Award-winning Personal Injury Law Firm
Our credentials are backed up by consistent recognition by
city, regional, and national professional organizations.  We have been granted numerous honors and
awards, and the attorneys at our firm have received such prestigious awards as:
Our success, professionalism, and reliability have earned us
the high esteem of our peers in the legal field, who regularly refer
complicated personal injury cases to our offices and attorneys.  We are honored to have earned the regard of
our fellow attorneys, but more than that we are proud of our…
Impeccable Client Satisfaction
Our performance and service has earned us a loyal and
enthusiastic client base that trusts us enough to regularly refer their close
friends and relatives to our firm.  Over
the three decades that we have been in business, we have assisted thousands of
injured clients and their families around Beverly Hills and the greater Los
Angeles area to win millions of dollars in compensation—money that is necessary
for them to recover from their injuries and put them on the path to an improved
quality of life.
One of the primary reasons that our clients are consistently
satisfied with their experiences with The Dominguez Firm is our family and
team-oriented approach that places the client above all else.  Each case is handled by a primary attorney
(or team of attorneys), but also enjoys the full and comprehensive support of
the entire firm.  The lead attorney works
closely with our team of highly-trained support staff, and your case will be
regularly reviewed by a senior partner.  Most
importantly, we consider our clients an integral part of the team, and keep you
informed every step of the way.
Some testimonials from satisfied clients:
The attorneys were always available and answered my questions. I would recommend them to anyone.

— Janet Salazar
My experience with The Dominguez Firm and the attorneys was really good. They were very informative and always returned my calls.

— Jocelyn Gonzalez
I was involved in an automobile accident and attorney Juan Dominguez got me over half a million dollars. He is the best. I highly recommend his law offices. 

—Hugo
I suffered severe injuries on my right foot. The Dominguez Firm helped me obtain the medical attention and treatments that I needed and resolved my case for $3 million dollars. I am grateful to The Dominguez Firm for their excellent service and support throughout my entire case.

—Donald Nielsen
In addition to
client satisfaction, our firm also maintains a…
96% Case Success Rate
This means that we
recuperate compensation on behalf of our personal injury clients 96% of the
time in cases that proceed to litigation.
Our team is comprised of several attorneys who focus specifically on
personal injury litigation involving the most complicated personal injury and
catastrophic injury cases.  As such, you
can be confident that once our firm takes your case, we have the skills and
resources to see it all the way through to the end.  Our lawyers enjoy superior support in the
form of our experienced team of paralegals, legal assistants, and legal
secretaries, and can lend the considerable resources of our firm to the onerous
task of complex litigation.  We work
together as a team, with the client as our MVP.
Our clients also benefit from the skills and knowledge of our senior
partners, which can only be earned through…
Types of Cases We Handle
Three Decades of Experience
Founder, CEO, and
managing partner Juan Dominguez opened his law practice in 1987, and ever since
has devoted his career to helping injury victims and their families. Drawing on
his background as a Spanish-speaking immigrant from a working-class family of eight,
Mr. Dominguez has grown his practice mindful of the unique difficulties facing
the diverse communities that make up Los Angeles.  Most of the attorneys and support staff at
The Dominguez Firm are either bilingual or multilingual and represent the
spectrum of language diversity in Southern California.  Practically speaking, we are well-equipped to
provide the spectrum of legal services to immigrants or non-English speakers of
nearly all backgrounds.  By serving a
variety of communities, The Dominguez Firm has expanded access to justice and compensation
in the form of…
More than half a billion dollars won on behalf of our clients
In many ways, The
Dominguez Firm's record speaks for itself.
We have assisted our clients in claiming more than $500 million in
injury compensation over the years, with numerous individual awards in excess of
one million dollars for a single client.  At The Dominguez Firm, we know that no amount
of money can fully compensate for the physical pain, emotional trauma, and
psychological injury that can result from a serious or catastrophic injury.  However, we also know that injury
compensation can help ease the pathway to recovery and the burden on the
victim's family.  Suffering a serious
injury can be devastating, but that does not mean that you need to remain
indefinitely devastated.  We fight vigorously
for the interests of our clients, in order to secure the compensation they need
both now and in the future—whether it be to cover medical bills, physical
therapy, psychiatric counseling, or to compensate for pain and suffering.  In order to ensure our injured clients don't
have to worry about further financial burdens than the ones arising directly
from their injuries, we employ…
No Recovery, No Fee
When you become a client of The Dominguez Firm, you are not
billed a penny until we win your case and you're awarded compensation.  Cases are taken on a contingency fee basis,
which means that if you are awarded compensation, a percentage of your award
will go towards covering legal fees. However, if you are not awarded
compensation, your legal representation is cost-free.  This gives our clients a risk-free
alternative for obtaining legal services, and ensures that everyone has access
to justice for their injuries, no matter their financial situation.
Don't Wait, Call Today!
If you or a loved one has been injured in an accident, you
need representation from the highest quality personal injury lawyer in Beverly
Hills.  At The Dominguez Firm, we offer
decades of experience, an enviable record of success, and an army of satisfied
current and former clients to support our claim that we are one of the premier
personal injury law firms in the Southern California area.  By hiring us, you can trust that you will
receive high quality legal representation at a cost that you can afford. Our
office is centrally located in Beverly Hills.
Call our offices today at 800-818-1818 for a free consultation with one
of our personal injury attorneys and find out how we can help you!
My experience was good. They made sure to kept me in the loop and made sure to let me know what was going on the whole time. My mom has used other attorneys and this experience was beyond better. I would definitely recommend them!
— Ashley Magana
The attorneys were always available and answered my questions. I would recommend them to anyone. Zoe is the best!
— Janet Salazar
My experience with The Dominguez Firm and the attorneys was really good. They were very informative and always returned my calls.
— Jocelyn Gonzalez